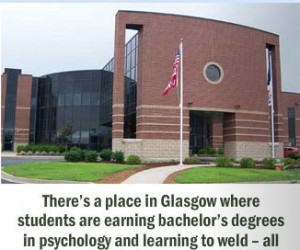 About
Bowling Green Technical College, located in Bowling Green, Kentucky, was founded in 1939 through a joint venture between the National Youth Administration and Western Kentucky State Teacher's College. The school was originally known as Western Trade School and was a NYA training facility for industrial workers and Armed Service personnel. This lasted until the end of World War II, after which the school was released by the federal government to the state. By 1962 the school became an independent institution. In 1968 the school moved to a new permanent location, with additional buildings and land added over the next two decades. The school is part of the Kentucky Community and Technical College System.

Academics
Bowling Green Technical College provides a number of programs that provide career training or academic transfer opportunities. Such programs aim to meet the needs of the community and assist students in the pursuit of their goals. Career training programs offer the skills and ability development necessary to perform as professionals in a given field. Programs take between one and two years to complete and result in either an associate degree or certificate. Students may pursue employment at the entry level after graduation. Academic transfer programs allow students to complete the first two years of a four year education, followed by transfer to a four year institution to complete a bachelor's degree. Individuals are advised to meet with a counselor to plan the curriculum that best fulfills the transfer requirements of the school or school's desired. Transfer to Kentucky public four year college or university is facilitated by agreements in place that allow for ease of admission if certain guidelines are followed.

Programs offered include:

Admissions and Financial Aid
Bowling Green Technical College is an open enrollment institution that allows student who meet the minimum requirements for admission to enroll if they submit the application for admission. Students should provide transcripts and test scores, as well as take a placement exam to ensure they meet minimum general education requirements for registration. Student orientation and a meeting with a counselor prior to the start of their first semester are encouraged, allowing the student to outline goals and curriculum necessities. Registration begins prior to the start of each semester, with fees due shortly after registration is completed.

Financial aid is available in the form of loans and grants.. Students in need of financial assistance must complete and submit a Free Application for Federal Student Aid (FAFSA), which will be used to determine financial needs, program eligibility and awards. Due to national regulations students may be randomly selected by the school to provide extra documentation to ensure the accuracy of the FAFSA prior to the disbursement of funds. Financial aid must be reapplied for prior to the start of each academic due to changes in tax and financial information of a given student and his or her family in a given year.
Programs Offered
The program list below is organized by areas of study. The programs that have a link will direct you to the program's profile page where you can learn more about education requirements and career pathways.
Get more information about the programs offered by Bowling Green Technical College by clicking the request information to the right.
(C) Certificate or Award | (A) Associate's | (B) Bachelor's | (M) Master's Degree | (D) Doctorate (PhD,...)
Estimated Costs & Financial Aid
The average "out of pocket" cost of attendance, after any grants and scholarships are considered, is around $6,400. In order to calculate a more accurate and detailed cost of attendance check out their cost calculator here. The figures listed below are for informational purposes only and do not represent current or future tuition, fees, and expenses.
Tuition & Fees Information
Tuition estimates per year:

State Residents: $4,200-$5,000
Out-of-State: $15,000-$17,540

Charges for part-time students are:

In-State: $170-$210 per unit
Out-of-State: $610-$730 per unit
Financial Aid Details
The table below breaks down the types of financial aid, the percent of students receiving aid, and average amount of aid per student per year.
| | Percent of Students | Average Amount |
| --- | --- | --- |
| Any Financial Aid | 97% | - |
| Receiving Grants & Scholarships | 93% | $4,580 |
| Receiving Student Loans | 23% | $4,775 |
Admissions, Academics, & Student Services
Student Services
To help support students, Bowling Green Technical College may offer student services like those listed below:
Online classes
Night and weekend classes available
Remedial instructional courses
Career path counseling
Employing students to lower education costs
Assistance to find work
Graduation & Transfer Rates
Community colleges often times offer both career training courses and curriculum to help students transfer out to a 4-year college or university, that is why we include how Bowling Green Technical College compares for both graduation and transfer rates against other community colleges in Warren County and community colleges in Kentucky in total.
| | Bowling Green Technical College | Warren County | Kentucky |
| --- | --- | --- | --- |
| Graduation Rate | 36.4% | 51.8% | 48.4% |
| Transfer-out Rate | 7.4% | 5.8% | 5.2% |
Specialized Programs & Accreditations
Radiology Technician Program

Accredited by the Joint Review Committee on Education in Radiologic Technology (since 1987)
Other Technical Colleges Nearby
The list of nearby schools has been selected by researching which schools offer similar programs to Bowling Green Technical College.