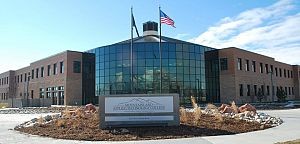 Mountainland Applied Technology College, located in the cities of Orem and Lehi, Utah, was established in 1989 to provide workforce development opportunities for residents of the region. The school also maintains cooperative programs and courses with Utah Valley University, particularly through the school's Wasatch Campus in Herber. MATC also operate two additional campuses in American Fork and Spanish Fork. The school also has a learning center located at Thanksgiving Point in Lehi.
Academics
Mountainland Applied Technology College focuses on providing its students with an education in one of several high demand fields with the purpose of entering the workforce as qualified professionals. Individuals will receive a comprehensive education that provides skill development and training related to the chosen field with instruction and supervision provided by experienced professionals to ensure that the training is relevant and safe. Programs will vary in length based on complexity of the area of study.
Programs offered include:
Admissions and Financial Aid
Mountainland Applied Technology College is an open enrollment institution that allows any individuals interested in enrollment to do so by completing the application for admission and paying fees. Students must be at least 18 years of age or should have a high school diploma or equivalent. Individuals should provide previous transcripts if available and meet with a counselor to discuss enrollment options prior registration. Financial aid is available in the form of loans and grants which are awarded based on need from the information he student provides on the Free Application for Federal Student Aid (FAFSA).
Programs Offered
The program list below is organized by areas of study. The programs that have a link will direct you to the program's profile page where you can learn more about education requirements and career pathways.
Get more information about the programs offered by Mountainland Applied Technology College by clicking the request information to the right.
(C) Certificate or Award | (A) Associate's | (B) Bachelor's | (M) Master's Degree | (D) Doctorate (PhD,...)
Estimated Costs & Financial Aid
The items listed below are for informational purposes only and may not represent current tuition, fees, and expenses.
Financial Aid Details
The table below breaks down the types of financial aid, the percent of students receiving aid, and average amount of aid per student per year.
| | Percent of Students | Average Amount |
| --- | --- | --- |
| Any Financial Aid | 32% | - |
| Receiving Grants & Scholarships | 19% | $2,870 |
| Receiving Student Loans | 2% | $5,131 |
Admissions, Academics, & Student Services
Student Services
To help support students, Mountainland Applied Technology College may offer student services like those listed below:
Weekend and night classes available
Remedial courses
Career path counseling
Employing students to lower education costs
Assistance to find work
Specialized Programs & Accreditations
Licensed Practical Nursing (LPN) Program

Accredited by the Accreditation Commission for Education in Nursing, Inc. ? May 6, 2013 Formerly: National League for Nursing Accrediting Commission (since 2010)
Other Technical Colleges Nearby
The list of nearby schools has been selected by researching which schools offer similar programs to Mountainland Applied Technology College.