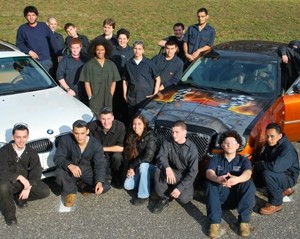 Wilson Tech, located in Northport, New York, is a technical school that accommodates the needs of both high school and adult students. They also offer educational solutions to businesses and employers who need to train their staff on various subjects.
Wilson Tech has a wide array of career certificate programs specifically for high school students who want to jumpstart their future career and collect college credits at the same time. These programs include: carpentry, construction, heating and air, welding, photography, digital film, medical assisting, cosmetology, nurse assisting, culinary arts, veterinary assisting, computer technology, auto body repair, aviation science, and more.
Wilson Tech also offers programs that are tailored specifically to adult students who want to change careers or augment their current ones. These specialized programs include: cosmetology licensure, surgical technology certification, practical nursing licensure, medical assisting certification, sonogram tech, and many more.
In addition to the many programs of study offered at Wilson Tech, there are also classes offered to employers who need to augment the education of their staff. These classes include: computer training, personal health, safety training, professional development, technical and industry specific training, workplace literacy, and more. These classes are conveniently located, competitively priced, and taught by instructors who have both industry and academic backgrounds.
If you or someone you know would like to apply at Wilson Tech, or if you would like more information about the career studies certificates and programs offered there, click here to access Wilson Tech's official website.
Programs Offered
The program list below is organized by areas of study. The programs that have a link will direct you to the program's profile page where you can learn more about education requirements and career pathways.
Get more information about the programs offered by Wilson Tech by clicking the request information to the right.
(C) Certificate or Award | (A) Associate's | (B) Bachelor's | (M) Master's Degree | (D) Doctorate (PhD,...)
Health and Clinical Professions
Mechanic and Repair Technology
Personal and Culinary Services
Estimated Costs & Financial Aid
The average "out of pocket" cost of attendance, after any grants and scholarships are considered, is around $15,100. In order to calculate a more accurate and detailed cost of attendance check out their cost calculator here. There is also a $100 application fee for those applying to a program. The figures listed below are for informational purposes only and do not represent current or future tuition, fees, and expenses.
Tuition & Fees Information
Some programs may have a frozen tuition rate, which means the tuition will stay the same for up to five years.
Financial Aid Details
The table below breaks down the types of financial aid, the percent of students receiving aid, and average amount of aid per student per year.
| | Percent of Students | Average Amount |
| --- | --- | --- |
| Any Financial Aid | 67% | - |
| Receiving Grants & Scholarships | 67% | $5,523 |
| Receiving Student Loans | 54% | $6,503 |
Admissions, Academics, & Student Services
Student Services
To support students and graduates, Wilson Tech may offer student services like those listed below:
Remedial courses
Counseling assistance
Work study style employment
Helping students find work after graduation
Specialized Programs & Accreditations
Licensed Practical Nursing (LPN) Program

Accredited by the New York State Board of Regents, State Education Department, Office of the Professions (Nursing Education) (since 1965)
Other Technical Colleges Nearby
The list of nearby schools has been selected by researching which schools offer similar programs to Wilson Tech.