Contact Information
General Contact
Admissions Office
Financial Aid Office
STUDENT TEACHER RATIO
11:1
FINANCIAL AID AWARD AVG.
$2,927
Average Grants + Scholarship Aid Awarded to Undergraduate Students
Percent of Full-Time Undergraduates Receiving Financial Aid
Percent of Students Paying In-State Tuition vs Out-of-State Tuition
Virtual Tour of Campus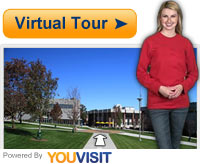 Madison Area Technical College
3400 S 43rd St, Milwaukee, WI
About
Madison Area Technical College, located in Madison, Wisconsin, was founded in 1912, when it was a vocational school dedicated to providing training to high school dropouts. What became apparent the next few years was that adults were more interested in the course offerings than the young students, and as a result the school changed focus to adults while still providing opportunities to former high school students. Over the next few decades the school grew, particularly during World War II, where the school received federal funding to assist in the educational needs necessary to fill wartime jobs. By the 1970's the school was combined with others in Madison as part of a state based program to consolidate schools, as a result the school was given multiple campuses to educated residents of the capital. The school is constantly updating its facilities and program offerings to meet the needs of the community, adding new programs as necessary to remain relevant and modern.


Academics
Madison Area Technical College offers a large number of programs dedicated to providing career and technical training or transfer to a four year institution. Career and technical training programs take between one and two years to complete, resulting in a certificate or degree that demonstrates and individuals qualification to work in their area of study. Students of such programs will train in the skills and abilities necessary to accomplish the tasks and duties often required in order to successfully do one's job and are ready to enter the workforce immediately after graduation. Technical and training programs are typically in high demand fields and typically offered to reflect the community's professional and economic needs.
Transfer programs allow students to complete the freshman and sophomore years of a four year education at a low cost, then transfer to a four year institution to complete one's bachelor's degree. These programs are assisted by the public education system in Wisconsin, which allows ease of transfer from two year institution to a four year college or university within the state if certain academic requirements are met.


Programs offered include:
Individuals are also able to take non credit courses for personal interest. Individuals who choose to do so do not need to formally enroll in the school.


Admissions and Financial Aid
As an open enrollment institution all students who meet the minimum requirements will be admitted to Madison Area Technical College. Students interested in enrollment must choose a program of study, ensuring that requirements for that program are met, then complete and submit the application for admission either online or physical copy given to the school. Students must also supply transcripts and take a placement exam in order to determine which general education courses they must take. Once completed, students may participate in orientation and meet with a counselor prior to registration, which occurs shortly before the start of each semester. Tuition fees will be due shortly after the start of the semester.


Financial Aid is available in the form of loans, grants, work study programs and scholarships. Students in need of financial assistance must complete and submit the Free Application for Federal Student Aid (FAFSA), the information provided in which will be used to determine need eligibility and awards. The school may ask for additional financial aid to be supplied in order to ensure accuracy prior to the disbursement of funds. Students must be enrolled in a full time program in order to be eligible for aid.


Athletics
Madison Area Technical College participates in a number of intercollegiate athletics through the National Junior College Athletic Association (NJCAA) North Central Conference. These programs allow students to compete with other schools in an atmosphere of healthy competition and develop skills, such as discipline and teamwork, which are useful in one's academic and professional career.


Athletic programs offered:
Basketball
Baseball
Golf
Softball
Volleyball
Soccer
Admission Requirements & Details
The admission details below may provide a better idea of the students Madison Area Technical College accepts. The details may include application requirements and recommendations, as well as any AP college credits that may be transferred.
College Credits Accepted
Dual Credits
Life Experience Credits
AP Course Credits
Estimated Costs & Financial Aid
The average "out of pocket" cost of attendance, after any grants and scholarships are considered, is around $9,700. To calculate a more personalized cost visit the net price calculator. There is also a $30 application fee for students applying to the school. The figures listed below are for informational purposes only and do not represent current or future tuition, fees, and expenses.
Tuition & Fees Information
Annual tuition range estimates:

State Residents: $4,100-$4,900
Out-of-State: $6,200-$7,482

Part-time students are charged:

State Residents: $140-$160 per credit unit
Nonresidents: $210-$250 per credit unit
Financial Aid Details
The information below lists the financial aid types students are receiving. Also shown are the percent of students receiving aid and the average amount of aid per student per year.
| | Percent of Students | Average Amount |
| --- | --- | --- |
| Any Financial Aid | 61% | - |
| Receiving Grants & Scholarships | 44% | $4,277 |
| Receiving Student Loans | 34% | $5,198 |
Academics & Student Services
Student Services
To support students and graduates, Madison Area Technical College may provide services including:
Online classes
Classes offered on nights and weekends
Remedial instructional courses
Academic counseling for students
Work study style employment
Helping students find work after graduation
Day care for children
Specialized Programs & Accreditations
Campus: Madison Area Technical College
Dental Hygienist Program
Associate's Degree in Nursing (ADN) Program
Occupational Therapy Assistant (OTA) Program
Optometry Technician Program
Campus: Madison Area Technical College - Madison - Downtown Education Center
Occupational Therapy Assistant (OTA) Program

* Accredited by the American Occupational Therapy Association, Accreditation Council for Occupational Therapy Education (since 1964)

Radiology Technician Program

* Accredited by the Joint Review Committee on Education in Radiologic Technology (since 1988)
Programs Offered
The program list below is organized by areas of study. The programs that have a link will direct you to the program's profile page where you can learn more about education requirements and career pathways.
Get more information about the programs offered by Madison Area Technical College by clicking the request information to the right.
(C) Certificate or Award | (A) Associate's | (B) Bachelor's | (M) Master's Degree | (D) Doctorate (PhD,...)
Other Community Colleges
The list of schools below have been selected by researching which schools offer similar programs to Madison Area Technical College.
Also, check out our college lists below, which can help students compare schools to one another:
Contact Information
General Contact
Admissions Office
Financial Aid Office