Top Colleges in Alaska
If you are considering pursuing your post secondary education in Alaska here is some general information about the state.
The state of Alaska is the largest by size in the United States of America. Located in the northwestern corner of the North American Continent; the state borders Canada to the east and is the 47th least populated state in the union. Alaska is perpetually cold due to its northern climate and proximity to the North Pole, and is home tundra and taiga forests. Due to the low population and the weather, Alaska is home to few colleges and universities.
Alaska is home to five community colleges. These schools provide educational opportunities to residents of various counties and cities throughout the state of Alaska. Community colleges typically offer associate degrees and certificates in a variety of fields, and their purpose is generally two fold, providing career training for some and transfer to a 4 year institution for others.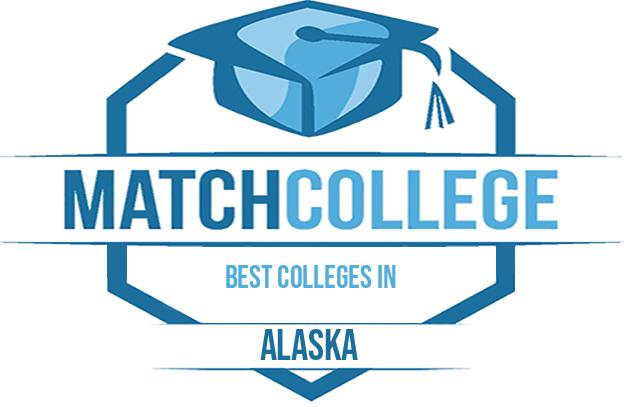 Ilisagvik College (Barrow)
Prince William Sound Community College (Valdez)
Kodiak College (Kodiak)
Kenai Peninsula College (Soldotna, Homer, Seward)
Matanuska-Susitna College (Palmer)
Alaska also operates the University of Alaska System, comprised of three universities located in Alaska's most populous cities. These schools also offer 2 year degrees to residents of the community, operating as community colleges alongside their university offerings. The system's first school, located in Fairbanks, was established in 1917. The schools serve nearly 33,000 students through their main and satellite campuses. The system is responsible for several research projects and facilities including the Geophysical Institute.
Alaska is also home to a small number of private institutions. Due to the low population and weather, Alaska is not considered an ideal location for most potential students, and as such private schools are limited in their representation in the state. Regardless, some schools do operate and, two of which are faith based institutions, and the third which is a faith based graduate institution.
Alaska Pacific University (Anchorage)
Alaska Bible College (Glennallen)
Saint Herman's Orthodox Theological Seminary (Kodiak)
Though Alaska's post secondary offerings are limited, the school's themselves are proud of the quality of their education offered. Due to the small population in Alaska, class sizes are typically smaller and teachers are generally more attentive of their students' needs. Alaska is also home to a small number of for profit schools that provide career guidance and education allowing for immediate hire after graduation.
2021 Best Colleges in Alaska


Alaska Pacific University is a nonprofit private university that has many programs available for students to choose from. The school is located in Anchorage, AK, in a predominantly urban area. The school's United Methodist affiliation is one of its defining characteristics and plays an important role within the school's mission. The school's small size in terms of enrollment, approximately 700 students, offers students a more hands on education due to the number of students per class and ease of access to professors.
Students can select from several areas of study, including but not limited to:
Education
Psychology
Biological And Biomedical Sciences
Business And Marketing Studies
Liberal Arts And Sciences
Recreation And Fitness Studies
To be considered for admissions, you may be asked to complete an application, write a personal statement, and submit any transcripts or test scores, which are then evaluated by admissions officials. The most common exam scores among students accepted to Alaska Pacific University are between 21 to 27 for the ACT exam, or 960 to 1160 for the SAT exam. This school has an acceptance rate of around 32 percent of which only 43 percent decided to attend. More information from the admissions office can be found here.
The cost of tuition is close to $30,000, but may change from year to year. Students are encouraged to use the school's tuition calculator to better understand their personal tuition costs. The cost of on-campus housing is estimated to be $4,800 per year. Alaska Pacific University may help with costs by offering financial aid for students who are eligible by way of grants and loans.
Students can visit the website to get a complete list of programs offered, student services, and more.
Student to Faculty Ratio
7:1


The University of Alaska Southeast, located in Juneau, Alaska, with additional campuses in Ketchikan and Sitka, provides students with a comprehensive education while studying near the scenic and last temperate rain forest in North America, the Tongass National Forest. UAS provides a strong liberal arts education for Alaska residents and beyond.
Academics
The University of Alaska Southeast provides certificate programs, and degree programs starting from the associate level all the way to the master's. The program length depends on the degree pursued, with higher level degrees typically taking longer to complete.
Programs offered include:
Admissions and Financial Aid
Students wishing to enroll at AUS must either be a high school graduate with a 2.0 GPA, successfully completed the GED, or have taken 30 college level credits prior to applying. Admissions into the bachelor's program requires student to have a certain GPA and SAT/ACT score combination in order to be considered, where the higher the SAT?ACT score the lower the GPA may be (but not below 2.0). Master's programs have varying requirements, but all require the applicant to have a bachelor's degree.
Students seeking financial aid must submit a tax transcript that may be included as part of the Free Application for Federal Student Aid (FAFSA). Financial aid applications must be submitted by the posted deadlines on the financial aid page on the school's website.
Student to Faculty Ratio
10:1


University of Alaska Fairbanks is a public institution located in Fairbanks, AK and provides a large number of program options for students. As a land grant institution this school is among larger public institutions in the state of Alaska. Over nine thousand students enroll at UAF per year.
Students can pick from several areas of study, including:
Liberal Arts And Sciences
Psychology
Biological And Biomedical Sciences
Business And Marketing Studies
The school has an open enrollment policy, admitting any students that meet the requirements for admission. Submission of transcripts, records, test scores, and personal statements may be required for certain programs.  Important registration data and information on admissions can be found at uaf.edu.
The tuition at University of Alaska Fairbanks varies based on the state of residence of the student. In-state residents pay approximately $6,700 per year, while out-of-state residents are charged $19,000 per year. The cost of on-campus housing is about $4,000 per year. This school may help with costs by offering financial aid for students who are eligible in the form of loans, grants, scholarships and work study programs.
Athletic programs are available at University of Alaska Fairbanks through the NCAA, allowing students to participate in intercollegiate sports. Available sports offered may include the following:
Basketball (NCAA Division II)
Ice Hockey (NCAA Division II)
Rifle (NCAA Division II)
Skiing (NCAA Division II)
Student to Faculty Ratio
11:1


Dreaming of a future in Cosmetology? Enjoy the personal rewards of helping people look and feel their best. Empire Beauty School offers you a one-of-a-kind educational approach to learning the latest trends and fundamentals of Cosmetology.
You'll learn:
Haircutting
Styling
Coloring
Make-up Application
And more!
You'll also learn the business basics as we show you how to:
Market your skills to new clients
Retain clientele
Increase your income potential
Manage a salon or spa
Sell professional products to your clients
Our Programs
At Empire Beauty School, our one-of-a-kind CLiC curriculum is a visual approach to learning.  With our education you learn by seeing and doing. Plus you'll apply your skills on your mannequins using your professional student kit.  As part of your new student kit you will receive the Career Success Tablet.  Your textbooks and curriculum are downloaded onto your tablet.  As you progress through your training, you'll have the confidence to work in a student salon environment with guests.
 Financial Aid
Financial aid is available to those who qualify.  Our friendly financial aid representatives will help you find the financing that suits you best. We offer a variety of options to help you afford your dreams.
 BeautyCareer.com
BeautyCareer.com is a website for Empire Beauty School students and alumni seeking career opportunities.  Stylists can create resumes, develop digital portfolios, search for career opportunities and apply for open positions through one simple site.  The beauty career website is part of the education process at Empire which assists students to better understand these elements of their career.  Empire Beauty Schools offers job placement assistance through our website BeautyCareer.com.
Accreditation
Empire Beauty Schools are accredited by the National Accrediting Commission of Career Arts and Sciences (NACCAS).
Disclosure Statement
For more information about Empire Beauty School's graduation rates, the median debt of students who completed the program, and other important information, please visit our website at www.empire.edu/consumer-info
TCPA Statement
By submitting this form, you are providing your signature expressly consenting to contact by an Empire representative or its subsidiaries, affiliates, or agents at the number provided via telephone, email, or text using an automatic telephone dialing system or an artificial or prerecorded message regarding Empire programs, offers, events and announcements. You are not required to provide your consent in order to purchase any product or service.
Tuition
$19,200.00 /
year
Student to Faculty Ratio
18:1


Charter College, located in Anchorage, Alaska, was founded in 1985. The school was established as an alternative to traditional four year educations, removing non-relevant coursework from programs in order to better prepare students for careers. The school expanded, adding 9 more campuses across three states. Today the school takes pride in its success, and continues to refine and review its offerings to ensure professional success for its graduates. The school's campuses have received accreditation from either the Accrediting Council for Independent Colleges and School, the Accrediting Commission of Career Schools and Colleges, or the Alaska Commission on Post-Secondary Education.
Academics
Charter College provides over 30 programs of study at its ten locations. These programs result in certificates, diplomas, associates or bachelor degrees. The programs are developed to focus on career development and training, providing the skills and knowledge necessary to work in high demand fields immediately after graduating. The focus of the school is to provide the best education possible, ensuring that students are fully prepared and professional. It is important to note that not all programs are available at all schools, and that a list is available on the school's website identifying which campuses offer which programs.
Programs offered include:
Admissions and Financial Aid
Students interested in Charter College may request additional information through the school's website to begin the application process. Additionally, the school encourages chatting with a representative online through the live chat service and taking a tour of a nearby campus in order to view the facilities and meet with students and faculty. Financial aid is available in a variety of forms and offered through state, federal and private contributors. Financial aid assistance is available through the school, and a representative will assist in the application process, which includes completing and submitting a Free Application for Federal Student Aid (FAFSA).
Student to Faculty Ratio
25:1


The main location of AVTEC is in Seward, Alaska, 120 miles south of Anchorage on the Kenai Peninsula. The Health Department is located in Anchorage AVTEC. AVTEC will help you gain the skills you need for an exciting career. Tuition is affordable and AVTEC offers outstanding value for your money.
The cost of studying at AVTEC varies by program. For example the cost of an Associate degree in Nursing is $6,830. Tuition for the Business & Office Technology - General Business/Office Assistant program is $7,033. The course in welding costs $10,119. The course to earn a certificate in Professional Cooking and Baking is $14,472.
AVTEC aims to offer an outstanding learning environment for students. The staff will work with you in making the transition from the classroom to working.
Many outstanding services are offered. The school provides child care and family housing. AVTEC staff encourage healthy life-styles both in and out of the work place. Health information and wellness programs are available to all students. The school also provides student accidental insurance.
AVTEC is one of the most well-known schools for skills training in a wide variety of industrial and technological fields. The school is part of the Alaska Department of Labor and Workforce Development and is approved by the Alaska Commission on Post-Secondary Education.
At AVTEC, you will find a vibrant campus life. You will make new friendships that will last a lifetime. There is never a dull moment at AVTEC.
Student to Faculty Ratio
15:1


Alaska Bible College is an institution located in Glennallen, AK that provides several academic programs for its students. Alaska Bible College also has a Nondenominational Christian affiliation. Alaska Bible College has an enrollment of around eighty students per year. Alaska Bible College offers several programs for students to choose from. A list of the more popular programs being offered for students are:
Biblical Studies
Missions, Missionary Studies and Missiology
Theology
This school maintains an open enrollment guideline, allowing all applicants that meet the requirements for admission. Submission of transcripts and records, as well as any admissions essays may be required for certain programs.
Alaska Bible College also offers career counseling for students in need of help.
Tuition is approximately $7,800 annually, though it may change based on any number of circumstances. Students should visit the school's price of attendance calculator to get an individualized estimate of costs. Student housing is available on-campus for potential students. The yearly cost of housing is approximately $1,500. Financial aid may be provided to those that meet the necessary requirements.
This school has been accredited by the Association for Biblical Higher Education, Commission on Accreditation since 1982. To read more and get consumer disclosures, you can visit akbible.edu.
Student to Faculty Ratio
6:1


Grantham University is a career college dedicated to offering a solid education for students located in and around Kansas City. Students may select from many areas of study, including:
Interdisciplinary Studies
Business and Marketing Studies
Security and Protective Services
Over two thousand students have received a degree in the last few years based on published graduation information with a graduation rate of around 33%. Grantham University has listed more than twenty different programs available, including degrees as high as a Master's degree. The more popular programs are shown below:
Interdisciplinary Studies
Business Administration
Law and Justice Administration
Information Systems
Electrical and Communications Engineering Technology
To help students and alumni succeed, Grantham University may provide support services including:
Online course work available
Academic counseling for students
Assistance to find work
Grantham University has been accredited by the Distance Education and Training Council, Accrediting Commission since 1961. To see more and get consumer disclosures, you can visit grantham.edu.
Student to Faculty Ratio
20:1


The Community College of Baltimore County (CCBC) is a two-year college comprised of three primary campuses and two satellite campuses in Maryland.CCBC also offers distance learning programs, and more than 100 academic degree and certificate programs. CCBC offers excellent transfer programs for students planning to transition into four-year universities to complete their bachelor's degrees.
High-achieving students at CCBC can join one of the honors programs to gain enhanced learning experiences and guaranteed admission to a four-year college or university. CCBC has affiliations with many four-year institutions, including Loyola College, College of Notre Dame, Towson University, and more.
Academic resources for students at CCBC include academic advising, international study and travel programs, developmental education, service learning, learning communities, a career training center, and job placement services, among others.
History
The Community College of Baltimore County was founded in 1957. The Catonsville branch originally operated out of the Catonsville High School basement. The college got its own campus in Catonsville in 1962. The Essex branch originally operated out of Kenwood High School. It got its own campus in the 1960s. In 1970, CCBC founded its Dundalk Campus.
Academics
The academic calendar for CCBC follows the semester format, with fall and spring semesters and a series of shorter summer sessions. There is also a short 3-week winter session available.
Colleges and Schools
School of Applied and Information Technology
School of Business, Social Sciences, Wellness and Education
School of Health Professions
School of Justice
School of Liberal Arts
School of Mathematics and Science

Student Life
At CCBC, campus involvement in student clubs and organizations is encouraged to foster "co-curricular learning." The mission and purpose of the Student Life Program at CCBC is: "To provide a comprehensive program that provides cultural, social, recreational, health and wellness, and an intellectual environment for all."
Student clubs, organizations and activities cover a broad range of interests, including fine arts, performing arts, sports, pop culture, student government, horticulture, and philosophy, to name a few.
Student services at CCBC include tutoring, counseling, advising, testing, career training, and more.
Athletics
CCBC offers athletic programs at all three of its primary campuses: Catonsville (Cardinals), Dundalk (Lions) and Essex (Knights). Students should contact the athletics department at each campus to find out which sports programs are based there. CCBC men's and women's athletic teams compete in intercollegiate sports at the state, regional and national levels.
Intercollegiate athletics at CCBC include:
Men's Sports:
Baseball
Basketball
Lacrosse
Soccer
Women's Sports:
Basketball
Cross Country
Lacrosse
Soccer
Softball
Track and Field
Volleyball
Satellite Campuses
CCBC is comprised of three primary campuses and two satellite campuses in Maryland. The three primary CCBC campuses are:
CCBC Catonsville
CCBC Dundalk
CCBC Essex
The two CCBC satellite campuses are:
CCBC Owings Mills Extension Center
CCBC Hunt Valley Extension Center
CCBC Randallstown Extension Center
The CCBC Distance Learning program provides easy-access alternatives to commuting to one of the campuses.
Community Life
CCBC offers many programs to the community. Programs that benefit local businesses include training for businesses, such as food safety, health care, workplace literacy, applied technology, and command Spanish, among others. Community education is available for life enrichment, adult literacy, children and young adults, career training, internships, and more. Performing arts productions are available to community members through the Catonsville Community Theatre Company, the Dundalk Community Theater, Senior Start Showcase, and the theatre, dance and music departments.
Student to Faculty Ratio
15:1
The most populous city in Alaska is Anchorage, followed by Fairbanks and Juneau.  While the most populous county in Alaska is Anchorage County with Fairbanks North Star Borough close behind.   If you are interested in visiting the state of Alaska, consider visiting their state page or the state chapter of the Chamber of Commerce.
2021 Best Colleges in alaska
With proprietary search tools, students looking to apply to colleges in Alaska quickly find information about specific two-year colleges and four-year colleges.  We have compiled the latest published information on financial aid, student to teacher ratios, sports programs, enrollment, and degree programs for top ranked Alaska colleges.   Finding information about Alaska college majors and statistics is just a click away.  Learn today what colleges exist in Alaska, how much tuition is for a private and public college in Alaska, college degrees that are the best fit for you.
Connect with any number of accredited colleges in Alaska provide admissions information directly to you, quickly and securely with MatchCollege.  Find out if you qualify for an application waiver or application fee discount before applying to a college.  Learn what it takes to qualify for a specific college degree program or online degree by talking directly with an admission's officer at the school.
Degree Breakdown State of Alaska
Doctoral or
Professional degree

6,260 4.0%

Master's
Degree

6,200 3.4%

Bachelor's
Degree

70,540 2.6%

Associate's
Degree

8,770 4.6%

Postsecondary
Nondegree award

17,700 3.4%

Some college,
No degree

10,440 3.6%

High school diploma or
Equivalent

117,840 1.3%

No formal
Educational credential

89,500 1.7%
Source: Bureau of Labor Statistics
Browse Schools by Career in Alaska
Follow the links below to get information on accredited schools in our database that offer programs or degrees.
College Student Resources
Get access to hundreds of free educational resources and quality career guides for high school students and Alaska college graduates. Our tools include exclusive research, tips and resources to find the perfect college match for you based on your personal criteria. The key to finding your perfect college match is to understand your personal criteria, learning style, career objectives, and vocational goals before selecting a school. Utilize our resources below to make the most of your educational experience.