Top Colleges in Wyoming
You can efficiently gather a complete list of accredited colleges in the State of Wisconsin with Matchcollege.  Our state portal consists of all types of colleges from private colleges to community colleges and from public universities to liberal arts schools across the Wisconsin state college system.
In addition to providing unique information on each college, we have also created a dedicated page for each college degree for deeper insights.  Top ranked colleges in Wisconsin are listed in an easy to read format that includes online degrees, acceptance rates, sports programs, enrollment trends, 3D campus tours, attendance statistics, and vocational insights for college-bound individuals.
The state of Wisconsin is home to a large number of colleges and universities, both public and private.  The state's largest city is Milwaukee, followed by Madison (the state capital). The state is bordered by Michigan to the north, Illinois to the south and Minnesota and Iowa to the west. The eastern coast of the state borders Lake Michigan, and part of the northern border connects to Lake Superior. The state is relatively close to major urban centers in the north Midwest United States allowing for travel to neighboring schools and areas.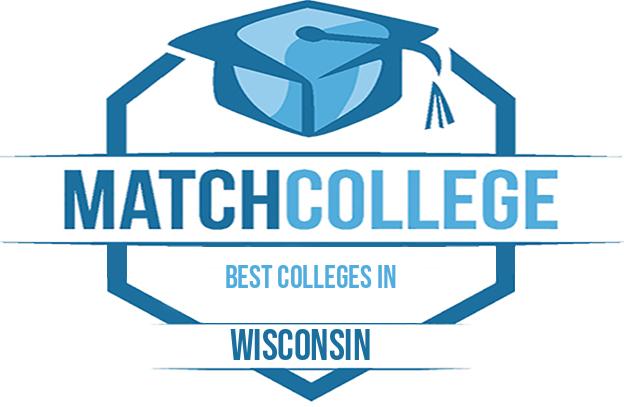 The state of Wisconsin also has a large number of private institutions throughout its 72 counties. These schools typically provide more specialized educational opportunities, including internship, research and study abroad programs. Class sizes tend to be smaller, with excellent student to teacher ratios, but with an increased cost, typically significantly more so than a public institution. Some private schools may provide an education tied to a particular faith, a liberal arts education, or both.
The state of Wisconsin is also home to technical and community colleges providing freshman and sophomore educations to students interested in transferring to a four year institution or vocation and technical training to prepare for entry level positions in a particular field.
These schools also provide adult and continuing education courses for individuals looking to return to school or to keep their licenses and certifications up to date.  Private career colleges can also be found throughout the state, offering similar career and vocational training for high demand fields, with higher costs and a shorter program duration.
The state of Wisconsin formed the University of Wisconsin system in 1971. The decision top form the system has brought some controversy, as the University of Wisconsin in Madison, one of the older universities, had held the name over one hundred years prior to the establishment of the system and felt the widespread use of the name diminished its prestige. The school system serves over 180,000 students a year, and employs over 30,000 faculty members. The system is comprised of two doctoral universities, eleven comprehensive universities, thirteen two year institutions, and a statewide extension program.
2021 Best Colleges in Wisconsin
The most populous city in Wisconsin is Milwaukee, followed by Madison and Green Bay.  While the most populous county in Wisconsin is Milwaukee County with Dade County and Waukesha County a distant second and third.   If you are interested in visiting the state of Wisconsin, consider visiting their state page or the state chapter of the Chamber of Commerce.
2021 Best Colleges in Wisconsin
MatchCollege search technology will allow students looking to apply to colleges in Wisconsin rapidly access data on 4-year universities and 2-year colleges.  Find out today what colleges exist in Wisconsin, how much tuition is for a private and public college in Wisconsin, and college degrees that are the best fit for you.
In fact, you can simply request information from any number of accredited colleges in Wisconsin to prompt a school packet to be sent via MatchCollege.  Once you receive the school's information, simply review it for completeness and decide if the school will remain on your short list or not.  If you are interested in moving things forward with the school, simply reach out to the admissions team to determine the next steps in the process.
Degree Breakdown State of Wisconsin
Doctoral or
Professional degree

62,070 2.4%

Master's
Degree

42,210 2.4%

Bachelor's
Degree

532,300 1.4%

Associate's
Degree

68,170 1.8%

Postsecondary
Nondegree award

180,410 1.4%

Some college,
No degree

65,300 1.5%

High school diploma or
Equivalent

1,065,580 0.7%

No formal
Educational credential

755,560 0.7%
Source: Bureau of Labor Statistics
Browse Schools by Career in Wisconsin
Follow the links below to get information on accredited schools in our database that offer programs or degrees.
Medicine & Healthcare
College Student Resources
Get access to hundreds of free educational resources and quality career guides for high school students and Alaska college graduates. Our tools include exclusive research, tips and resources to find the perfect college match for you based on your personal criteria. The key to finding your perfect college match is to understand your personal criteria, learning style, career objectives, and vocational goals before selecting a school. Utilize our resources below to make the most of your educational experience.