Top Colleges in Louisiana
The State of Louisiana is home to a large number of public institutions and a small selection of private institutions.  The state is bordered by Mississippi to the east, Arkansas to the north and Texas to the west. Several urban centers are found throughout the state, including Baton Rouge, Shreveport, and New Orleans. The more populous areas of the state, in particular its major cities, tend to have a larger concentration of post secondary institutions.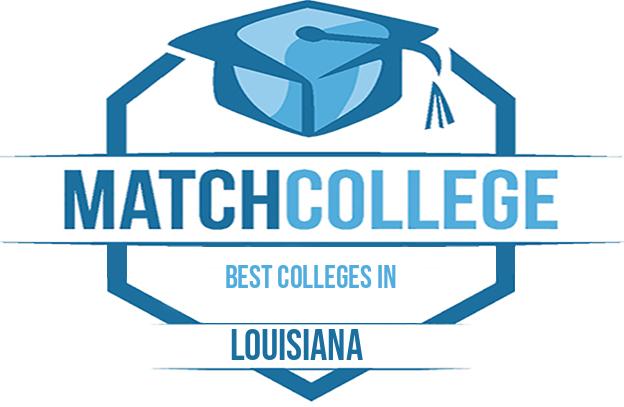 2021 Best Colleges in Louisiana
What Colleges Exist in Louisiana?
Locating top ranked colleges in the State of Louisiana has never been more uncomplicated than with MatchCollege's tools.  We have curated a complete list of accredited colleges in our education portal that include private colleges, liberal arts schools, public universities, and community colleges across the entire Louisiana state college system.  Accredited schools are listed in an easy to read format with information such as financial aid, sports programs, walkability scores, that includes degree programs, acceptance rates, enrollment trends, 3D campus tours, attendance statistics, courses, and career information.
In addition to the above schools and systems, Louisiana has an extensive state wide community and technical college system providing 2 year educations for transfer or career and vocational training programs. The state is also host to a large number of private schools and career colleges dedicated to providing short programs for career training and job placement.
The most populous city in Louisiana is New Orleans, followed by Baton Rouge and Shreveport.  While the most populous county in Louisiana is East Baton Rouge Parish, Jefferson and Orleans close behind.   If you are interested in visiting the state of Louisiana, consider visiting their state page or the state chapter of the Chamber of Commerce.
2021 Top Louisiana Colleges
Leading-edge, proprietary search technology and exclusive resources help you quickly find information about specific two-year colleges and four-year colleges in Louisiana.  With the most current published data and hundreds of college majors to search from, you are sure to find programs of interest.  Getting matched to the perfect Louisiana college major and school is just a click away.  Get details about schools, college majors, financial aid, enrollment trends, and more today.   With a quick request, you can receive admissions information from any number of accredited colleges in Louisiana in a secure and safe manner.
Degree Breakdown State of Louisiana
Doctoral or
Professional degree

34,690 2.3%

Master's
Degree

35,670 1.7%

Bachelor's
Degree

315,480 0.8%

Associate's
Degree

42,420 1.9%

Postsecondary
Nondegree award

139,660 1.5%

Some college,
No degree

45,070 1.9%

High school diploma or
Equivalent

749,140 0.7%

No formal
Educational credential

577,160 0.7%
Source: Bureau of Labor Statistics
Browse Schools by Career in Louisiana
Follow the links below to get information on accredited schools in our database that offer programs or degrees.
College Student Resources
With hundreds of free educational resources and quality career guides, find what you need today with MatchCollege. Exclusive information includes exclusive research, degree insights, admissions tips, and unique resources to help you find the perfect college match. Check out our resources below to make the most of your educational experience.