Top Colleges in Wyoming
Wyoming is the smallest state in the United States, as a result there are very few colleges and universities within its borders. A majority of post secondary institutions are the seven public two year colleges located in various regions throughout the state to provide educational and career opportunities to residents. The state is also home to Wind River Tribal College, primarily serving the needs of Amerindian residents of the Wind River Indian Reservation. The state's largest city and capital is Cheyenne, home to a majority of the states private institutions and a community college.
Wyoming has a single bachelor degree and higher granting public institution, The University of Wyoming, located in Laramie. The school is the oldest in the state, having been founded in 1886, sixty years before the next oldest school. The university is comprised of seven colleges focusing on various areas of study. Additionally, the school offers distance learning opportunities for residents of the state combining nine regional outreach schools with online schools in order to cover a majority of the state.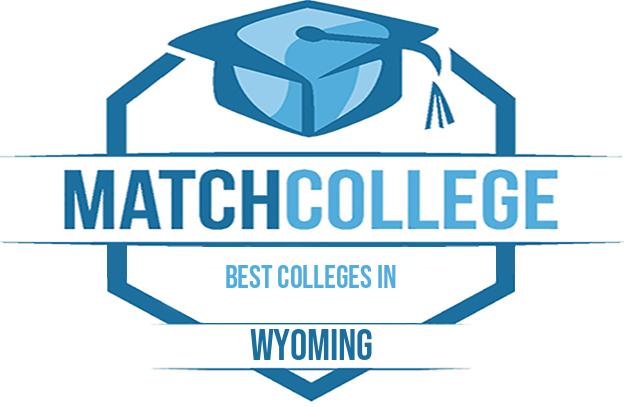 In addition to the public and private institutions located throughout the state, Wyoming is also home to private technical and vocational schools offering programs that typically last less than a year and provide students with the skills necessary to enter the workforce as professionals upon completion.  Programs are normally in high demand fields, such as allied health or computer technology, and have a high tuition cost. Such programs also utilize job placement services that assist graduates in finding work.
A small number of private institutions call the state home. A majority of these schools are either based out of state or are for-profit. One is a faith based institution offering a liberal arts education rooted in traditional Catholic values. Private schools tend to cost more than public institutions, generally having lower enrollment and excellent student to teacher ratios. Some school offer educations in a specific field, or group of fields, limiting program offerings but gearing facilities to accommodate such foci.
2021 Best Colleges in Wyoming


WyoTech, formerly known as Wyoming Technical Institute, is dedicated to high-quality, college-level, career-oriented education in the automotive, diesel, motorcycle, HVAC, watercraft, and collision/refinishing industries. Each WyoTech program is designed to provide our students with the skills they need to achieve their education goals. Most WyoTech diploma programs can be completed in less than a year and a half. There are currently six WyoTech campuses across the country. This website is dedicated to providing you detailed information about WyoTech classes and programs.
Through the use of industry-based advisory committees, employed graduate contacts, and faculty/industry interactions, WyoTech continually upgrades and modifies programs to enhance each graduate's employability. WyoTech's primary objectives are to impart specific knowledge and skills, to graduate each and every student who begins training, and to place them in their chosen fields. In order to achieve these objectives, the curriculum, the faculty and staff, and the facilities and learning environment become equally important.
WyoTech's curricula allow students to concentrate exclusively on learning technical skills in diploma programs or to expand their education with associate degree programs.
WyoTech prepares students for the post-graduation working world by teaching on a workday, not a school day schedule. Most students attend classes approximately eight hours a day, five days a week.
The faculty and staff respect the professional decision students have made to enter career training. We believe professionalism is as important an aspect of training as are technical and business skills. For that reason, WyoTech has established rules and regulations concerning attendance, behavior and academic performance in classrooms, labs and shops. These rules are enforced, both on campus and in housing at the Wyoming campus, and each student's grades are adjusted weekly to reflect "professionalism points." Professionalism develops a positive attitude, personal motivation, and career pride. These elements, combined with technical expertise, produce a WyoTech graduate– who may become a skilled professional technician.
Tuition
$25,000.00 /
year
Student to Faculty Ratio
5:1


University of Wyoming is a public institution that has a large selection of majors available for students to choose from. The school is located in Laramie, WY, in a predominantly rural area. As a land grant institution this school is among larger public institutions in the state of Wyoming. Enrollment at University of Wyoming exceeds 13,000 per year.
Areas of study offered at UW include:
Health And Clinical Professions
Education
Business And Marketing Studies
Psychology
Students applying for admission are required to submit an application, transcripts, records, test scores and any requested letters of recommendations, which will then be reviewed by the school. Either the SAT or ACT exam must be taken to apply to UW. Scores in a range of 21 to 27 on the ACT or 980 to 1210 on the SAT are required to increase your chances for acceptance. This school has an acceptance rate of around 95% of which only 42% chose to enroll. More information from the admissions office can be found at uwyo.edu.
The tuition at UW varies based on the state of residence of the student. In-state residents pay around $3,900 per year and out-of-state residents are charged $12,000 for the year. Housing is available for students, and generally costs around $4,100 annually. University of Wyoming may offer financial aid for students that qualify in the form of loans, grants, scholarships and work study programs.
The University of Wyoming "Cowboys" compete in a number of intercollegiate sports through participation in the NCAA. Sports available may include but not limited to:
Basketball (NCAA Division I-A)
Track & Field (NCAA Division I-A)
Football (NCAA Division I-A)
Golf (NCAA Division I-A)
To see a full list of programs offered, enrollment information, financial aid details, and more, please take a look at the school's website at http://www.uwyo.edu.
Student to Faculty Ratio
15:1


Cheeks International Academy of Beauty Culture - Cheyenne, located in the metropolitan area of Cheyenne, WY, specializes in cosmetology training. This school is accredited by the National Accrediting Commission of Career Arts and Sciences, and has done so continuously for the last thirty-one years. The school offers a comprehensive cosmetology program that teaches the skills needed to pursue licensure and employment upon graduation. The cosmetology courses that are offered at this school are:
This school graduates approximately 30 students each year. In 2009 the reported default rate of individuals taking loans to pay the tuition and fees for this school was around 7%.
Cheeks International Academy of Beauty Culture - Cheyenne provides student services including job placement options for graduates looking for work and cosmetology career counseling to help students. Students are asked to look up state licensing requirements to make sure programs meet current standards. For additional information regarding licensure preparation, interested students may visit the school's website.
Tuition
$16,200.00 /
year
Student to Faculty Ratio
11:1


Sitting at the base of the Bighorn Mountains, Sheridan College boasts one of the most state-of-the-art campuses in Wyoming in the #1 western town in the United States. Our new modern campus villa housing, attention to the arts for a creative economy, delivery of workforce solutions, cutting edge web services, and latest industry equipment set us apart.
Our students who transfer to the University of Wyoming consistently out-perform the average transfer student from all Wyoming community colleges. In addition, we save our transfer students up to $50,000 over other 4 year options.  Learn more about your options with Sheridan today by requesting information from their admissions office via our digital portal or via their site.
Student to Faculty Ratio
16:1


Northwest College, located in Powell Wyoming, is a community college that highlights a large variety of 2-year programs that either lead to matriculation into a four-year degree program or provide students with the ability to apply their skills to a specific discipline soon after they graduate. Located at 231 W. 6th Street, the college lies in a town and area that was once home to the Crow, Shoshone and Blackfoot tribes. Just 75 miles east of Yellowstone, the city was designated as an All-America City in 1994.
Popular areas of study include the liberal arts and sciences as well as courses that lead to a general studies and humanities degree. The subject of agriculture also holds a strong appeal for a large part of the student population, many of whom reside in the surrounding ranch and agricultural area. The school features associates degree programs in agricultural teacher education and crop production and certificate and two-year degree programs in agricultural production and operations. Other areas of study include accounting, CAD/CADD drafting, and animal sciences.
In addition, the school's curriculum includes independent study options, double major courses of study, cooperative education, and internships. The ratio of women and men is 59% and 41% respectively. Most students attend full-time at the Wyoming school. The closest major city is Billings and the nearest airport is located in Cody. Tuition is mid-range, between $2,000 and $6,000 for the school year. For further information, you can contact the school toll-free at 800-560-4692.
Student to Faculty Ratio
12:1


Located in Torrington, Wyoming, Eastern Wyoming College (EWC) provides a college education in a rural setting and combines smaller class sizes with an environment that stresses cultural and academic enrichment.
Established in 1948, the two-year school features technical certifications and academic transfer programs. Associate of Science degrees, Associate of Applied Science degrees, and Associates of Arts degrees are offered as well as seven certificates. GED, ESL, and adult basic education (ABE) programs are also featured at the college.
Besides the Torrington campus, EWC holds classes at the branch locations of Newcastle and Douglass and in ten other communities. The school features varsity athletics and is a member of the National Athletic Association. Student athletes have the chance to compete in such activities and men's and women's basketball, women's volleyball, men's golf, and the sport of rodeo.
Annual tuition, including ancillary fees and costs, are approximated at $10,200 for in-state students living with their parents, or from about $15,000 to $20,000 for other students, depending on funding or a student's residence. Current enrollment at the school now stands at around 1,300 students.
Some of the associate degree programs offered at the rural college include:
Accounting
Agri-business, or farm and ranch management
Environmental science
Business administration
Business office technology
Biology
Art
Criminal justice
English
Veterinary technology
Welding
Certificates can be obtained at the school for such programs as beef production, nail technician, hair technician, business records, computer applications, corrections, ESL and EFL teaching, and machine tool technology. Online certificate programs are offered in early childhood education and child development.
For more information about the programs at the college, contact them by phone at 307-532-8200.
Student to Faculty Ratio
15:1


Central Wyoming College in Riverton Wyoming is a two-year community college that was founded in 1966. Riverton itself is considered the biggest city in the county of Freemont and is home to approximately 11,000 residents.
The college not only hosts cultural exhibits and concerts, it is also the home base for PBS (the Public Broadcasting Service) in the state. Students who attend the college can pursue their studies as well as enjoy such leisure activities as hiking, cultural entertainment, and theater events. Students who hike are close to such natural areas as the Grand Teton National Park and Yellowstone.
If you're interested in obtaining training that will lead to employment soon after graduation, then you can find what you're seeking in some of the following programs offered at the college:
Pre-engineering studies
Agribusiness
Theater
Music and
Photography
Wyoming residents can also receive discounted tuition. Currently, students who live in-state pay around $2,200 annually while out-of-state students pay almost $4,900 per year. The student body is comprised of just over 2,100 students and the retention rate for the school is around 52%. You can obtain further information about the school's programs by contacting the college at 800-735-8418.
Student to Faculty Ratio
16:1


About
Western Wyoming Community College, located in Rock Springs, Wyoming, is a public two year institution founded in 1959 as the fifth of seven community colleges located in the state.  WWCC operates through a unique campus designed to protect students from the harsh winters that affect the area, resulting in an a series of hallways that connect the various buildings. Over the years growth in enrollment has caused expansion and redesign of the campus with financial support from the community.
Academics
Students may choose from academic transfer and career training programs in order to fulfill their personal and professional goals. Academic transfer programs allow for the completion of the first two years of a four year education locally and at low cost, followed by applying for transfer to a four year institution in order to complete their bachelor's degree.
Training programs provide education and skill development in a high demand field or industry for the purposes of long term employment as a qualified professional upon completion. Programs take between one and two years to complete, resulting in a degree or certificate upon completion. Distance learning options also allow student to complete a bachelor's or master's degree online through the school's relationship with a number of colleges and universities.
Programs offered include:
Admissions and Financial Aid
Individuals interested in enrollment at WWCC must be at least 18 years old or have a high school diploma or equivalent. Students must submit an application, provide test scores and transcripts if available, possibly take a placement exam, and pay all associated fees. Meeting with a counselor and taking part in student orientation is also encouraged. Financial aid is also available for student based on need in the form of loans, grants and scholarships. Students must submit a Free Application for Federal Student Aid (FAFSA), in order to determine eligibility.
Student to Faculty Ratio
13:1


Laramie Community College, located in Cheyenne Wyoming, offers community college students with a vast choice of 2-year degree options. The school offers health, IT, business, and trade-type curriculums so students can use their skills in their chosen fields soon after they graduate.
Courses are available in such disciplines as accounting, diagnostic medical sonography, energy management, and computer programming. Degree options are also offered in agricultural business technology and agricultural production and operations.
The city of Cheyenne, which plays host to the school, is the capital and most populous city in Wyoming. Known for its parks and pathways, Cheyenne has been recognized as "Trail Town USA" by both the American Hiking Society and the National Park Service.
Tuition is affordable at the schools and falls between $2,000 and a little over $5,000 per year. Just over 10% of the student body lives on the college campus. Varsity sports are featured that include basketball for the men and volleyball for the women. Men's and women's sports include soccer, rodeo riding, and equestrian activities. Laramie Community College is located at 1400 E. College Drive in Cheyenne. You can contact the school toll-free at 800-522-2993.
Student to Faculty Ratio
15:1
The most populous city in Wyoming is Cheyenne, followed by Casper.  While the most populous county in Wyoming is Laramie County with Natrona County close behind.   If you are interested in visiting the state of Wyoming, consider visiting their state page or the state chapter of the Chamber of Commerce.
2021 Best Colleges in Wyoming
By leveraging our cutting-edge search technology, you can quickly find a list of colleges in Wyoming from 4-year universities to two-year colleges. The latest published data will help you determine whether a school is a good fit for you or not. Variables you may want to consider include student to teacher ratios, enrollment trends, tuition, financial aid, sports programs, online degree programs, and majors offered by top ranked Wyoming colleges. Learning more about Wyoming college majors and statistics is just a click away. Find out today what colleges exist in Wyoming, how much tuition is for a private and public college in Wyoming, and college degrees that are the best fit for you.
Degree Breakdown State of Wyoming
Doctoral or
Professional degree

0 0.0%

Master's
Degree

4,880 2.6%

Bachelor's
Degree

48,260 1.2%

Associate's
Degree

7,660 2.9%

Postsecondary
Nondegree award

19,270 2.3%

Some college,
No degree

0 0.0%

High school diploma or
Equivalent

110,770 0.8%

No formal
Educational credential

79,620 1.2%
Source: Bureau of Labor Statistics
Browse Schools by Career in Wyoming
Follow the links below to get information on accredited schools in our database that offer programs or degrees.
College Student Resources
Get access to hundreds of free educational resources and quality career guides for high school students and Alaska college graduates. Our tools include exclusive research, tips and resources to find the perfect college match for you based on your personal criteria. The key to finding your perfect college match is to understand your personal criteria, learning style, career objectives, and vocational goals before selecting a school. Utilize our resources below to make the most of your educational experience.