Top Colleges in Arizona
Learning more about the accredited colleges in the State of Arizona has never been easier for residents and non-residents of the state.  We have curated an exclusive portal for every higher education institution from private universities to public colleges and community colleges to liberal arts schools across the Arizona state college system.
A complete list of accredited colleges in Arizona can be found along with the school's associated online degrees offered by private and public higher education institutions.  Top ranked colleges are listed in an easy to read format that includes degree programs, acceptance rates, enrollment trends, 3D campus tours, attendance statistics, courses, and career information for prospective college students.
The state of Arizona is located in the southwestern United States. The state is home to several post-secondary education institutions, some of which are over a hundred years in age. The state itself is generally warm and dry, with temperatures exceeding one hundred degrees Fahrenheit on some days. The state has several urban centers, wild deserts, and the Grand Canyon National Park.  Arizona is bordered by California and Nevada to the west, Utah to the north, New Mexico to the east, and the country of Mexico to the south.
Arizona has five universities that are managed by the Arizona Board of Regents. These universities are located in the three largest urban centers in the state, Phoenix, Tucson and Flagstaff. Arizona State University, with an enrolment of over 72,000, is the largest public university by enrollment in the United States.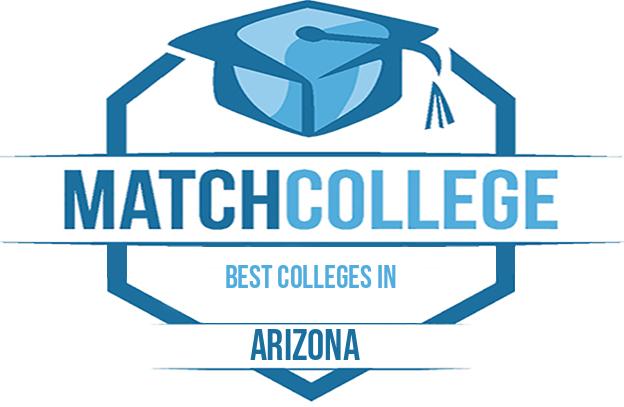 2021 Best Colleges in Arizona


Embry Riddle Aeronautical University - Prescott provides a variety of degree programs for students to assist them in their growth and development. The school is located in Prescott, Arizona and operated as a private institution. Approximately a thousand students are enrolled yearly at Embry Riddle Aeronautical University - Prescott.
A list of some of the popular programs are:
Aerospace, Aeronautical and Astronautical Engineering
Airline Pilot and Flight Crew
Aviation
International Relations
Business Administration
The admissions process will begin with the submission of an application, school records, and standardized test scores, which are then reviewed by admissions staff. Very common test scores among applicants accepted to Embry Riddle Aeronautical University - Prescott are within the range of 23 to 28 on the ACT, or 1016 to 1230 on the SAT. Roughly 80 percent of all students that applied were admitted at Embry Riddle Aeronautical University - Prescott, with 32 percent of those accepted choosing to attend.
The cost of tuition is close to $33,000, but may change from year to year. Students are encouraged to use the school's net price calculator to better estimate their cost of attendance. Student housing is available on-campus for students. The yearly cost of housing is estimated to be $5,500. Embry Riddle Aeronautical University - Prescott may help with costs by offering financial aid for students who qualify by way of scholarships, grants, and loans.
Students who wish to learn more about Embry Riddle Aeronautical University - Prescott can check out their website at http://www.erau.edu.
Student to Faculty Ratio
17:1


Tuition
$47,350.00 /
year
Student to Faculty Ratio
37:1


Tuition
$21,092.00 /
year
Student to Faculty Ratio
25:1


Tuition
$20,400.00 /
year
Student to Faculty Ratio
15:1


The University of Arizona (UA) in Tucson was the first university to be established in the state of Arizona, in 1885. The three campuses stretch over 387 acres and constitute the oldest continually maintained 'green space' in this otherwise desert region. The university serves over 35,000 students across all disciplines, including both undergraduate and postgraduate students. For example, UA offers 300 undergraduate degrees in 20 colleges and 11 schools. The faculty includes Nobel and Pulitzer prize winners and the National Science Foundation has ranked the University of Arizona as the 16th top public university in the country.
There are a large number of residences for students, almost all of which are co-ed. Residence Life has all the information you need to apply to a residence hall and be sure of getting the most out of your time on campus. The Admissions Office provides information on a wide variety of scholarships and financial aid as well as everything else you need to know about applying to the university.
Communication and community spirit are encouraged at UA. The Faculty Fellows is one example of a program in place to help generate both of these. The aim of this program is to enable the students to spend time with the faculty outside of the classroom and engender a spirit of community in the university. UA aims to be as diverse as possible and has a number of programs in place to ensure the continued diversity of both the student body and the faculty. This diversity includes both minority groups, international students and disabled staff and students. Disabled staff and students should contact the Disability Resource Center to learn about the specific details of assistance. Outreach programs are also available, as UA is committed to making a difference in people's lives.
The Student Recreation Center provides information on a variety of different things to do besides studying. A wide variety of sports are offered at the university as well as a variety of other student societies. There are art galleries, museums, theatres and a large number of libraries with an enormous amount of resources on offer to the student.
Student to Faculty Ratio
15:1


Arizona State University is the largest research university in the US, with four campuses; the Tempe Campus being the original and the largest campus. It is located approximately eight miles from downtown Phoenix, in the heart of Tempe, Arizona.
History
The first building erected on the Tempe Campus was Old Main. It remains a part of the Tempe Campus today and was built in 1898. That was 14 years before Arizona officially became a state. It was listed on the National Register of Historic Places in 1985. The Tempe Campus includes several notable buildings, including Grady Gammage Memorial Auditorium, which was designed by American architect, Frank Lloyd Wright.
Academics
There are several schools and colleges within the boundaries of the Tempe Campus. Examples include:
College of Liberal Arts and Sciences
Herber Institute for Design and the Arts
Ira A. Fulton School of Engineering
Sandy Day O' Conner College of Law
Courses and programs offered by other schools that are hosted by the Tempe Campus include:
Barrette, The Honors College
College of Teacher Education and Leadership
Campus Life
Danforth Meditation Chapel was built in 1947 and is a place where students can relax and meditate. It is located south of Hayden Library Entrance on Cady Mall. A large fountain adds to the atmosphere with the soothing sound of water.
There are more than 500 clubs where students can make friends, gain leadership skill and become involved in community activities. The Memorial Union is a community center for students, staff and guests. The building has four levels that offer programs, services and student involvement opportunities.
Sports and Recreation
Cheer the Sun Devils on to victory or participate in other activities and sports. If you enjoy working out, be sure to visit the weight rooms and cardio machines. Tempe Campus also offers an Introduction to Personal Training.
Support Services
There are a variety of support services for students at the Tempe Campus, including disability services, computer services, commuter services, a bookstore and Adult Learner Resources.
Community
Tempe is the seventh largest city in Arizona. Visit the Tempe Historical Museum to learn of the city's history or visit the University of Arizona's Art Museum. Admission to both of these attractions is free.
If you enjoy beating the heat, spend a day at Big Surf water park swimming. The water slides at Big Surf are popular with people of all ages.
Kiwanis Park offers a wide variety of activities including baseball, softball, racquetball, tennis, volleyball and an indoor wave pool.
Those who enjoy the great outdoors can hike up Tempe Butte. If you love shopping till you drop, check out Arizona Mills Mall, which as 175 stores, an IMAX theatre, restaurants and more.
Whether you enjoy the activities above or prefer golfing, the arts, concerts or festivals, there's always something to enjoy in Tempe, Arizona.
Student to Faculty Ratio
19:1


The Refrigeration School (RSI) has trained individuals to become professional, entry-level Heating, Ventilation, Air Conditioning and Refrigeration (HVAC/R) technicians since 1965. RSI has since expanded its training and now offers multiple career-focused training opportunities. RSI's instructors are experienced industry professionals. RSI's training programs are designed based on industry feedback to meet employers' needs. RSI promotes a student-centric learning environment to support the learner who desires to put forth a great deal of effort to achieve his or her desired professional goals.
Current Programs at RSI Include the following:
Electrical Technologies
Welding Specialist
Refrigeration Technologies & HVACR Training
Electro-Mechanical Technologies
Mechanical Maintenance Engineering
Electrical Applications
The Refrigeration School was established to train entry-level Heating, Ventilation, Air Conditioning, and Refrigeration (HVAC/R) technicians. The Refrigeration School added the Electrical Technologies and Electro-Mechanical Technologies courses in 1986 and 1987 respectively, to respond to the growing demand for entry-level electricians and facility maintenance technicians. In 1992 the school made an additional commitment and developed the Associate of Occupational Studies degree program in Mechanical Maintenance Engineering.
The RSI campus which is easily accessible from all parts of the Phoenix metropolitan area, includes two buildings with 21,000 square feet of classroom, lab, and support service facilities. An additional 5,400 square feet of outdoor shop area brings the total to over 26,000 square feet of training facilities.  We at RSI want to ensure that your education experience is a rewarding one. Please note that RSI offers ample support to all its students. We wish you the best in achieving your educational and professional goals.  See more about the school here.
The Refrigeration School (RSI) offers quality vocational training designed to prepare graduates for entry-level positions in the skilled trades, specifically in the fields of HVAC/R, electrical wiring and solar installation. Students are given the tools they'll need to succeed in the professional workplace, and are allowed ample practice time using modern equipment, such as our E-STAR and M-STAR systems. Our career-focused curriculum offers hands-on training with an emphasis on troubleshooting, and our highly experienced instructors guide trainees toward mastery. Graduates who are dedicated to learning will find that the techniques, technology and problem-solving attitudes honed at a reputable technical school can provide a solid foundation for a rewarding career. RSI has been helping students succeed for over five decades, and proudly offers extensive career services, housing assistance, GED training and financial aid for those who qualify.
Tuition
$19,924.00 /
year
Student to Faculty Ratio
34:1


Tuition
$28,500.00 /
year
Student to Faculty Ratio
20:1


Arizona Christian University, a nonprofit private institution, offers a variety of degree programs, allowing students to choose which major is right for them. Located in Phoenix, Arizona, the school offers an urban setting for students to study in. The school's Nondenominational Christian affiliation is one of its defining characteristics and plays an important role within the school's mission. The school enrolls 400 students yearly, allowing for smaller more engaging class sizes.
A list of some of the more popular programs offered are:
Biblical Studies
Business Administration
Counseling Psychology
Youth Ministry
English and Language Arts Teacher Education
To be considered for admissions, applicants may be required to fill out an application, write a personal statement, and submit high school records and test scores, which are then studied by admissions officials. Very common test scores among students accepted to Arizona Christian University are within the range of 19 to 24 on the ACT, or 910 to 1130 on the SAT. An estimated 60 percent of all students that applied were accepted at Arizona Christian University, with 60 percent of those admitted choosing to attend.
Tuition is approximately $21,000 per year, though it may vary based on any number of circumstances. Students may check the school's tuition calculator to get a more personalized estimate of costs. The cost of on-campus housing is around $4,900 per year. This school may offer financial aid for students that qualify in the form of loans, grants, scholarships and work study programs.
Arizona Christian University has a variety of athletic programs overseen by the NAIA. Available sports offered:
Baseball (NAIA Division II)
Basketball (NAIA Division II)
Golf (NAIA Division II)
Students should visit the school's http://www.arizonachristian.edu to view additional information.
Student to Faculty Ratio
14:1


Ave Maria University is a nonprofit private school that has many majors and degree programs available for students to choose from. The school is located in Ave Maria, Florida, in a predominantly rural area. The Roman Catholic affiliation at the school is an important part of the history, education and curriculum that defines the school. The school enrolls 800 students per year, allowing for smaller more engaging class sizes.
Students may select from many areas of study, including:
Theology
English
United States Government and Politics
Philosophy
Biology
Students applying for admission are most often required to submit an application, transcripts, records, test scores and any requested application essays, which will then be reviewed by the admissions committee. Either the ACT or SAT exam must be taken to apply to Ave Maria University. Scores within the range of 21 - 26 on the ACT or 1490 - 1840 on the SAT are needed to increase your chances for admission. This school has an admissions rate of 48% of which only 36% decided to attend. More information on admissions can be found at avemaria.edu.
Tuition is approximately $22,000 per year, though it may change based on different types of circumstances. Students should visit the school's net price calculator to see the personalize cost of attendance. Student housing is available for students and costs about $5,200 annually. Financial aid may be provided to students that meet the necessary requirements by way of grants or student loans.
The Ave Maria University "Gyrenes" compete in a number of intercollegiate sports through participation in the NAIA. Available athletic programs offered may include the following:
Baseball (NAIA Division II)
Basketball (NAIA Division II)
Track & Field (NAIA Division II)
Golf (NAIA Division II)
Contact information, academics information, programs, and much more may be viewed on school's website at http://www.avemaria.edu.
Student to Faculty Ratio
14:1


About
The University of Arkansas at Little Rock, located in Little Rock, Arkansas, was founded in 1927 , as Little Rock Junior College. The school was initially located in a public school, eventually moving to its permanent home in 1949. In 1957 the school began offering four year degrees which greatly expanded the school's focus and enrollment.
In 1969 the Little Rock University (the school's name at the time) merged with the University of Arkansas, becoming UALR and establishing the multi-campus University of Arkansas System that is currently comprised of 8 campuses. After this time the school grew very quickly, expanding its program offerings and facilities.
The school now serves over 11,000 students yearly and employs over 500 faculty members. As one of the largest institutions in the state, the school is committed to providing a quality education and is constantly updating and reviewing programs to ensure that they are current and relevant.

Academics
UALR offers over 100 undergraduate programs and nearly 40 graduate programs. The large number of programs ensures that students enrolled at UALR will be able to pursue their academic and professional goals. Undergraduate majors may be augmented through a number of minor degrees, or otherwise assist students in exploring interests outside of their area of focus.
Students will also be able to pursue a number of internship opportunities provided by the school's location, as it is the only metropolitan public institution in the state. Programs are administered through various schools that comprise UALR, which in turn have a number of departments dedicated to specific areas of study. The school also has several libraries to further assist students in research and study.

Programs offered at UALR include:
Admissions and Financial Aid
Students interested in enrollment at UALR must submit an application either through a physical copy or online, as well as provide transcripts and standardized test scores. Once the application is received it will be reviewed by the admissions officers, and a decision will be made regarding enrollment. A final decision will be provided well prior to the start of the fall semester (assuming standard enrollment), at which point the student will participate in orientation, academic counseling and registration.

Financial aid is available in the form of loans, grants, scholarships and work study programs available at the federal and state levels. Students in need of assistance must complete and submit a Free Application for Federal Student Aid (FAFSA) prior to the financial aid deadline.
Once submitted, the resulting student aid report will be used to determine need, eligibility and awards. Additional information may be asked for by the school prior to the disbursement of funds to ensure informational accuracy. Students may also apply to external scholarships offered by private organizations, each requiring a separate application and offered for a variety of reasons.

Athletics
The University of Arkansas at Little Rock Trojans participate in a number of intercollegiate athletic activities and programs through the NCAA Sunbelt Conference. Such programs provide students with a forum to experience healthy competition, allowing for personal and group success and expose students to the bonds formed when pursuing a unified goal.
Such athletic programs provide student the opportunity to develop skills and abilities, such as good health practices, teamwork, and discipline, which may be applied to one's academic and professional success. Athletic events also allow all students and faculty to enjoy such activities as spectators and root for their school.

Athletic programs offered at UALR:
Baseball
Basketball
Golf
Soccer
Swimming
Diving
Cross Country
Track and Field
Tennis
Volleyball
Student Life
UALR is located in the metropolitan capital of Arkansas, and as such has strong ties to the community. Students are able to participate in a number of community based programs, experience various cultural and social events, as well as pursue career development opportunities while still in school. The resources  provided by being in a metropolitan center are invaluable to students, as they provide recreational, social, academic, and professional development.
Student to Faculty Ratio
12:1


Northern Arizona University (NAU) is one of three state universities in Arizona. It has a main campus located in Flagstaff, Arizona, and many statewide campuses and learning centers. NAU is a public, research university offering degrees at the bachelor's, master's and doctoral levels. It offers additional degrees through its online programs. NAU has 95 undergraduate programs, 57 graduate programs and more than 70 online programs.
History
Northern Arizona University was founded in 1899 with 23 enrolled students and one professor. Early administrators had to travel the countryside of Arizona to recruit students for the school's single building. That tiny school grew over the years and underwent several name changes as it expanded. In 1958, the school expanded its research activity through the establishment of its forestry program. In 1966, the school achieved university status when it was recognized for its expanded academic programs. It was renamed from Arizona State College to become Northern Arizona University.
Academics
The academic calendar for Northern Arizona University has fall and spring semesters, and also offers three and four week Winter and Summer terms.
Colleges and Schools
College of Arts and Letters

School of Music
School of Art

College of Education
College of Engineering, Forestry and Natural Sciences

School of Earth Sciences and Environmental Sustainability
School of Forestry

College of Health and Human Services
College of Social and Behavioral Sciences
Graduate College
The W.A. Franke College of Business

School of Hotel and Restaurant Management
Student Life
Many student organizations and activities are available at NAU. The Recreation Center and Health and Learning Center offer opportunities for staying healthy and fit. There are more than 200 clubs in which to participate, including many intramural sports teams. Outdoor activities are arranged through Student Life and allow for exploration of the natural beauty around the campus.
Many theatre and music events are available on campus through SUN Entertainment, including concerts with headliners such as Jason Mraz and Mason Jennings.
On campus housing is available, along with many dining options.
Traditions
The NAU school colors are dark blue, white and gold. The school mascot is "Louie" the lumberjack.
Some NAU tradition include Greek Week, which includes many events and projects sponsored by the campus fraternities and sororities, Homecoming, which includes returning alumni joining in a bonfire and pep rally, a Mr. Lumberjack pageant, a parade, and more.
The annual "Gabapalooza" event at Gabaldon Hall on campus is an outdoor party open to all, which includes concerts, free food and carnival games.
Other NAU traditions include celebrations throughout the year to honor Native American Heritage, Asian-Pacific American Heritage and African-American Heritage.
Athletics
The NAU "Lumberjacks" athletic teams are members of the Big Sky Conference, which sponsors 15 NCAA Division I level athletic programs. Students can show their school spirit for the award-winning NAU football and basketball teams at the Walkup Skydome, one of the largest wooden dome structures in the U.S.
The NAU "Lumberjacks" compete in 15 intercollegiate sports, including:
Men's Sports:
Basketball
Cross Country
Cheer and Dance
Football
Golf
Soccer
Swimming and Diving
Tennis
Track and Field
Women's Sports:
Basketball
Cross Country
Cheer and Dance
Golf
Soccer
Swimming and Diving
Tennis
Track and Field
Volleyball
Satellite Campuses
The primary campus for NAU is in Flagstaff, Arizona, but students may choose to study at 34 different satellite campuses around the state. More information about satellite locations can be found at the Extended Campuses of Northern Arizona University website.
Community Life
NAU is located in Flagstaff, Arizona, a city that is nestled in the San Francisco mountain range. The area is known for its tall Ponderosa pines, high mountain peaks and scenic canyons. There are many other natural attractions, and the community enjoys many active outdoor activities.
Student to Faculty Ratio
19:1


Tuition
$85,000.00 /
year
Student to Faculty Ratio
16:1


Tuition
$25,240.00 /
year
Student to Faculty Ratio
18:1


Grand Canyon University (GCU) is a private Christian institute of higher learning located in Phoenix, Arizona. It offers bachelor's, master's and doctoral degrees through its online and on campus programs. A leading bible college, GCU also has been recognized for offering some of the top-rated online education programs in the United States. GCU's degree programs are offered through its Ken Blanchard College of Business, College of Education, College of Nursing and Health Sciences, College of Liberal Arts, College of Doctoral Studies, and College of Fine Arts and Production. Programs are designed for traditional undergraduate students as well as for working professionals.
The GCU mission states that as a private Christian College it "prepares learners to become global citizens, critical thinkers, effective communicators and responsible leaders by providing an academically challenging, values-based curriculum from the context of our Christian heritage."
History
In 1949, the Baptist General Convention of Arizona founded Grand Canyon University. It was the state's first private university, and opened with 93 students on its first campus in Prescott, Arizona.
In 1951, GCU relocated to the present campus in Phoenix, Arizona. A group of the university's founders relocated to the new campus and continued to grow its programs in education, English, religion, music, mathematics, history, and athletics. The goal was to make GCU a "beacon of Christian education" and academic excellence.
In 1968, the North Central Association granted GCU regional accreditation. Over the years, GCU began to win national championships in athletics including basketball, baseball, and women's tennis. Academic programs were expanded in the 1980's to include master's degrees.
Academics
Grand Canyon University's academic calendar follows the semester system with a fall, spring and summer semester. It offers 8-week and 16-week classes.
GCU offers nearly 60 different undergraduate degrees between its campus-based and online programs. It offers more than 50 master's degrees with different specializations, and eight doctoral degrees. Some degree programs are offered with both the on-campus and online options.
Colleges and Schools
Grand Canyon University (GCU) offers many degree programs through its different colleges and schools, which include:
Ken Blanchard College of Business
College of Nursing & Health Sciences
College of Education
College of Liberal Arts
College of Fine Arts and Productions
College of Doctoral Studies
Student Life
On-campus students of Grand Canyon University will benefit from the services provided by the Health and Wellness Center, Disability Services, Career Services, the Copy and Mail Center, the Library, a Fitness Center, cafeteria and campus coffee shop. There are also many recreational activities and intramural sports offered at GCU's Phoenix campus. Intramural sports include flag football, inner-tube water polo, soccer, softball, basketball, volleyball, ultimate Frisbee, and many more.
Online students of GCU will benefit from the Quick Start Resource Center, which offers many student services through the university's website.
Traditions
From its early beginnings, Grand Canyon University has been a Christian university with a tradition of "educating people to lead and serve."
Athletics
Grand Canyon University has a strong intercollegiate athletics program and has produced many top-ranking national athletes. The GCU Antelopes (nickname: 'Lopes) teams have won many regional and national championships.
Athletics facilities at GCU include the Brazell Stadium (baseball), Antelope Gymnasium (Basketball, Volleyball), GCU Soccer Complex, Stapleton-Pierson Stadium (Softball), Phoenix Swim Club, Paseo Racquet Center (Tennis) and the Student Recreation Center.
Intercollegiate sports at GCU include:
Men's Sports:
Baseball
Basketball
Cross Country
Golf
Lacrosse
Soccer
Swimming & Diving
Tennis
Track & Field
Volleyball
Wrestling
Women's Sports:
Basketball
Cross Country
Golf
Soccer
Softball
Swimming & Diving
Tennis
Track & Field
Volleyball
Satellite Campuses
Many of GCU's professional and degree programs are offered online, allowing students to complete their courses from any location.
Community Life
As a Christian university, GCU offers many opportunities for spiritual growth and mission work. The GCU offices of Student Life and Spiritual Life are there to build community on campus for students with diverse needs. These offices host many events and activities to encourage involvement and connection with the community. There are local, regional and international ministries available on a short-term or long-term basis.
Student to Faculty Ratio
20:1


Oklahoma Technical College is a two-year private career school dedicated to providing a solid education for students in Tulsa and surrounding areas. Over the previous several years Oklahoma Technical College awarded degrees to over seventy students with 52% of those who start the program complete it. Oklahoma Technical College offers several programs to pick from. Below is a list of the more popular programs being offered:
Auto Mechanic
Welding
Barber
Cosmetology, Barber and Nail Instructor
To help support students, Oklahoma Technical College may provide some services to students including:
Online classes
Weekend and night classes available
Academic counseling for students
Student employment
Employment search assistance
To see more and get consumer disclosures, please visit oklahomatechnicalcollege.com.
Tuition
$19,157.00 /
year
Student to Faculty Ratio
11:1


Los Angeles based InfoTech Career College is now part of Healthcare Career College (HCC).  The school offers vocational health care training featuring small class sizes and instructors with real-world work experience.  The College is accredited by the Council on Occupational Education (COE).  Today vocational schools like InfoTech are increasingly being required to disclose information useful to potential students such as average loan debt, total cost, and placement rates.  InfoTech has an institutional placement rate of 83% across its career training programs for the most recent reporting academic year.
InfoTech offers training in seven health care related fields:
Medical Assistant
Nursing Assistant
Vocational (Practical) Nursing
Medical Billing and Coding
Patient Care Technician
Phlebotomy Technician
Ultrasound Technician
The shortest program in duration is the Nursing Assistant program, which can be completed in eight weeks when graduates will be ready to take state certification exams.
The Medical Assisting, Billing and Coding, and Patient Care Technician programs take longer – around 40 weeks, but they include externship opportunities in real-world health care environments that can lead to permanent employment upon graduation.  There are professional certification examinations available for qualified candidates in all these fields.  InfoTech is an approved testing center.
The Licensed Vocational (Practical) Nursing program takes 60 weeks to complete at which time graduates will be ready to take the NCLEX-PN (National Council Licensure Examination-Practical Nurse).
The Phlebotomy Technician program is designed for working professionals already in the field and can be completed in six Saturdays.  At that time students will be prepared to take the State Certification Exam for licensure as a Certified Phlebotomy Technician (CPT1).
Tuition
$15,079.00 /
year
Student to Faculty Ratio
10:1


Tuition
$14,763.00 /
year
Student to Faculty Ratio
39:1


Tuition
$14,335.00 /
year
Student to Faculty Ratio
25:1


Located in Spirit Lake, IA, Faust Institute of Cosmetology - Spirit Lake is a private institution that offers career education for students interested in cosmetology. This school has been accredited by the National Accrediting Commission of Career Arts and Sciences since 1990. Faust Institute of Cosmetology - Spirit Lake provides an in-depth cosmetology program that prepares individuals get started in the beauty industry as qualified and licensed professionals.
Faust Institute of Cosmetology - Spirit Lake had an enrollment of close to around twenty-seven students last year. Faust Institute of Cosmetology - Spirit Lake reported students had a federal loan default rate of approximately 3% in 2009.
Faust Institute of Cosmetology - Spirit Lake offers cosmetology career counseling for current and graduated students. Local and state licensing procedures may differ, and as such it is recommended students look into getting a license in cosmetology. For information and consumer disclosures, please visit school's website.
Tuition
$13,450.00 /
year
Student to Faculty Ratio
3:1
There are not many private four year institutions in Arizona. Some of the schools are faith based institutions founded upon Christian ideals, while others private for profit institutions that have locations throughout several states. Private institutions typically cost more than public institutions and have smaller class sizes, creating a much lower and preferable student to teacher ratio. Private Institutions tend to provide educational opportunities that appeal to certain students more so than others.
Additionally Arizona supports to institutions of higher learning designated for Native American populations. Diné College is a community college located on a Navajo Indian reservation that spans Arizona, New Mexico and Utah with the main campus located in Tsaile, Arizona. The second is the Tohono O'odham Community College, located in Sells, Arizona, which serves as a community college and vocational school for the Tohono O'odham Indians. Though the school is open to any individuals wishing to attend, its roots are grounded in the traditions of the Tohono O'odham.
Arizona is also home to a large number of community colleges and career colleges. The community colleges typically serve as feeder schools to the states public universities, while the career colleges provide short programs to provide vocational or trade training in high demand fields. Most community colleges offer similar programs for vocational and trade training and it is a matter of location, price and quality when deciding which school to attend.
The most populous city in Arizona is Phoenix, followed by Tucson.  While the most populous county in Arizona is Maricopa County with Pima County and Pinal close to one another.   If you are interested in visiting the state of Arizona, consider visiting their state page or the state chapter of the Chamber of Commerce.
2021 Top Arizona Colleges
MatchCollege proprietary search tools help students looking to take their career to the next level and apply to colleges in Arizona quickly by locating information about specific two-year colleges and four-year colleges.  You can easily find latest published information on financial aid, enrollment, student to teacher ratios, sports programs, and online degree programs for top ranked Arizona colleges.
Learning more about Arizona college majors and school statistics is truly a click away.  Find out today what colleges exist in Arizona, how much tuition is for a private and public college in Arizona, and college majors best for you.
You can simply request to have any number of accredited colleges in Arizona provide admissions information directly to you, quickly and securely through our portal.  Find out if you qualify for an application waiver or application fee discount before applying to a college.  Additionally, determine in advance what it takes to qualify for a specific college degree program or online degree by talking directly with an admission's officer at the university.
Degree Breakdown State of Arizona
Doctoral or
Professional degree

61,340 4.0%

Bachelor's
Degree

540,770 1.7%

Associate's
Degree

0 0.0%

Postsecondary
Nondegree award

142,960 2.0%

Some college,
No degree

59,680 2.5%

High school diploma or
Equivalent

951,880 0.9%

No formal
Educational credential

721,020 0.9%
Source: Bureau of Labor Statistics
Browse Schools by Career in Arizona
Follow the links below to get information on accredited schools in our database that offer programs or degrees.
What Colleges Exist in Arizona?
Connecting with a variety of colleges in the State of Alabama has never been a more effortless task. MatchCollege has created an extensive portal for all types of colleges from public universities to private colleges and liberal arts schools to community colleges across the Alabama state college system. We have compiled a full list of accredited colleges in Alabama along with the associated online degrees offered by private and public higher education institutions. Top ranked colleges are listed in an easy to read format that includes degree programs, acceptance rates, enrollment trends, 3D campus tours, attendance statistics, courses, and career information for prospective college students.
College Student Resources
We have created hundreds of free educational resources and quality career guides for high school students and Alabama college graduates. Our tools include exclusive research, tips and resources to find the perfect college match for you based on your personal criteria. The key to finding your perfect college match is to understand your personal criteria, learning style, career objectives, and vocational goals before selecting a school. Utilize our resources below to make the most of your educational experience.