Contact Information
General Contact
Admissions Office
Financial Aid Office
STUDENT TEACHER RATIO
19:1
DEGREE OFFERED ONLINE
140
FINANCIAL AID AWARD AVG.
$9,380
Average Grants + Scholarship Aid Awarded to Undergraduate Students
Percent of Full-Time Undergraduates Receiving Financial Aid
Percent of Students Paying In-State Tuition vs Out-of-State Tuition
Virtual Tour of Campus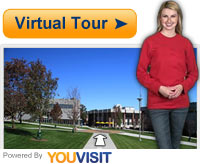 Northern Arizona University
Route 12, One Circle Drive, Tsaile, AZ
Northern Arizona University (NAU) is one of three state universities in Arizona. It has a main campus located in Flagstaff, Arizona, and many statewide campuses and learning centers. NAU is a public, research university offering degrees at the bachelor's, master's and doctoral levels. It offers additional degrees through its online programs. NAU has 95 undergraduate programs, 57 graduate programs and more than 70 online programs.
History
Northern Arizona University was founded in 1899 with 23 enrolled students and one professor. Early administrators had to travel the countryside of Arizona to recruit students for the school's single building. That tiny school grew over the years and underwent several name changes as it expanded. In 1958, the school expanded its research activity through the establishment of its forestry program. In 1966, the school achieved university status when it was recognized for its expanded academic programs. It was renamed from Arizona State College to become Northern Arizona University.
Academics
The academic calendar for Northern Arizona University has fall and spring semesters, and also offers three and four week Winter and Summer terms.
Colleges and Schools
College of Arts and Letters

School of Music
School of Art

College of Education
College of Engineering, Forestry and Natural Sciences

School of Earth Sciences and Environmental Sustainability
School of Forestry

College of Health and Human Services
College of Social and Behavioral Sciences
Graduate College
The W.A. Franke College of Business

School of Hotel and Restaurant Management
Student Life
Many student organizations and activities are available at NAU. The Recreation Center and Health and Learning Center offer opportunities for staying healthy and fit. There are more than 200 clubs in which to participate, including many intramural sports teams. Outdoor activities are arranged through Student Life and allow for exploration of the natural beauty around the campus.
Many theatre and music events are available on campus through SUN Entertainment, including concerts with headliners such as Jason Mraz and Mason Jennings.
On campus housing is available, along with many dining options.
Traditions
The NAU school colors are dark blue, white and gold. The school mascot is "Louie" the lumberjack.
Some NAU tradition include Greek Week, which includes many events and projects sponsored by the campus fraternities and sororities, Homecoming, which includes returning alumni joining in a bonfire and pep rally, a Mr. Lumberjack pageant, a parade, and more.
The annual "Gabapalooza" event at Gabaldon Hall on campus is an outdoor party open to all, which includes concerts, free food and carnival games.
Other NAU traditions include celebrations throughout the year to honor Native American Heritage, Asian-Pacific American Heritage and African-American Heritage.
Athletics
The NAU "Lumberjacks" athletic teams are members of the Big Sky Conference, which sponsors 15 NCAA Division I level athletic programs. Students can show their school spirit for the award-winning NAU football and basketball teams at the Walkup Skydome, one of the largest wooden dome structures in the U.S.
The NAU "Lumberjacks" compete in 15 intercollegiate sports, including:
Men's Sports:
Basketball
Cross Country
Cheer and Dance
Football
Golf
Soccer
Swimming and Diving
Tennis
Track and Field
Women's Sports:
Basketball
Cross Country
Cheer and Dance
Golf
Soccer
Swimming and Diving
Tennis
Track and Field
Volleyball
Satellite Campuses
The primary campus for NAU is in Flagstaff, Arizona, but students may choose to study at 34 different satellite campuses around the state. More information about satellite locations can be found at the Extended Campuses of Northern Arizona University website.
Community Life
NAU is located in Flagstaff, Arizona, a city that is nestled in the San Francisco mountain range. The area is known for its tall Ponderosa pines, high mountain peaks and scenic canyons. There are many other natural attractions, and the community enjoys many active outdoor activities.
Admission Requirements & Details
The admissions information below may provide a better idea of the students Northern Arizona University accepts. The details may include admissions application requirements and recommendations, as well as any AP college credits that may be transferred.
College Credits Accepted
Dual Credits
AP Course Credits
Student Enrollment
Total enrollment at Northern Arizona University is around 31,000 students. The student body is made up of 87% undergraduate students and 19% graduate students.
Estimated Costs & Financial Aid
The average "out of pocket" cost of attendance, after any grants and scholarships are considered, is around $14,900. To calculate a more personalized cost visit the net price calculator. There is also a $25 application fee for students applying to the school. The figures listed below are for informational purposes only and do not represent current or future tuition, fees, and expenses.
Tuition & Fees Information
Annual tuition range estimates:

State Residents: $10,000-$12,000
Out-of-State: $17,000-$19,940

Part-time students are charged:

State Residents: $760-$910 per credit unit
Nonresidents: $1,100-$1,300 per credit unit

Some programs may have tuition rates locked at the first year rate for up to five years.
Financial Aid Details
The table listed below helps break down the types of financial aid students receive and the percent receiving aid, as well as the average amount of aid per student per year.
| | Percent of Students | Average Amount |
| --- | --- | --- |
| Any Financial Aid | 94% | - |
| Receiving Grants & Scholarships | 91% | $10,562 |
| Receiving Student Loans | 50% | $5,822 |
Academics & Student Services
Student Services
To help students and alumni, Northern Arizona University may provide services like those listed below:
Online classes
Counseling assistance
Student employment
Assistance to find work
Specialized Programs & Accreditations
Campus: Northern Arizona University
Dental Hygienist Program
Music Program
Bachelor's Degree in Nursing (BSN) Program
Nursing (MSN, DSN) Program
Occupational Therapy (OT) Program
Speech-Language Pathology Program
Elementary and Secondary School Teacher Education Program
Campus: Northern Arizona University - Phoenix Biomedical Campus
Intercollegiate Athletics
Northern Arizona University is a Member of National Collegiate Athletic Association (NCAA), with many of the sports belonging to the NCAA Division I-FCS classification. The most popular sports played are listed below:
Basketball (Big Sky Conference)
Track and Field (Big Sky Conference)
Football (Big Sky Conference)
Golf
Soccer
Swimming and Diving
Tennis
Volleyball
Programs Offered
The program list below is organized by areas of study. The programs that have a link will direct you to the program's profile page where you can learn more about education requirements and career pathways.
Get more information about the programs offered by Northern Arizona University by clicking the request information to the right.
(C) Certificate or Award | (A) Associate's | (B) Bachelor's | (M) Master's Degree | (D) Doctorate (PhD,...)
Other 4-Year Public Colleges
The list of schools below have been selected by researching which schools offer similar programs to Northern Arizona University.
Also, check out our college lists below, which can help students compare schools to one another:
Contact Information
General Contact
Admissions Office
Financial Aid Office