Contact Information
General Contact
Admissions Office
Financial Aid Office
STUDENT TEACHER RATIO
22:1
DEGREE OFFERED ONLINE
114
FINANCIAL AID AWARD AVG.
$10,693
Average Grants + Scholarship Aid Awarded to Undergraduate Students
Percent of Full-Time Undergraduates Receiving Financial Aid
Percent of Students Paying In-State Tuition vs Out-of-State Tuition
Virtual Tour of Campus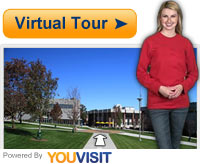 Vincennes University
12 S Second St, Vincennes, IN
Vincennes University is a post-secondary institution located in small-town Vincennes, Indiana. With an enrollment of some 10,000 students, Vincennes is small compared to her big sister, Indiana University. But VU has a big spirit: its motto, "Smaller certainly doesn't imply inferior," communicates the school's commitment to big ideals. Vincennes is the perfect choice for students who desire a university education but prefer a more intimate environment. In the spirit of proving it is "small but not inferior," the school offers over two hundred degree programs in a variety of disciplines from the humanities and performing arts to science and business.
Well-rounded university students don't study all the time; they join fraternities or sororities, perform community service, and spend time developing leadership skills. Vincennes offers an array of extracurricular activities. The Red Skelton Performing Arts Center and the Donald G. Bell Recreational Facility are points of school pride, offering cultural and fitness enrichment as well.
Paying for college is a valid concern for students facing the college years, but with its affordable tuition costs, Vincennes is an attractive option! And academic scholarships, partial and full home-school scholarships, work study, and financial aid are available to help qualified students defray educational costs.
Students with a high school diploma or GED may apply for admission. For details, contact the VU admissions office. Students who desire the best of both worlds—a university education in an intimate environment—will agree that Vincennes University is their best choice.
Admission Requirements & Details
The admissions information below may give an overview of the students Vincennes University accepts. The details may include admissions application requirements and recommendations, as well as any college or dual credits that may be transferred.
College Credits Accepted
Dual Credits
Life Experience Credits
AP Course Credits
Estimated Costs & Financial Aid
The average "out of pocket" cost of attendance, after any grants and scholarships are considered, is around $9,900. In order to calculate a more accurate and detailed cost of attendance check out their cost calculator here. There is also a $20 application fee for those applying to a program. The figures listed below are for informational purposes only and do not represent current or future tuition, fees, and expenses.
Tuition & Fees Information
Tuition estimates per year:

State Residents: $5,600-$6,700
Out-of-State: $14,000-$16,650

Charges per unit:

State Residents: $190-$220 per credit unit
Nonresidents: $460-$550 per credit unit

The estimated cost for on campus housing and meals is around $13,000
Financial Aid Details
The information below lists the financial aid types students are receiving. Also shown are the percent of students receiving aid and the average amount of aid per student per year.
| | Percent of Students | Average Amount |
| --- | --- | --- |
| Any Financial Aid | 89% | - |
| Receiving Grants & Scholarships | 79% | $7,166 |
| Receiving Student Loans | 58% | $7,614 |
Academics & Student Services
Student Services
To help students and recent graduates, Vincennes University may offer student services like those listed below:
Distance learning
Night and weekend classes available
Remedial courses
Counseling assistance
Work study style employment
Assisting students to find work
Specialized Programs & Accreditations
Art and Design Program
Funeral Service Education Program
Associate's Degree in Nursing (ADN) Program
Bachelor's Degree in Nursing (BSN) Program
Licensed Practical Nursing (LPN) Program
Elementary and Secondary School Teacher Education Program
Theatre Program
Programs Offered
The program list below is organized by areas of study. The programs that have a link will direct you to the program's profile page where you can learn more about education requirements and career pathways.
Get more information about the programs offered by Vincennes University by clicking the request information to the right.
(C) Certificate or Award | (A) Associate's | (B) Bachelor's | (M) Master's Degree | (D) Doctorate (PhD,...)
Other Community Colleges
The list of schools below have been selected by researching which schools offer similar programs to Vincennes University.
Also, you can compare schools by looking through our list of colleges & universities:
Contact Information
General Contact
Admissions Office
Financial Aid Office