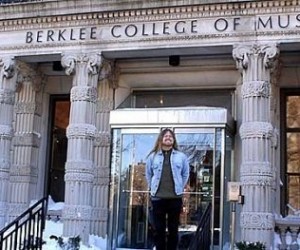 Located in Boston, MA, Berklee College of Music is a nonprofit private institution that offers professional level education and training in music and music theory. BCM has several programs to pick from. Some of the more popular programs offered for students includes:
Music Theory and Composition
Music
Music Management
Audio and Video Production
Music Performance
To support students and graduates, Berklee College of Music may offer support services like those listed below:
Remedial courses
Counseling assistance
Employing students to lower education costs
Students can use a variety of means to evaluate school performance. A school's graduation and loan default rates are among the strongest indicators of educational and career success. Berklee College of Music has an annual graduation rate of 52%, and a loan default rate of about 8%.
Berklee College of Music has been accredited by the New England Association of Schools and Colleges, Commission on Institutions of Higher Education having first received its accreditation from that agency in 1973. Get more information by visiting the school's official website, where you can see admissions information, financial aid & tuition, and disclosures.
Programs Offered
The program list below is organized by areas of study. The programs that have a link will direct you to the program's profile page where you can learn more about education requirements and career pathways.

Find more information about available programs offered by Berklee College of Music by clicking the request information button to the right.
(C) Certificate or Award | (A) Associate's | (B) Bachelor's | (M) Master's Degree | (D) Doctorate (PhD,...)
Computer and Information Sciences
Computer Software And Media Applications (B, M)
Education
Music Teacher Education (B, C, M)
Engineering Technology
Engineering Technologies (B, M)
Health and Clinical Professions
Visual and Performing Arts
Notes:
*The posted costs for tuition, fees and supplies are determined through historical data and may not represent current costs.
**Repayment rates, earnings, and loan payments are estimates and should be treated as informational tools only, contact the school for official information.
Estimated Costs & Financial Aid
The overall cost students will pay at Berklee College of Music is approximately $43,800 after scholarships, grants and other forms of aid are taken into consideration. To calculate a more accurate and detailed cost of attendance check out their cost calculator here. There may be an application fee required, please check with Berklee College of Music for more information. The school's financial aid department offers additional information regarding types of aid, how to apply and more. Students may contact the school by calling (617) 747-2274. The financial details shown on this page are an approximation. The actual costs may differ, please contact Berklee College of Music for more information.
Note: Financial aid is only available for those who qualify, check with the school for details.
Tuition & Fees Information
Undergraduate Courses - Tuition Details
Tuition is estimated to be around $49,000 per year
Part time students are estimated to pay about $1,600 to $1,900 per unit
Required fees: $1,400
Graduate Courses - Tuition Details
The estimated tuition range for graduate students is around $43,000-$52,000 per year
Part time students are estimated to pay about $1,300 to $1,600 per unit
Required fees for graduate students are around $1,500
Financial Aid Details
The table below breaks down the types of financial aid, the percent of students receiving aid, and average amount of aid per student.
| | Percent of Students | Average Amount |
| --- | --- | --- |
| Any Financial Aid | 70% | - |
| Receiving Grants & Scholarships | 58% | $19,384 |
| Receiving Student Loans | 40% | $12,820 |
Other Fashion or Art Schools
The list of nearby schools has been selected by researching which schools offer similar programs to Berklee College of Music.