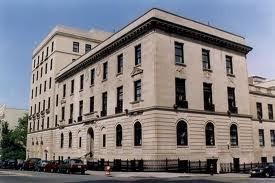 Located in New York, New York, Manhattan School of Music is a nonprofit private institution that offers professional level education and training in music and music theory. Manhattan School of Music offers several programs to pick from. A list of the more popular programs being offered for students includes:
Music Performance
Music Theory and Composition
Student and special services are available at Manhattan School of Music, offering personal and academic assistance for students, which includes:
Remedial courses
Counseling assistance
Student employment
Assistance to find work
Students can use a variety of means to evaluate school performance. A school's graduation and loan default rates are among the strongest indicators of educational and career success. Manhattan School of Music has a yearly graduation rate of 76%, and a loan default rate of near 0.7%.
This school has been accredited by the Middle States Commission on Higher Education having first received its accreditation from that agency in 1956. Please visit msmnyc.edu for more information on programs offered and consumer disclosures.
Programs Offered
Below is a list of areas of study that may be available for students. Any linked program will direct you to the respective program's profile page which provides general educational requirements and possible career paths.

Get more information about the programs offered by Manhattan School of Music by clicking the request information to the right.
(C) Certificate or Award | (A) Associate's | (B) Bachelor's | (M) Master's Degree | (D) Doctorate (PhD,...)
Visual and Performing Arts
Piano And Organ (B, C, D, M)
Voice and Opera (B, C, M)
Violin, Viola, Guitar And Other Stringed Instruments (B, C, D, M)
Jazz and jazz Studies (B, M)
Woodwind Instruments (B, C, D, M)
Music Performance (M)
Brass Instruments (B, C, M)
Music Theory and Composition (B, C, D, M)
Conducting (M)
Percussion Instruments (B)
Notes:
*The posted costs for tuition, fees and supplies are determined through historical data and may not represent current costs.
**Repayment rates, earnings, and loan payments are estimated to provide a comparative context. For more detailed information individuals are asked to contact the school.
Estimated Costs & Financial Aid
The cost of attendance is approximately $43,400 per year, after the grants, scholarships and other forms of aid are calculated. In order to calculate a more accurate and detailed cost of attendance visit the net price calculator. The cost to submit an application is $125. Financial aid information may be obtained by contacting the financial aid office at (212) 749-2802. The financial figures shown on this page provide information regarding costs and fees at Manhattan School of Music, these numbers may change in a given year due to a variety of factors.
Note: Financial aid is only available for those who qualify, check with the school for details.
Tuition & Fees Information
Undergraduate Courses - Tuition Details
Annual tuition is estimated to range between $48,000-$58,000
The estimated tuition for part time students is around $2,200 to $2,600 per credit hour
Required fees for full-time students: $890
Graduate Courses - Tuition Details
Annual tuition for graduate students is estimated to range between $48,000-$58,000
Required fees for graduate students are around $890
Financial Aid Details
The table below breaks down the types of financial aid, the percent of students receiving aid, and average amount of aid per student.
| | Percent of Students | Average Amount |
| --- | --- | --- |
| Any Financial Aid | 75% | - |
| Receiving Grants & Scholarships | 71% | $23,658 |
| Receiving Student Loans | 57% | $3,011 |
Other Fashion or Art Schools
The list of nearby schools has been selected by researching which schools offer similar programs to Manhattan School of Music.