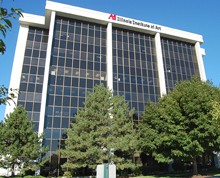 The Art Institutes, also referred to as Ai, is a system of schools located throughout the country that provide art education courses and degrees. Over 50 colleges comprise the system, offering varying programs and levels of education. The system was founded in 1969 through the acquisition of the Art Institute of Pittsburgh by the Education Management Corporation (EDMC). Over the subsequent years the Ai model of education has been replicated in campuses across the United States, as well as through a distance learning program launched in 2000.
Ai offers a large variety of programs through the following areas of study:
Design
Media Arts
Fashion
Culinary Arts
The programs offered may result in a certificate, associate, bachelors or master's degree. AI's focus on art education separates it from traditional post-secondary education institutions, as the school specializes in the development of skills and abilities unique to art related fields and industries.
Some of the more notable programs offered include:
Interior Design
Graphic & Web Design
Photography
Digital Film
Fashion Design
Schaumburg Location
The Schaumburg branch of Art Institute is located at 1000 Plaza Drive, Ste. 100. You can learn more, including the school's consumer disclosures, by visiting artinstitutes.edu.