Contact Information
General Contact
Admissions Office
Financial Aid Office
STUDENT TEACHER RATIO
18:1
FINANCIAL AID AWARD AVG.
$17,079
Average Grants + Scholarship Aid Awarded to Undergraduate Students
Percent of Full-Time Undergraduates Receiving Financial Aid
Percent of Students Paying In-State Tuition vs Out-of-State Tuition
Virtual Tour of Campus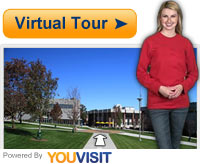 Johnson & Wales University
1150 Douglas Pike, Smithfield, RI
Johnson & Wales University, commonly referred to as JWU, is a private institution that offers unique educational opportunities to over 17,000 students annually. The school has four campuses located in Florida, Rhode Island, Colorado, and North Carolina. The school was founded in 1914 in Providence, by Gertrude I. Johnson and Mary T. Wales to provide a business education. Over the years the school has expanded its locations and offerings, eventually receiving accreditation to offer undergraduate and graduate files.
Students at JWU will be able to choose from a variety of programs to begin their education. The school's dedication to career preparation is a cornerstone of its educational offerings. Skill development and training is part of the curriculum taught by educated and experienced professionals in order to provide the best education possible. Programs are augmented by internship and other opportunities that provide practical experience to assist in future employment.
Programs offered include:
Business
Culinary Arts
Criminal Justice
Hospitality
Equine Studies
Smithfield Location
The Smithfield branch of Johnson & Wales University is located at 1150 Douglas Pike. Close to two thousand students graduate from this campus each year. This location provides services for students in the form of job placement options for students after graduation, career counseling for students in need of assistance, and remedial education courses for program or licensure preparation. Students may learn more, including the school's consumer disclosures, by visiting jwu.edu.
Admission Requirements & Details
The admissions information below may provide a better idea of the candidates Johnson & Wales University accepts. The details may include application requirements and recommendations, as well as any AP credits that may be transferred.
College Credits Accepted
Dual Credits
Life Experience Credits
AP Course Credits
Student Enrollment
Total enrollment at Johnson & Wales University is around 7,400 students, with undergraduate students making up about 91% of the total student population and graduate students making up the rest.
Estimated Costs & Financial Aid
The items listed below are for informational purposes only and may not represent current tuition, fees, and expenses.
Tuition & Fees Information
The estimated tuition range is around $33,000-$40,000 per year
For part-time students, charges are between $220-$270 per unit
Financial Aid Details
The information below lists the financial aid types students are receiving. Also shown are the percent of students receiving aid and the average amount of aid per student per year.
| | Percent of Students | Average Amount |
| --- | --- | --- |
| Any Financial Aid | 99% | - |
| Receiving Grants & Scholarships | 99% | $19,852 |
| Receiving Student Loans | 83% | $9,201 |
Academics & Student Services
Student Services
To help students and recent graduates, Johnson & Wales University may offer services like those listed below:
Online classes
Weekend and night classes available
Remedial courses
Career path counseling
Employing students to lower education costs
Employment search assistance
Specialized Programs & Accreditations
Dietetics Program

* Accredited by the Academy of Nutrition and Dietetics, Accreditation Council for Education in Nutrition and Dietetics (since 2000)
Intercollegiate Athletics
Johnson & Wales University is a Member of National Collegiate Athletic Association (NCAA), with many of the sports being in the NCAA Division III without football classification. The most popular sports played are listed below:
Baseball (Great Northeast Athletic Conference)
Basketball (Great Northeast Athletic Conference)
Field Hockey
Golf
Ice Hockey
Lacrosse
Rowing
Soccer
Softball
Tennis
Track and Field, X-Country
Volleyball
Wrestling
Other Sports
Equestrian
Programs Offered
The program list below is organized by areas of study. The programs that have a link will direct you to the program's profile page where you can learn more about education requirements and career pathways.
(C) Certificate or Award | (A) Associate's | (B) Bachelor's | (M) Master's Degree | (D) Doctorate (PhD,...)
Other 4-Year Private Colleges
The list of schools below have been selected by researching which schools offer similar programs to Johnson & Wales University.
Also, you can compare schools by looking through our list of colleges & universities:
Contact Information
General Contact
Admissions Office
Financial Aid Office