Contact Information
General Contact
Admissions Office
Financial Aid Office
STUDENT TEACHER RATIO
17:1
Average Grants + Scholarship Aid Awarded to Undergraduate Students
Percent of Full-Time Undergraduates Receiving Financial Aid
Percent of Students Paying In-State Tuition vs Out-of-State Tuition
Virtual Tour of Campus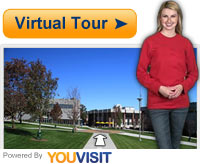 St. John's University – New York
Also known as SVCMCNY SCHOOL OF NURSING SI
2 Teleport Drive, Corporate Commons Two, Suite 203, Staten Island, NY
Students at St. John's receive an education that includes both academic study and service to those less fortunate. The curriculum at St. John's includes centers of excellence that provide research opportunities in sustainable global development and social justice. Students can participate in volunteering, mentoring and "service learning" programs at all of St. John's campuses and beyond.
Among its more than 100,000 alumni are officials with the U.S. Chamber of Commerce, leaders of well-known businesses and industries, and at least one successful producer in the entertainment industry.
History
The Vincentian Community founded St. John's University in 1870 as an educational institution committed to the values of St. Vincent de Paul. The St. John's approach to education places an emphasis on the teachings of St. Vincent, which focus on respect for the individual, human solidarity, service to the needy and making the world a better place.
Academics
The academic calendar for St. John's University follows the semester format, with fall, spring and summer semesters. Students have several ways to earn college credit during the summer through four summer sessions: Pre Session in May, Session I in May-July, Session II in July-August, and Post Session in August.
Colleges and Schools
The colleges and schools of St. John's University are:
St. John's College of Liberal Arts and Sciences
The School of Education
The Peter J. Tobin College of Business
College of Pharmacy and Allied Health Professions
College of Professional Studies
St. John's Distance Learning
School of Law
The centers and institutes at St. John's University include:
Center for Community Services

Center for Psychological Services
Reading and Writing Education Center
Speech and Hearing Center

Center for Global Development
Center for Professional Education
Center for Teaching and Learning
CLACS - Committee for Latin American and Caribbean Studies
Division of Academic Support Services
Division of Special and Opportunity Programs
Dr. Andrew J. Bartilucci Center
Emergency Medical Services Institute
English Language Institute: The Language Connection
Financial Services Institute
Grants and Sponsored Research
Health Education Resource Center (HERC)
Imagery Institute
Institute for Asian Studies
Institute for Biotechnology
Institute for Core Studies (ICS)
Institute for Writing Studies
Italian Cultural Center
Multicultural Advisory Committee
ROTC
Dr. M. T. Geoffrey Yeh Art Gallery
Vincentian Center for Church and Society
Women in Science Program
Student Life
Student life activities at St. John's University include campus ministry, multicultural affairs, intramural sports for men and women, campus fitness and recreation, and special campus activities like grocery bingo, where students can play bingo to win free groceries.
The student wellness program at St. John's, called "SWELLness," is committed to helping students maintain a holistic approach to their health in all areas, including physical, emotional, social, environmental, spiritual and intellectual. The SWELL calendar offers many health-related workshops and seminars through the year, including meditation courses.
St. John's three campuses in New York provide residential living. The Queens Campus provides six high-tech residence halls with wireless Internet access, study rooms, a computer center, lounges, dining hall and 24-hour security.
The Staten Island Campus offers modern, apartment-style living adjacent to campus, and the Manhattan Campus offers limited student housing in a 10-story high rise.
Traditions
The athletic program at St. John's University was founded in 1907 with its intercollegiate men's basketball program. In the beginning, this team was traditionally referred to as the "Wonder Five." The baseball team was established at St. John's at a later date, and made it to the College World Series several times between 1949 and 1968. Women's athletics were added in the 1970s. In the 1990s the St. John's athletic teams changed their nickname from the "Wonder Five" to the "Red Storm," a nickname that continues today.
The color of the athletic uniforms for St. John's has been red since the early days, and the traditional colors for the university are red and white.
Athletics
St. John's 17 "Red Storm" athletic teams compete in several intercollegiate sports including:
Men's Sports:
Baseball
Basketball
Cross country
Fencing
Golf
Soccer
Tennis
Track and Field
Women's Sports:
Basketball
Cross Country
Golf
Lacrosse
Soccer
Softball
Tennis
Track and Field
Volleyball
Satellite Campuses
In addition to its primary campus in Queens, New York, St. John's University has five satellite locations, including:
Staten Island, NY
Manhattan, NY
Oakdale, NY
Rome, Italy
Paris, France
Community Life
St. John's University has strong partnerships in the diverse communities of New York City. The Offices of Community Relations and Community Business Development at St. John's facilitate civic groups, social organizations, arts agencies, free concerts, special events, blood drives, food drives, community support for local businesses, and many charitable efforts.
Admission Requirements & Details
The admission details below may provide a better idea of the applicants SVCMCNY SCHOOL OF NURSING SI accepts. The details may include application requirements and recommendations, as well as any AP college credits that may be transferred.
College Credits Accepted
Dual Credits
Life Experience Credits
AP Course Credits
Student Enrollment
The total student enrollment at St. John's University – New York is about 22,000, with undergraduate students making up about 78% of the total student population and graduate students making up the rest.
Estimated Costs & Financial Aid
The items listed below are for informational purposes only and may not represent current tuition, fees, and expenses.
Tuition & Fees Information
Annual tuition is estimated to range between $41,000-$50,000 for both in-state and out-of-state students
Per unit charges are around $1,500 for part time students
Financial Aid Details
The financial aid table below details the types of financial aid, along with the percent of students receiving aid, and on average the amount of aid per student per year.
| | Percent of Students | Average Amount |
| --- | --- | --- |
| Any Financial Aid | 100% | - |
| Receiving Grants & Scholarships | 100% | $27,122 |
| Receiving Student Loans | 57% | $7,553 |
Academics & Student Services
Student Services
To support students and graduates, St. John's University – New York may offer services like:
Distance learning
Night and weekend classes available
Remedial courses
Career path counseling
Work study style employment
Assistance to find work
Specialized Programs & Accreditations
Art and Design Program
Teacher Education (Bachelor's) Program
Clinical Audiology (Au.D.) Program
Clinical Psychology (Ph.D.) Program
Graduate Teacher Education Program
Law Program
Pharmacy (Pharm. D.) Program
Radiology Technician Program
School Psychology (Psy.D.) Program
Speech-Language Pathology Program
Intercollegiate Athletics
St. John's University – New York is a Member of National Collegiate Athletic Association (NCAA), with many of the sports belonging to the NCAA Division I without football classification. The most popular sports played are listed below:
Baseball (Big East Conference)
Basketball (Big East Conference)
Track and Field (Big East Conference)
Fencing
Golf
Lacrosse
Soccer
Softball
Tennis
Volleyball
Programs Offered
The program list below is organized by areas of study. The programs that have a link will direct you to the program's profile page where you can learn more about education requirements and career pathways.
Get more information about the programs offered by St. John's University – New York by clicking the request information to the right.
(C) Certificate or Award | (A) Associate's | (B) Bachelor's | (M) Master's Degree | (D) Doctorate (PhD,...)
Other 4-Year Private Colleges
The list of schools below have been selected by researching which schools offer similar programs to St. John's University – New York.
Also, you can compare schools by looking through our list of colleges & universities:
Contact Information
General Contact
Admissions Office
Financial Aid Office