Contact Information
General Contact
Admissions Office
Financial Aid Office
STUDENT TEACHER RATIO
8:1
FINANCIAL AID AWARD AVG.
$47,713
Average Grants + Scholarship Aid Awarded to Undergraduate Students
Percent of Full-Time Undergraduates Receiving Financial Aid
Percent of Students Paying In-State Tuition vs Out-of-State Tuition
Chemistry Degree
The chemistry degree program at Wesleyan University offers students a chance to gain instruction on the scientific study of the composition and behavior of matter, including its micro- and macro-structure, the process of chemical change, and theoretical description and laboratory simulation of these phenomena. Students who graduate the chemistry degree program can seek a future in jobs or career paths such as forensic science, chemical engineering, biochemistry, environmental law, metallurgy, teaching, pharmaceuticals, petroleum and natural gas industry, oceanography, and more. Get more details below including other Connecticut colleges that offer chemistry degrees.
Learn more by requesting information now!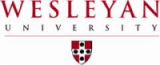 Wesleyan University
15 Mohegan Avenue, New London, CT
Wesleyan University is a liberal arts college that offers an undergraduate education and helps students in developing important skills useful in pursuit of graduate education or employment. A liberal arts curriculum exposes students to a variety of topics and subjects. The school is located in Middletown, CT, which is a predominantly urban area. Enrollment at Wesleyan University is nearly 3,200 yearly.
Students may choose from several areas of study, including:
Social Sciences
Liberal Arts And Sciences
Psychology
English Language And Literature
Visual And Performing Arts
Students applying for admission are generally asked to submit an application, transcripts, test scores and any requested letters of recommendations, which will then be reviewed by the admissions office. An ACT or SAT exam may be required prior to applying, with scores in a range of 1945 to 2230 for the SAT exam and within the range of 30 to 33 on the ACT is common among students accepted to this school. Only 21 percent of applicants are accepted to the school due to the huge number of applicants and the intense competition for the limited enrollment spots. More information on admissions can be found here.
The cost of undergraduate tuition is approximately $48,000, but may change from year to year. Students are encouraged to visit the school's tuition calculator to better understand their cost of attendance. Students enrolled at Wesleyan University may be eligible for aid which is typically scholarships, grants, and loans.
The Wesleyan University Cardinals participate in a number of athletic programs, within the NCAA. Athletic programs offered include:
Baseball (NCAA Division III)
Basketball (NCAA Division III)
Track & Field (NCAA Division III)
Contact information, academics information, areas of study offered, and more may be accessed on school's website at http://www.wesleyan.edu.
Students Enrolled in the Chemistry Program
Get more details below regarding enrollment, academics, and school demographics. Wesleyan University has offered the following academic levels for students:
Bachelor's Degree
Master's Degree
Doctorate Degree
Students by Academic Level (2019)
| | Graduates |
| --- | --- |
| Bachelor's Degree | 17 |
| Master's Degree | 7 |
| Doctorate Degree | 2 |
Students by Gender (2019)
Students by Race (2019)
| | Graduates |
| --- | --- |
| Asian | 7 |
| Hispanic | 5 |
| White | 6 |
| Multiple Races | 3 |
| Non Resident Alien | 4 |
| Unknown | 1 |
Source: IPEDS Survey 2012-2020: Data obtained from the US Dept. of Education's Integrated Postsecondary Education Data System (IPEDS). Data may vary depending on school and academic year.
Career Options for Graduates
Students who have completed the Chemistry program at Wesleyan University, have entered into some of these more popular career paths listed below:
Natural Sciences Managers
Description
Plan, direct, or coordinate activities in such fields as life sciences, physical sciences, mathematics, statistics, and research and development in these fields.
Career Outlook & Projections ()
According to the BLS, natural sciences managers employment is expected to grow at a rate of 3.3% from 2014 to 2024
Chemists
Description
Conduct qualitative and quantitative chemical analyses or experiments in laboratories for quality or process control or to develop new products or knowledge.
Career Outlook & Projections ()
According to the BLS, chemists employment is expected to grow at a rate of 2.6% from 2014 to 2024
Chemistry Teachers, Postsecondary
Description
Teach courses pertaining to the chemical and physical properties and compositional changes of substances. Work may include instruction in the methods of qualitative and quantitative chemical analysis. Includes both teachers primarily engaged in teaching, and those who do a combination of teaching and research.
Source: Job descriptions, estimated salary and wages, and projected job growth are taken from the Bureau of Labor Statistics (BLS).
Admission Requirements & Details
The information regarding admissions below may give you an idea of the applicants Wesleyan University accepts. The details may include admissions application requirements and recommendations, as well as any AP or college credits that may be transferred.
College Credits Accepted
Dual Credits
AP Course Credits
Academics & Student Services
Student Services
To help students and alumni, Wesleyan University may offer services like those listed below:
Academic counseling for students
Employing students to lower education costs
Employment search assistance
Intercollegiate Athletics
Wesleyan University is a Member of National Collegiate Athletic Association (NCAA), with many of the sports being in the NCAA Division III with football classification. The most popular sports played are listed below:
Baseball (New England Small College Ath Conf)
Basketball (New England Small College Ath Conf)
Track and Field (New England Small College Ath Conf)
Field Hockey
Football (New England Small College Ath Conf)
Golf
Ice Hockey
Lacrosse
Rowing
Soccer
Softball
Squash
Swimming and Diving
Tennis
Volleyball
Wrestling