Contact Information
General Contact
Admissions Office
Financial Aid Office
STUDENT TEACHER RATIO
16:1
DEGREE OFFERED ONLINE
226
FINANCIAL AID AWARD AVG.
$10,960
Average Grants + Scholarship Aid Awarded to Undergraduate Students
Percent of Full-Time Undergraduates Receiving Financial Aid
Percent of Students Paying In-State Tuition vs Out-of-State Tuition
Virtual Tour of Campus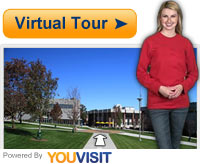 Ball State University
1100 E 5th St, Anderson, IN
Ball State University is a comprehensive public research university located on a beautiful campus with buildings of Classic architecture in Muncie, Indiana. It offers roughly 180 undergraduate majors and 12 pre-professional programs, and more than 100 programs at the master's and doctoral levels. The Princeton Review has deemed Ball State one of the best colleges in the Midwest, and U.S. News & World Report has ranked it number eight among "up-and-coming" colleges. Top-ranked programs include architecture and landscape architecture, entrepreneurship, telecommunications and education.
Ball State is known for its commitment to immersive learning, with most programs incorporating research, community partnerships, practical experience and projects into the curricula. The immersive learning approach is an integration of content, skills, societal need and student interests. These programs can be completed on campus, off campus, throughout Indiana, or overseas. Practical, real-world experience is emphasized. For example, students in Ball State's entrepreneurship program must pitch a business plan to a panel of experts, who judge its viability. Students in the performance arts at Ball State participate in talent showcases held in New York, Chicago and Los Angeles.
Ball State boasts an excellent faculty of top experts, with professor-level instructors teaching more than ninety percent of all classes. Thanks to Ball State's approach to immersive learning, all faculty members are heavily involved in projects, research and partnerships as part of the teaching curriculum. The research faculty benefit from Ball State's increasing emphasis on technology transfer and commercialization to support faculty in bringing their ideas to market for the benefit of Indiana's economy.
There are a variety of learning opportunities at Ball State, including internships, study abroad programs, a Building Better Communities Fellows Program, and many community charter schools for local children. Ball State has an outdoor classroom and laboratory that provides hands-on learning for its nature programs, including a forest, a prairie, wetlands, greenhouses, and agricultural ground.
History
In 1899, the community of Muncie, Indiana founded as a private teacher-training college. The college did not thrive, and its land and buildings were later purchased and donated to the city by the Ball brothers - industrialists who aimed to establish a local college that would help to boost Muncie's development. The new school that was established as a result of this gift was called the Indiana State Normal School Eastern Division. It opened in 1918, but was renamed the Ball Teachers College in 1922. It was renamed again in 1929, becoming Ball State Teachers College.
Throughout the 1960s, the curricula expanded and the college attracted top faculty. Enrollment and funding increased. In 1965, the college was renamed Ball State University.
Academics
The Ball State University academic calendar follows the semester format, with fall, spring and summer semesters. The summer semester is comprised of two shorter sessions.
Colleges and Schools
Ball State University has seven academic colleges that offer approximately 170 majors, 88 master's degrees, 16 doctoral degrees, and four specialist programs.
College of Applied Sciencesand Technology
College of Architecture and Planning
Miller College of Business
College of Communication, Information, and Media
College of Fine Arts
College of Sciencesand Humanities
Teachers College
In addition to its colleges, Ball State has many academic centers, institutes, clinics and bureaus, as well as academic research and outreach units.
Student Life
Students at Ball State University are encouraged to become involved in one of the many organizations available on campus in order to develop social and leadership skills and serve the greater community. Involvement in clubs can also provide opportunities for professional networking and can boost a resume. There are clubs and organizations that focus on professions, academics, cultural heritage, religion performing arts, special interests and sports. Additionally, there are many active fraternities and sororities on campus, and university housing organizations that provide opportunities for making the Ball State campus a better place to live.
The Ball State events calendar includes tours of Broadway shows, top division athletics, music headliners, professional dance companies, guest speakers and more.
Traditions
The traditional school colors for Ball State University are red and white with black as an accent color. The school mascot is a cardinal, who appears as "Charlie Cardinal" at many athletic events to energize and entertain the crowds. The athletic teams are nicknamed the Ball State "Cardinals."
Fight Song
Fight team fight for Ball State
We must win this game
Onward now you Cardinals
Bring glory to your name
Fight! Fight! Fight!
Here's to both our colors
Cardinal and White
Praying for a victory
So fight, fight, fight!
Athletics
The Ball State "Cardinals" athletic teams participate in many intercollegiate sports, including:
Men's Sports:
Baseball
Basketball
Football
Golf
Swimming and Diving
Tennis
Volleyball
Women's Sports:
Basketball
Cross Country
Field Hockey
Golf
Gymnastics
Soccer
Softball
Swimming and Diving
Tennis
Track and Field
Volleyball
Satellite Campuses
Ball State University has only one primary campus, but offers many International Programs and distance or online education that lead to a degree, certificate or continuing education credits.
Community Life
Ball State University conducts many projects and a significant amount of research to help drive innovation in the State of Indiana. The Building Better Communities initiative provides an opportunity for students and faculty to partner with local leaders on development projects.
Admission Requirements & Details
The admissions information below may give you an idea of the students Ball State University accepts. The details may include application requirements and recommendations, as well as any college credits that may be transferred.
College Credits Accepted
Dual Credits
AP Course Credits
Student Enrollment
The total student enrollment at Ball State University is about 22,000. The enrollment breakdown by academic level is 17% enrolling as graduate students and 74% as undergraduate students.
Estimated Costs & Financial Aid
The average "out of pocket" cost of attendance, after any grants and scholarships are considered, is around $13,600. In order to calculate a more accurate and detailed cost of attendance check out their cost calculator here. There is also a $60 application fee for those applying to a program. The figures listed below are for informational purposes only and do not represent current or future tuition, fees, and expenses.
Tuition & Fees Information
Annual tuition estimates are:

In-State Tuition: $9,400-$11,000
Nonresident Student Tuition: $26,000-$31,370

Part-time students are charged:

State Residents: $310-$370 per credit unit
Nonresidents: $1,000-$1,200 per credit unit
Financial Aid Details
The information below lists the financial aid types students are receiving. Also shown are the percent of students receiving aid and the average amount of aid per student per year.
| | Percent of Students | Average Amount |
| --- | --- | --- |
| Any Financial Aid | 90% | - |
| Receiving Grants & Scholarships | 90% | $9,952 |
| Receiving Student Loans | 66% | $7,831 |
Academics & Student Services
Student Services
To help students and alumni, Ball State University may offer services to students like:
Distance learning
Night and weekend classes available
Counseling assistance
Employing students to lower education costs
Assistance to find work
Child care
Specialized Programs & Accreditations
Art and Design Program
Clinical Audiology (Au.D.) Program
Counseling Psychology (Ph.D.) Program
Dance Program
Dietetics Program
Dietetic Technician Program
English Language Program
Music Program
Bachelor's Degree in Nursing (BSN) Program
Nursing (MSN, DSN) Program
Master's Degree in Nursing (MSN) Program
Radiology Technician Program
School Psychology (Ph.D.) Program
Speech-Language Pathology Program
Elementary and Secondary School Teacher Education Program
Theatre Program
Intercollegiate Athletics
Ball State University is a Member of National Collegiate Athletic Association (NCAA), with many of the sports being in the NCAA Division I-FBS classification. The most popular sports played are listed below:
Baseball (Mid-American Conference)
Basketball (Mid-American Conference)
Track and Field (Mid-American Conference)
Field Hockey
Football (Mid-American Conference)
Golf
Gymnastics
Soccer
Softball
Swimming and Diving
Tennis
Volleyball
Programs Offered
The program list below is organized by areas of study. The programs that have a link will direct you to the program's profile page where you can learn more about education requirements and career pathways.
Get more information about the programs offered by Ball State University by clicking the request information to the right.
(C) Certificate or Award | (A) Associate's | (B) Bachelor's | (M) Master's Degree | (D) Doctorate (PhD,...)
Other 4-Year Public Colleges
The list of schools below have been selected by researching which schools offer similar programs to Ball State University.
Also, you can compare schools by looking through our list of colleges & universities:
Contact Information
General Contact
Admissions Office
Financial Aid Office