Contact Information
General Contact
Admissions Office
Financial Aid Office
STUDENT TEACHER RATIO
14:1
FINANCIAL AID AWARD AVG.
$7,110
Average Grants + Scholarship Aid Awarded to Undergraduate Students
Percent of Full-Time Undergraduates Receiving Financial Aid
Percent of Students Paying In-State Tuition vs Out-of-State Tuition
Virtual Tour of Campus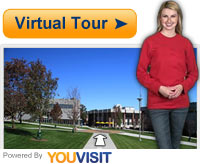 Eastern Michigan University
Also known as Dorsey Schools- Woodhaven
19810 West Road, Woodhaven, MI
Eastern Michigan University (EMU) is a public university located in Ypsilanti, Michigan, on a campus covering more than 800 acres. EMU offers more than 200 degrees at the undergraduate and graduate levels. At the undergraduate level, the major and minor concentrations are delivered via the Colleges of Arts and Sciences, Business, Educaiton, Health and Human Services, and Technology.
The nearly 700 full-time faculty members at Eastern Michigan University have doctoral degrees and are experts in their fields. Many faculty members involved students in their research, including those at the undergraduate level.
History
Eastern Michigan University was founded in 1849 as the Michigan State Normal School to educate teachers for the state's public schools. In 1959, after several name changes, the "Normal School" became Eastern Michigan University. After training thousands of teachers for certification over its first 100 years, EMU expanded its curricula to match the demands of its university status.
More recent advances at EMU include the construction of the Terrestrial and Aquatic Research Facility, the Convocation Center, the Bruce T. Halle Library, John W. Porter College of Education, and the Everett L. Marshall College of Health and Human Services, among other school buildings.
Academics
The academic calendar for Eastern Michigan University follows the semester format, with fall, spring semesters.
Colleges and Schools
College of Arts and Sciences
College of Business
College of Education
College of Health and Human Services
College of Technology
Graduate School
Student Life
There are hundreds of student organizations available on campus at EMU, including everything from an Accounting Club to the American Marketing Student Association, and Big Brothers Big Sisters to many sports clubs or fraternities and sororities.
Student services at EMU include:
Student Government
Service EMU
The Children's Institute
Disability Resource Center
Diversity and Community Involvement
International Students
Orientation
Veteran Services
Ombudsman
Academic Projects Center
Academic Advising
Holman Success Center
Library
CATE lab (Center for Adaptive Technology Education)
Writing Center
On campus housing is available through several options, including Living-Learning communities. Many dining options are also available.
Traditions
The school colors for EMU are green and white, and the school mascot is the eagle. The EMU athletic teams are nicknamed the Eastern Michigan "Eagles."
Athletics
The Eastern Michigan "Eagles" athletic teams compete in many intercollegiate sports, including:
Men's Sports:
Baseball
Basketball
Cross County
Football
Golf
Swimming and Diving
Track and Field
Wrestling
Women's Sports:
Basketball
Cross Country
Golf
Gymnastics
Rowing
Soccer
Softball
Swimming and Diving
Tennis
Track and Field
Volleyball
Community Life
Eastern Michigan University has 14 research institutes and centers devoted to community improvement and civic engagement in several areas. Some of the community assistance provided by EMU includes:
EMU's Center for Regional and National Security and the Michigan Citizens Corps train high school students how to be first responders during emergencies on their campuses.
The University's Checkpoint Program has, for more than 10 years, helped both college students and area youth learn about alcohol and drug issues.
EMU's Coatings Research Institute is working with the Pentagon to develop a coating to protect military equipment and vehicles from corrosion and chemical and biological weapons.
The interdisciplinary EMU Water Resources Consortium is researching water concerns and the multifaceted importance of this valuable and endangered natural resource. Its research supports conservation projects and will help maintain high-quality supplies.
Admission Requirements & Details
The information regarding admissions below may provide a better idea of the applicants Dorsey Schools- Woodhaven accepts. The details may include admissions application requirements and recommendations, as well as any AP credits that may be transferred.
College Credits Accepted
Dual Credits
Life Experience Credits
AP Course Credits
Student Enrollment
The total student enrollment at Eastern Michigan University is about 19,000, where graduate students make up roughly 13% of the student body.
Estimated Costs & Financial Aid
The average "out of pocket" cost of attendance, after any grants and scholarships are considered, is around $15,700. In order to calculate a more accurate and detailed cost of attendance check out their cost calculator here. There is also a $35 application fee for those applying to a program. The figures listed below are for informational purposes only and do not represent current or future tuition, fees, and expenses.
Tuition & Fees Information
Annual tuition estimates are between $14,000-$16,000 for both state residents and nonresidents
Per unit charges are around $480 for part time students
On-campus housing and meals are estimated to cost around $12,000, the price includes the serving of twenty-one meals each week
Financial Aid Details
The table below breaks down the types of financial aid, the percent of students receiving aid, and average amount of aid per student per year.
| | Percent of Students | Average Amount |
| --- | --- | --- |
| Any Financial Aid | 98% | - |
| Receiving Grants & Scholarships | 97% | $7,916 |
| Receiving Student Loans | 60% | $6,418 |
Academics & Student Services
Student Services
To help students and recent graduates, Eastern Michigan University may offer services to students like those listed below:
Distance learning
Night and weekend classes available
Remedial instructional courses
Career path counseling
Student employment
Assisting students to find work
Day care
Specialized Programs & Accreditations
Clinical Psychology (Ph.D.) Program
Coordinated Dietetics Program
English Language Program
Music Program
Bachelor's Degree in Nursing (BSN) Program
Nursing (MSN, DSN) Program
Occupational Therapy (OT) Program
Speech-Language Pathology Program
Elementary and Secondary School Teacher Education Program
Intercollegiate Athletics
Eastern Michigan University is a Member of National Collegiate Athletic Association (NCAA), with many of the sports belonging to the NCAA Division I-FBS classification. The most popular sports played are listed below:
Baseball (Mid-American Conference)
Basketball (Mid-American Conference)
Track and Field (Mid-American Conference)
Football (Mid-American Conference)
Golf
Gymnastics
Rowing
Soccer
Swimming and Diving
Volleyball
Programs Offered
The program list below is organized by areas of study. The programs that have a link will direct you to the program's profile page where you can learn more about education requirements and career pathways.
Get more information about the programs offered by Eastern Michigan University by clicking the request information to the right.
(C) Certificate or Award | (A) Associate's | (B) Bachelor's | (M) Master's Degree | (D) Doctorate (PhD,...)
Other 4-Year Public Colleges
The list of schools below have been selected by researching which schools offer similar programs to Eastern Michigan University.
Also, you can compare schools by looking through our list of colleges & universities:
Contact Information
General Contact
Admissions Office
Financial Aid Office