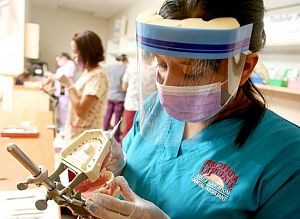 About
Hacienda La Puente Adult Education Center, located in La Puente, California, is a public institution that provides education opportunities at the pre and post secondary education levels. The school is accredited by the Western Association of Schools and Colleges, and is seeking further accreditation from the Council of Occupational Education for training programs.

Academics
Hacienda La Puente Adult Education Center offers a variety of programs that allow adults to seek various education opportunities. Individuals may pursue an education that allows them to complete a high school level degree or they may pursue one of the many career oriented programs available at the center. Career training programs allow individuals to receive the skills and education necessary to begin a career in a given field or industry, and to enter the workforce as a qualified professional. In addition the school also provides english as a second language courses.

Programs offered include:
Bookkeeping
Pharmacy Technician
Nursing
Cosmetology
Welding

Admissions and Financial Aid
Hacienda La Puente Adult Education Center admits any individuals who wish to enroll as long as they are eighteen years of age or older. Individuals interested in enrollment should determine the program they wish to enroll in and to complete the application for admission, after which fees for the school must be paid. Financial aid is available in the form of grants, which must be applied for through a completed Free Application for Federal Student Aid (FAFSA).
Programs Offered
The program list below is organized by areas of study. The programs that have a link will direct you to the program's profile page where you can learn more about education requirements and career pathways.
Get more information about the programs offered by Hacienda La Puente Adult Education by clicking the request information to the right.
(C) Certificate or Award | (A) Associate's | (B) Bachelor's | (M) Master's Degree | (D) Doctorate (PhD,...)
Estimated Costs & Financial Aid
The average "out of pocket" cost of attendance, after any grants and scholarships are considered, is around $3,300. In order to calculate a more accurate and detailed cost of attendance check out their cost calculator here. The figures listed below are for informational purposes only and do not represent current or future tuition, fees, and expenses.
Financial Aid Details
The table below breaks down the types of financial aid, the percent of students receiving aid, and average amount of aid per student per year.
| | Percent of Students | Average Amount |
| --- | --- | --- |
| Any Financial Aid | 16% | - |
| Receiving Grants & Scholarships | 16% | $2,805 |
Admissions, Academics, & Student Services
Student Services
To help students and recent graduates, Hacienda La Puente Adult Education may offer student services including:
Remedial instructional courses
Career path counseling
Employing students to lower education costs
Assisting students to find work
Day care
Specialized Programs & Accreditations
Dental Assistant Program

Accredited by the American Dental Association, Commission on Dental Accreditation (since 1974)
Other Technical Colleges Nearby
The list of nearby schools has been selected by researching which schools offer similar programs to Hacienda La Puente Adult Education.