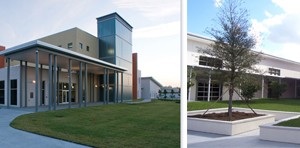 Immokalee Technical Center, located in Immokalee, Florida, is a technical college that offers a variety of vocational certificates to their students. They also offer the opportunity for adults to earn their GED, as well as various opportunities for students to participate in programs that have business store fronts.
Immokalee Technical Center offers students the opportunity to earn vocational certificates in medical billing, digital media, early childhood education, cosmetology, nurses assisting, architectural drafting, accounting, and many more.
iTECH offers the unique opportunity for students to earn their vocational certificate by working in one of many institution-owned and operated storefronts. iTECH owns a cyber café, a restaurant, a medical office, an automotive center, and a cosmetology center. This opportunity lets students earn their certificates in a fun, hands-on setting while learning more about customer service, retail work, and real life jobs.
Immokalee Technical Center also offers a state-of-the-art GED program that assists adults in obtaining a high school degree equivalent, while getting them ready to begin college or technical school. Florida state certified teachers help prepare adults to take the GED exam and walk them through the testing process, as well.
iTECH is a fully accredited technical center in the Southern Association of Colleges and Schools. Federal Pell grants are extended to those students who apply and qualify. Scholarships are also available to those who qualify.
If you are interested in applying at Immokalee Technical Center, or if you would like to learn more about the many programs of study offered there, click here to access their official website.
Programs Offered
The program list below is organized by areas of study. The programs that have a link will direct you to the program's profile page where you can learn more about education requirements and career pathways.
(C) Certificate or Award | (A) Associate's | (B) Bachelor's | (M) Master's Degree | (D) Doctorate (PhD,...)
Estimated Costs & Financial Aid
The average "out of pocket" cost of attendance, after any grants and scholarships are considered, is around $2,100. In order to calculate a more accurate and detailed cost of attendance check out their cost calculator here. There is also a $30 application fee for those applying to a program. The figures listed below are for informational purposes only and do not represent current or future tuition, fees, and expenses.
Financial Aid Details
The table below breaks down the types of financial aid, the percent of students receiving aid, and average amount of aid per student per year.
| | Percent of Students | Average Amount |
| --- | --- | --- |
| Any Financial Aid | 91% | - |
| Receiving Grants & Scholarships | 89% | $5,149 |
Admissions, Academics, & Student Services
Student Services
To help students and recent graduates, Immokalee Technical Center may offer student services like:
Online course work available
Remedial instructional courses
Career path counseling
Employing students to lower education costs
Helping students find work after graduation
Day care for children
Graduation & Transfer Rates
Community colleges often offer both career training programs and options for students to transfer-out to four year institutions, which is why the table below is so important, it compares this school against community colleges in Florida.
| | iTECH | Walton County | Florida |
| --- | --- | --- | --- |
| Graduation Rate | 82.3% | - | 61.8% |
| Transfer-out Rate | 1.8% | - | 2.7% |
Other Technical Colleges Nearby
The list of nearby schools has been selected by researching which schools offer similar programs to Immokalee Technical Center.