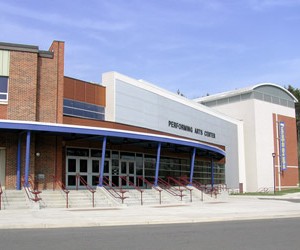 Montachusett Regional Vocational Technical School, Monty Tech, is a vocational technical school located in Fitchburg, MA. This institution is dedicated to providing students with education and skills needed to thrive in today's job market. Monty Tech caters to high school and to adults who are interested in pursuing a technical education.
Students may choose from an array of programs including those in healthcare, fitness, business and professional, IT and software, management and cooperate, media and design, skilled trades, hospitality and service and sustainable energy. To learn more about specific programs offered at Monty Tech please consider visiting their online portal.
Monty Tech offers students flexibility by allowing students to participate in traditional on campus classes, evening classes, and even online classes. Monty Tech strives to meet the needs of today's students by providing high quality education at an affordable rate. Tuition costs vary by program and financial aid is available to those who qualify. To learn more about program costs and to apply for financial aid visit or learn more about the net price of tuition for your specific situation, the school's NPC and financial aid pages are a great starting point.
If you are interested in jump starting your career or taking classes for personal growth then Monty Tech is the place for you. Do yourself a favor and choose to attend a school that values you, your time, your education and your budget.
Estimated Costs & Financial Aid
The average "out of pocket" cost of attendance, after any grants and scholarships are considered, is around $8,500. To calculate a more personalized cost visit the net price calculator. There is also a $50 application fee for students applying to the school. The figures listed below are for informational purposes only and do not represent current or future tuition, fees, and expenses.
Financial Aid Details
The table below breaks down the types of financial aid, the percent of students receiving aid, and average amount of aid per student per year.
| | Percent of Students | Average Amount |
| --- | --- | --- |
| Any Financial Aid | 100% | - |
| Receiving Grants & Scholarships | 53% | $5,843 |
| Receiving Student Loans | 86% | $9,075 |
Other Technical Colleges Nearby
The list of nearby schools has been selected by researching which schools offer similar programs to Montachusett Regional Vocational Technical School.