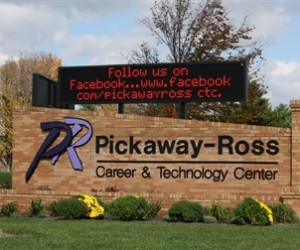 Pickaway-Ross Career and Technology Center, located in Chillicothe, Ohio, is a center for career advancement that offers programs of study and career certificates to both adult students and high school students. This school also offers off-campus programs that facilitate hands-on learning and experience.
Adult students who attend Pickaway-Ross Career and Technology Center are able to choose from a large selection of adult education programs. These programs include: coding procedures, medical assisting, medical billing, nurse's aide, pharmacy technician, phlebotomy, auto mechanics, HVAC, welding, EMT, firefighting, HAZMAT technician, and more.
Also offered at Pickaway-Ross Career and Technology Center, are many programs and career certificates that are geared toward high school students who want to begin training for their career prior to high school graduation. These programs include: information and marketing, construction and manufacturing, human services, transportation, nursing, information technology, and many more.
Pickaway-Ross Career and Technology Center offers an off-campus learning program that consists of 46 satellite teachers who instruct students in more than a dozen local middle and high schools. Because of this external program, students are receiving a jumpstart on their futures without ever having to leave their school. Various programs are offered through these school outlets, such as: health tech preparation, agriculture, consumer science, marketing education, and many more.
Obtain registration and enrollment information today by visiting the school's site or by requesting information from this portal.  Additional degree programs and online certificates can be obtained by utilizing our exclusive search modules.
Programs Offered
The program list below is organized by areas of study. The programs that have a link will direct you to the program's profile page where you can learn more about education requirements and career pathways.
Get more information about the programs offered by Pickaway-Ross Career & Technology Center by clicking the request information to the right.
(C) Certificate or Award | (A) Associate's | (B) Bachelor's | (M) Master's Degree | (D) Doctorate (PhD,...)
Estimated Costs & Financial Aid
The average "out of pocket" cost of attendance, after any grants and scholarships are considered, is around $500. To calculate a more personalized cost visit the net price calculator. The figures listed below are for informational purposes only and do not represent current or future tuition, fees, and expenses.
Financial Aid Details
The table below breaks down the types of financial aid, the percent of students receiving aid, and average amount of aid per student per year.
| | Percent of Students | Average Amount |
| --- | --- | --- |
| Any Financial Aid | 76% | - |
| Receiving Grants & Scholarships | 56% | $4,726 |
| Receiving Student Loans | 66% | $5,741 |
Admissions, Academics, & Student Services
Student Services
To support students and graduates, Pickaway-Ross Career & Technology Center may provide student services including:
Classes offered on nights and weekends
Remedial instructional courses
Career path counseling
Work study style employment
Assistance to find work
Other Technical Colleges Nearby
The list of nearby schools has been selected by researching which schools offer similar programs to Pickaway-Ross Career & Technology Center.