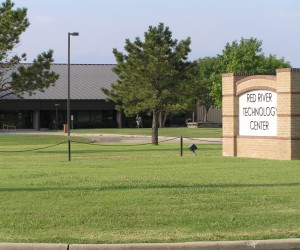 Red River Technology Center aims to help individuals improve their career possibilities. It is located in Duncan, Oklahoma. The center offers seven week evening sessions during the year. This provides adults with the flexibility they need.
Red River Technology Center was originally named the Duncan Area Vocational-Technical Center and opened in 1966. The original building is now the West Building.
The goal is for the Red River Technology Center to continue to provide a quality education to individuals in the Duncan area. By continuing to build on the strength of its past, it aims to meet the challenges of the next century.
The center is currently offering over 40 short-term programs as well as 250 online courses. Each online course is six weeks in length and new courses begin the third Wednesday of each month.
Day time programs are offered in automotive collision, business information technology, CNC Machining, cosmetology, computer aided drafting, electronics, welding and metal fabrication, residential heating, nursing, health careers certification, and carpentry. No matter your interest, Red River has a program that is right for you.
Programs are also offered to help adults prepare for the GED. All GED classes are free of charge, books are provided and courses are often offered at various locations throughout the district.
Students who need to improve their academic skills will get the help they need at Red River Technology Center. The aim is to provide students with the chance to improve the skills they need to pursue a career and be happy. Services are offered to help students with reading, math, communications, and computer applications.
Programs Offered
The program list below is organized by areas of study. The programs that have a link will direct you to the program's profile page where you can learn more about education requirements and career pathways.
Get more information about the programs offered by Red River Technology Center by clicking the request information to the right.
(C) Certificate or Award | (A) Associate's | (B) Bachelor's | (M) Master's Degree | (D) Doctorate (PhD,...)
Estimated Costs & Financial Aid
The items listed below are for informational purposes only and may not represent current tuition, fees, and expenses.
Financial Aid Details
The table below breaks down the types of financial aid, the percent of students receiving aid, and average amount of aid per student per year.
| | Percent of Students | Average Amount |
| --- | --- | --- |
| Any Financial Aid | 95% | - |
| Receiving Grants & Scholarships | 95% | $4,670 |
Admissions, Academics, & Student Services
Student Services
To help students and alumni, Red River Technology Center may offer services like those listed below:
Remedial instructional courses
Academic counseling for students
Employment search assistance
Other Technical Colleges Nearby
The list of nearby schools has been selected by researching which schools offer similar programs to Red River Technology Center.