Contact Information
General Contact
Admissions Office
Financial Aid Office
STUDENT TEACHER RATIO
19:1
FINANCIAL AID AWARD AVG.
$4,980
Average Grants + Scholarship Aid Awarded to Undergraduate Students
Percent of Full-Time Undergraduates Receiving Financial Aid
Percent of Students Paying In-State Tuition vs Out-of-State Tuition
Virtual Tour of Campus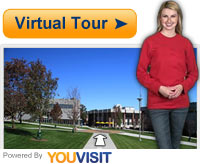 Finger Lakes Community College (FIT)
227 W 27th St, New York, NY
Finger Lakes Community College, located in Canandaigua, New York, is a public, two year, open enrollment institution founded in 1965 and part of the State University of New York (SUNY) System. The school originally operated out of a storefront, though eventually moved to a 250 acre location and currently serves nearly 7,000 students annually. The school also operates campuses in Victor, Geneva and Newark to better meet the needs of residents in its multi-county service area.
Academics
Students at Finger Lakes Community College will be able to choose from a variety of programs that allow for academic transfer or prepare individuals for a career through technical or vocational training. Academic transfer is accomplished through the completion of a curriculum that provides the equivalent of the first two years of a four year education. Upon completion students will transfer to a four year institution to continue their education and complete their bachelor's degree. Career programs allow students to receive an education in one of several high demand feels offered by the school with the purpose of seeking employment upon completion. Programs take between one and two years to complete and result in a certificate or degree.
Programs offered include:
Admissions and Financial Aid
FLCC is an open enrollment institution that allows any individual interested in enrollment to do so through the completion and submission of an application and payment of fees in a timely manner. Students should have a high school diploma or equivalent or should be at least eighteen years of age. Submission of transcripts and standardized test scores is encouraged, as is meeting with a counselor and participating in orientation. Financial aid is available in the form of loans, grants and scholarships awarded based on need which is determined by one's information provided through thee Free Application for Federal Student Aid (FAFSA).
Admission Requirements & Details
The admissions information below may give you an idea of the students Finger Lakes Community College accepts. The details may include admissions application requirements and recommendations, as well as any AP or college credits that may be transferred.
College Credits Accepted
Dual Credits
Life Experience Credits
AP Course Credits
Estimated Costs & Financial Aid
The average "out of pocket" cost of attendance, after any grants and scholarships are considered, is around $9,900. To calculate a more personalized cost visit the net price calculator. There is also a $20 application fee for students applying to the school. The figures listed below are for informational purposes only and do not represent current or future tuition, fees, and expenses.
Tuition & Fees Information
Annual tuition estimates are:

State Residents: $4,700-$5,700
Out-of-State: $7,100-$8,500

Charges for part-time students are:

State Residents: $200-$240 per credit unit
Nonresidents: $300-$360 per credit unit

on campus dorms & meals are estimated to cost around $12,000, the price includes the serving of ten meals every week
Financial Aid Details
The table listed below helps break down the types of financial aid students receive and the percent receiving aid, as well as the average amount of aid per student per year.
| | Percent of Students | Average Amount |
| --- | --- | --- |
| Any Financial Aid | 87% | - |
| Receiving Grants & Scholarships | 76% | $5,746 |
| Receiving Student Loans | 49% | $5,260 |
Academics & Student Services
Student Services
To support students and graduates, Finger Lakes Community College may provide services to students including:
Distance learning
Remedial instructional courses
Career path counseling
Employing students to lower education costs
Helping students find work after graduation
Day care for children
Specialized Programs & Accreditations
Associate's Degree in Nursing (ADN) Program

* Accredited by the New York State Board of Regents, State Education Department, Office of the Professions (Nursing Education) (since 1968)
Programs Offered
The program list below is organized by areas of study. The programs that have a link will direct you to the program's profile page where you can learn more about education requirements and career pathways.
Get more information about the programs offered by Finger Lakes Community College by clicking the request information to the right.
(C) Certificate or Award | (A) Associate's | (B) Bachelor's | (M) Master's Degree | (D) Doctorate (PhD,...)
Other Community Colleges
The list of schools below have been selected by researching which schools offer similar programs to Finger Lakes Community College.
Also, you can compare schools by looking through our list of colleges & universities:
Contact Information
General Contact
Admissions Office
Financial Aid Office