Contact Information
General Contact
Admissions Office
Financial Aid Office
STUDENT TEACHER RATIO
11:1
DEGREE OFFERED ONLINE
124
FINANCIAL AID AWARD AVG.
$3,938
Average Grants + Scholarship Aid Awarded to Undergraduate Students
Percent of Full-Time Undergraduates Receiving Financial Aid
Percent of Students Paying In-State Tuition vs Out-of-State Tuition
Virtual Tour of Campus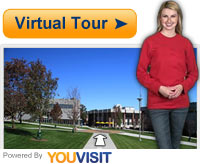 Northcentral Technical College (NTC)
5364 College Drive, Rhinelander, WI
The Northcentral Technical College is a technical college located in Wausau, Wisconsin. The main campus of NTC is located in Wausau but there are several regional centers that are established within the state which are located in Antigo, Merrill, Medford, Spencer, Phillips and Wittenberg. A member of the Wisconsin Technical College Systems, NTC has a humble beginning. Established in 1912, it was first named Wausau Industrial School but was later renamed in 1988 with its current name.
The school offers more than 50 courses from different fields of expertise which include agriculture, community service, agriculture, general studies, public safety and health. Moreover, the school also offers more than 100 certificate programs that can be taken by first time students as well as employees who wish to take refresher courses to improve their careers. With the many courses offered by NTC, it has lived to its goal of fostering economic growth within the community.
As established in June 2013, the tuition fee rate of NTC for resident enrollees is $122 per credit hour while out-of-resident tuition is about $183 per credit unit. For students who are hard up with their finances, the school also offers financial aids.
On the other hand, students who also wish to transfer to another university can take advantage of the transfer program offered by the school. NTC holds an annual transfer event fair where students can choose to transfer to schools like the Upper Iowa University, UW-Oshkosh, Lakeland College, Bellevue University and Franklin University.
Admission Requirements & Details
The admissions information below may give you an idea of the applicants NTC accepts. The details may include application requirements and recommendations, as well as any college or dual credits that may be transferred.
College Credits Accepted
Dual Credits
Life Experience Credits
AP Course Credits
Estimated Costs & Financial Aid
The average "out of pocket" cost of attendance, after any grants and scholarships are considered, is around $9,100. In order to calculate a more accurate and detailed cost of attendance check out their cost calculator here. There is also a $30 application fee for those applying to a program. The figures listed below are for informational purposes only and do not represent current or future tuition, fees, and expenses.
Tuition & Fees Information
Annual tuition estimates are:

State Residents: $3,300-$3,900
Out-of-State: $4,900-$5,897

Part-time students are charged:

State Residents: $140-$160 per credit unit
Nonresidents: $210-$250 per credit unit
Financial Aid Details
The financial aid table below details the types of financial aid, along with the percent of students receiving aid, and on average the amount of aid per student per year.
| | Percent of Students | Average Amount |
| --- | --- | --- |
| Any Financial Aid | 74% | - |
| Receiving Grants & Scholarships | 57% | $5,086 |
| Receiving Student Loans | 45% | $3,730 |
Academics & Student Services
Student Services
To help students and alumni, Northcentral Technical College may offer student services including:
Online classes
Night and weekend classes available
Remedial instructional courses
Counseling assistance
Work study style employment
Assisting students to find work
Specialized Programs & Accreditations
Dental Hygienist Program

* Accredited by the American Dental Association, Commission on Dental Accreditation (since 1980)

Associate's Degree in Nursing (ADN) Program

* Accredited by the Accreditation Commission for Education in Nursing, Inc. ? May 6, 2013 Formerly: National League for Nursing Accrediting Commission (since 1992)

Radiology Technician Program

* Accredited by the Joint Review Committee on Education in Radiologic Technology (since 1991)
Programs Offered
The program list below is organized by areas of study. The programs that have a link will direct you to the program's profile page where you can learn more about education requirements and career pathways.
Get more information about the programs offered by Northcentral Technical College by clicking the request information to the right.
(C) Certificate or Award | (A) Associate's | (B) Bachelor's | (M) Master's Degree | (D) Doctorate (PhD,...)
Other Community Colleges
The list of schools below have been selected by researching which schools offer similar programs to Northcentral Technical College.
Also, you can compare schools by looking through our list of colleges & universities:
Contact Information
General Contact
Admissions Office
Financial Aid Office