Contact Information
General Contact
Admissions Office
Financial Aid Office
STUDENT TEACHER RATIO
17:1
FINANCIAL AID AWARD AVG.
$4,270
Average Grants + Scholarship Aid Awarded to Undergraduate Students
Percent of Full-Time Undergraduates Receiving Financial Aid
Percent of Students Paying In-State Tuition vs Out-of-State Tuition
Virtual Tour of Campus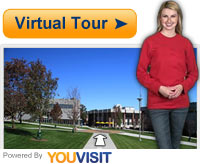 Northeast Wisconsin Technical College
1000 Campus Dr, Wausau, WI
About
Northeast Wisconsin Technical College, located in Green Bay, Wisconsin, was founded in 1912. The school is one of 16 that comprise the Wisconsin Technical College System. The first two campuses were established in Green Bay and Marinette followed by the third campus in Sturgeon Bay in 1941, the three campuses becoming a single institution 1968. The original goal of the school was to provide workforce training for residents within the nine counties that comprise its service area. The school serves over 40,000 students annually and ensures that its programs remain current and relevant through constant review of programs, services and facilities.

Academics
Northeast Wisconsin Technical College offers a large number of programs that allows students to pursue career training or academic transfer programs. Career training programs provide students with an education in a specific area or industry under the supervision of qualified professionals, obtaining the skills and abilities necessary to enter the workforce. Programs are taught through traditional and practical courses, with practical courses simulating real world environments in order to better prepare individuals for their responsibilities and duties. Programs take between one and two years to complete and result in a certificate or associate degree upon completion.

Transfer programs mirror the curriculum of the first two years of a four year education. Once completed the student will apply to a four year institution to continue their education and earn a bachelor's degree. Transfer is facilitated by agreements in place with public Wisconsin institutions that ease the requirements for entry. Individuals applying to private or out of state schools will have varying admissions requirements and should meet with a counselor to discuss curriculum.

Programs offered include:
The school also offers continuing education courses for professionals wishing to review or update their education, or are required to take additional course hours as part of license or certification renewal.

Admissions and Financial Aid
NWTC is an open enrollment institution that allows any individual who is interested to become a student by completing the application for admissions and paying all related fees. Students must be high school graduates or eighteen years of age, and should supply transcripts and test scores if available. Prior to registration students should participate in new student orientation, meet with a counselor and may be required to take a placement exam.

Financial aid is available in the form of loans, grants and scholarships. Students in need of financial assistance must complete the Free Application for Federal Student Aid (FAFSA), the information provided by which will be used by the school's financial aid department to determine the extent of need and aid program eligibility when constructing the student's financial aid packet. Aid must be applied for each academic year in a timely manner. Students may be chosen at random to supply additional tax and financial information which will be compared to the FAFSA in order to verify its accuracy.
Admission Requirements & Details
The admissions information below may give you an idea of the applicants Northeast Wisconsin Technical College accepts. The details may include admissions application requirements and recommendations, as well as any college credits that may be transferred.
College Credits Accepted
Dual Credits
Life Experience Credits
AP Course Credits
Estimated Costs & Financial Aid
The average "out of pocket" cost of attendance, after any grants and scholarships are considered, is around $9,100. To calculate a more personalized cost visit the net price calculator. There is also a $30 application fee for students applying to the school. The figures listed below are for informational purposes only and do not represent current or future tuition, fees, and expenses.
Tuition & Fees Information
Annual tuition range estimates:

State Residents: $4,100-$4,900
Out-of-State: $6,100-$7,372

Charges for part-time students are:

In-State: $150-$180 per unit
Out-of-State: $220-$270 per unit
Financial Aid Details
The information below lists the financial aid types students are receiving. Also shown are the percent of students receiving aid and the average amount of aid per student per year.
| | Percent of Students | Average Amount |
| --- | --- | --- |
| Any Financial Aid | 70% | - |
| Receiving Grants & Scholarships | 54% | $4,918 |
| Receiving Student Loans | 42% | $5,741 |
Academics & Student Services
Student Services
To support students and graduates, Northeast Wisconsin Technical College may provide student services like:
Distance learning
Classes offered on nights and weekends
Remedial instructional courses
Academic counseling for students
Employing students to lower education costs
Assistance to find work
Specialized Programs & Accreditations
Dental Assistant Program
Dental Hygienist Program
Associate's Degree in Nursing (ADN) Program
Radiology Technician Program
Programs Offered
The program list below is organized by areas of study. The programs that have a link will direct you to the program's profile page where you can learn more about education requirements and career pathways.
Get more information about the programs offered by Northeast Wisconsin Technical College by clicking the request information to the right.
(C) Certificate or Award | (A) Associate's | (B) Bachelor's | (M) Master's Degree | (D) Doctorate (PhD,...)
Other Community Colleges
The list of schools below have been selected by researching which schools offer similar programs to Northeast Wisconsin Technical College.
Also, check out our college lists below, which can help students compare schools to one another:
Contact Information
General Contact
Admissions Office
Financial Aid Office