Contact Information
General Contact
Admissions Office
Financial Aid Office
STUDENT TEACHER RATIO
24:1
FINANCIAL AID AWARD AVG.
$4,756
Average Grants + Scholarship Aid Awarded to Undergraduate Students
Percent of Full-Time Undergraduates Receiving Financial Aid
Percent of Students Paying In-State Tuition vs Out-of-State Tuition
Virtual Tour of Campus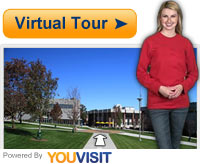 Valencia College
2430 Welbilt Boulevard, Trinity, FL
Valencia College, formerly "Valencia Community College" is a top-ranking two-year college for the number of Associate's degrees earned. Students attending Valencia will receive the same quality of education as they would at a state university at a lower cost and with smaller classes. In addition to offering daytime classes, Valencia also offers night and weekend classes at four campuses or online. The "Flex Start" program allows students to begin their course of study at any time.
Students may qualify for a job upon completion of their two-year degree or transfer to a four-year university as a junior. In fact, students who complete an Associate's Degree at Valencia may join the "Direct Connect to UCF" program for joint academic advising and guaranteed admission to the University of Central Florida (UCF).
History
Valencia College was established more than 40 years ago to serve individuals, businesses and public agencies in the Central Florida area.
Academics
Valencia College follows the semester system, though they are referred to as "terms" (fall, spring and summer terms). The fall term begins in late August and runs to late December. The spring term runs from early January to early May. The summer term runs from early May to early August.
Valencia offers several "pre-major" programs and the Associate of Arts degree that guarantees admission to Florida State University. Additionally, Valencia has 33 Associate of Science degree programs offered as transfer plans to pursue a bachelor's degree or as a direct-to-career plan with a job placement rate of 93 to 95 percent.
In addition to providing a two-year Associate's Degree in many majors, Valencia College helps companies, government agencies and individuals reach their career and corporate goals through its corporate consulting, corporate training and continuing education divisions.
Colleges and Schools
Valencia College offers several majors and degree programs that can be completed under the following schools or departments:
General Studies
Arts and Entertainment
Business
Communications
Criminal Justice and Paralegal Studies
Education
Engineering / Architecture
Health Sciences
Horticulture
Hospitality / Culinary
Information Technology
Science and Mathematics
Social Sciences
Student Life
Valencia College has more than 60 student groups, clubs and organizations. In addition to career interest groups or organizations for African-American, Latino, Caribbean and Muslim students, there are also groups for leadership development and those that focus on movies, books, art or animals, among many others.
Because Valencia College is a commuter school, it does not offer student housing at any of its campuses or centers. Students are responsible for finding their own housing around any of Valencia's campuses. Additionally, Valencia holds housing fairs on campus every year where students will find rental information and roommate listings. This information is also available through Valencia's Student Development office.
Students who don't live within walking or biking distance of one of Valencia's campuses will need to have a car or use the Lynx bus system that operates in Orange and Osceola counties.
Traditions
Matador Day is a festival held on the Valencia College campuses each fall. Even though Valencia doesn't currently have competitive sports teams, the matador is still Valencia's mascot and Matador Day is a popular event that includes music, food, games and contests.
Athletics
Valencia College does not offer competitive sports at this time, but offers intramural sports as well as health and physical education classes and campus fitness centers.
Valencia College's intramural sports are open to all Valencia students on a voluntary basis as participants or spectators, with facilities at the East or Osceola campuses. Valencia Intramural Sports offers programs, sports leagues, and tournaments in the following areas:
Basketball
Bowling
Canoeing
Dodge ball
Flag Football
Racquetball
Rock climbing
Skating
Soccer (indoor and outdoor)
Softball
Tennis
Volleyball
Satellite Campuses
Valencia College has eight campuses in Orlando, Florida and the outlying areas. It has four main campuses, two satellite campuses and two centers throughout Orange and Osceola counties.
In Orlando:
Criminal Justice Institute
East Campus
West Campus
Collegiate Academy at Lake Nona High School
Sand Lake Center (Valencia Enterprises)
Downtown Center
In Winter Park, FL:
Winter Park Campus
Kissimmee, FL:
Osceola Campus
Community Life
The downtown area in Orlando, Florida offers plenty of arts and music venues, along with numerous restaurants and popular shopping spots and outlet stores. The football stadium is located close to Valencia College's East Campus, and the new downtown sports arena is scheduled for completion in the near future.
Valencia College students will also enjoy Orlando's theme parks such as Disney, Universal, Islands of Adventure and Sea World. The local beaches and year-round sunshine are also a draw for students, tourists and residents.
Admission Requirements & Details
The admission details below may provide a better idea of the students Valencia College accepts. The details may include application requirements and recommendations, as well as any AP or college credits that may be transferred.
College Credits Accepted
Dual Credits
Life Experience Credits
AP Course Credits
Estimated Costs & Financial Aid
The average "out of pocket" cost of attendance, after any grants and scholarships are considered, is around $4,900. To calculate a more personalized cost visit the net price calculator. There is also a $35 application fee for students applying to the school. The figures listed below are for informational purposes only and do not represent current or future tuition, fees, and expenses.
Tuition & Fees Information
Tuition estimates per year:

State Residents: $2,000-$2,400
Out-of-State: $7,900-$9,520

Charges per unit:

In-State: $100-$120 per unit
Out-of-State: $390-$470 per unit

May provide a prepaid tuition option, which allows tuition to be purchased at current rates for enrollment at a future date
Financial Aid Details
The information below lists the financial aid types students are receiving. Also shown are the percent of students receiving aid and the average amount of aid per student per year.
| | Percent of Students | Average Amount |
| --- | --- | --- |
| Any Financial Aid | 76% | - |
| Receiving Grants & Scholarships | 69% | $5,721 |
| Receiving Student Loans | 20% | $4,573 |
Academics & Student Services
Student Services
To help support students, Valencia College may provide student services like:
Online course work available
Classes offered on nights and weekends
Remedial courses
Career path counseling
Work study style employment
Employment search assistance
Specialized Programs & Accreditations
Campus: West Campus
Dental Hygienist Program

* Accredited by the American Dental Association, Commission on Dental Accreditation (since 1976)

Associate's Degree in Nursing (ADN) Program

* Accredited by the Accreditation Commission for Education in Nursing, Inc. ? May 6, 2013 Formerly: National League for Nursing Accrediting Commission (since 1976)
Campus: Valencia College
English Language Program

* Accredited by the Commission on English Language Program Accreditation (since 2010)

Radiology Technician Program

* Accredited by the Joint Review Committee on Education in Radiologic Technology (since 1991)
Programs Offered
The program list below is organized by areas of study. The programs that have a link will direct you to the program's profile page where you can learn more about education requirements and career pathways.
Get more information about the programs offered by Valencia College by clicking the request information to the right.
(C) Certificate or Award | (A) Associate's | (B) Bachelor's | (M) Master's Degree | (D) Doctorate (PhD,...)
Other Community Colleges
The list of schools below have been selected by researching which schools offer similar programs to Valencia College.
See a list of all the colleges and universities by clicking on one of the links below:
Contact Information
General Contact
Admissions Office
Financial Aid Office