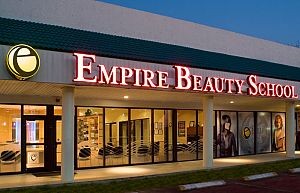 Dreaming of a future in Cosmetology? Enjoy the personal rewards of helping people look and feel their best. Empire Beauty School offers you a one-of-a-kind educational approach to learning the latest trends and fundamentals of Cosmetology.
You'll learn:
Haircutting
Styling
Coloring
Make-up Application
And more!
You'll also learn the business basics as we show you how to:
Market your skills to new clients
Retain clientele
Increase your income potential
Manage a salon or spa
Sell professional products to your clients
Our Programs
At Empire Beauty School, our one-of-a-kind CLiC curriculum is a visual approach to learning.  With our education you learn by seeing and doing. Plus you'll apply your skills on your mannequins using your professional student kit.  As part of your new student kit you will receive the Career Success Tablet.  Your textbooks and curriculum are downloaded onto your tablet.  As you progress through your training, you'll have the confidence to work in a student salon environment with guests.
 Financial Aid
Financial aid is available to those who qualify.  Our friendly financial aid representatives will help you find the financing that suits you best. We offer a variety of options to help you afford your dreams.
 BeautyCareer.com
BeautyCareer.com is a website for Empire Beauty School students and alumni seeking career opportunities.  Stylists can create resumes, develop digital portfolios, search for career opportunities and apply for open positions through one simple site.  The beauty career website is part of the education process at Empire which assists students to better understand these elements of their career.  Empire Beauty Schools offers job placement assistance through our website BeautyCareer.com.
Accreditation
Empire Beauty Schools are accredited by the National Accrediting Commission of Career Arts and Sciences (NACCAS).
Disclosure Statement
For more information about Empire Beauty School's graduation rates, the median debt of students who completed the program, and other important information, please visit our website at www.empire.edu/consumer-info
TCPA Statement
By submitting this form, you are providing your signature expressly consenting to contact by an Empire representative or its subsidiaries, affiliates, or agents at the number provided via telephone, email, or text using an automatic telephone dialing system or an artificial or prerecorded message regarding Empire programs, offers, events and announcements. You are not required to provide your consent in order to purchase any product or service.
Programs Offered
Below is a listing of the programs that may be offered at Empire Beauty School – Bloomington. Actual programs may differ from the list below, to get an official list of programs offered please visit the school's website or by phone at (651) 962-5000.
Cosmetology (1,550 Hours)
The cosmetology program takes about eleven months for most students to complete.
Program Details:
Tuition estimate is $20,000*
The estimated cost of supplies that may be required is $2,900*
41 students completed this program in the previous reported year
The length of the cosmetology program is usually 11 months
Learn more about cosmetology programs by visiting our cosmetology schools profile page, which lists schools offering this program along with a career overview.
Esthetician (600 Hours)
The esthetician program offered on average takes about five months to complete and may fulfill course requirements for licensing.
Program Details:
Tuition estimate is $9,000*
The estimated cost of supplies that may be required is $1,500*
59 students completed this program in the previous reported year
The length of the esthetician program is usually 5 months
Find out more esthetician programs by visiting our esthetician schools profile page, which includes lists on other schools offering this program.
Notes:
*Amounts for tuition, fees, and supplies are an estimate which are calculated based on historical data and should be solely used for informational purposes only.

**Repayment rates, earnings, and loan payments are estimates and should be treated as informational tools only, contact the school for official information.
Other Cosmetology Schools Nearby
The list of nearby cosmetology schools below offer beauty and cosmetology programs similar to Empire Beauty School – Bloomington. Click the links below to get a detailed profile for each school.