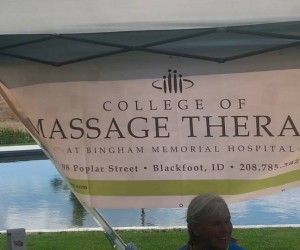 College of Massage Therapy is a career school that offers specialized education and training in the field of massage therapy for residents of Blackfoot. The school has a massage therapy program which teaches students with all the skills and abilities required to begin their career. College of Massage Therapy provides services for students including flexible courses for those with irregular schedules, massage therapy career pathway counseling to help define goals, and job placement opportunities.
Students must look up local and state licensing requirements to determine whether programs meet established standards. This school is accredited by the Accrediting Bureau of Health Education Schools, having held that accreditation for the last four consecutive years. To learn more and get consumer disclosures, you can visit collegemassagetherapy.com.
Programs Offered
The list below shows all the programs that may be offered at College of Massage Therapy. Actual programs may differ from the list below, to see a full list of programs offered please visit the school's website or by phone at (615) 493-9399.
Massage Therapy (638 Hours)
The massage therapy program offered commonly takes about eleven months to complete.
Program Details:
Tuition costs are estimated to be $10,000*
Required supplies and books: $530*
Last year, more than 20 students completed this program
Students usually complete the massage therapy program in 11 months
More information and school listings are available through our massage therapy schools profile page.
Notes:
*The posted costs for tuition, fees and supplies are determined through historical data and may not represent current costs.
**Repayment rates, earnings, and loan payments are estimated to provide a comparative context. For more detailed information individuals are asked to contact the school.
Estimated Costs & Financial Aid
The items listed below are for informational purposes only and may not represent current tuition, fees, and expenses.
Note: Financial aid is only available for those who qualify, check with the school for details.
Financial Aid Details
The table below breaks down the types of financial aid, the percent of students receiving aid, and average amount of aid per student.
| | Percent of Students | Average Amount |
| --- | --- | --- |
| Any Financial Aid | 73% | - |
| Receiving Grants & Scholarships | 64% | $3,552 |
| Receiving Student Loans | 59% | $5,653 |
Other Massage Schools
The list of massage schools below offer programs similar to College of Massage Therapy. Click the links below to get a detailed profile for each school.