Contact Information
General Contact
Admissions Office
Financial Aid Office
STUDENT TEACHER RATIO
17:1
FINANCIAL AID AWARD AVG.
$7,469
Average Grants + Scholarship Aid Awarded to Undergraduate Students
Percent of Full-Time Undergraduates Receiving Financial Aid
Percent of Students Paying In-State Tuition vs Out-of-State Tuition
Virtual Tour of Campus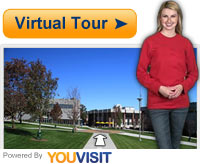 Southern Illinois University Edwardsville
Lincoln Drive, Carbondale, IL
Southern Illinois University Edwardsville, located in Edwardsville, Illinois, is commonly referred to as SUIE or The "e." The school was established after the end of World War II in response to a lack of educational facilities in general for post war veterans, and in particular for residents of the Metro-East are. This prompted a study of the area that took a detailed look into the need for post secondary education and accessibility on the counties of Madison and St. Clair. Southern Illinois University was chosen to expand into the area do to its proximity, and with the purchase of several locations, began 0plans to open a branch campus. The need for higher education was underestimating, and initial enrollment numbers were double the expected, and grew rapidly over the first few years of the new campus' operation. The school's rapid growth resulted in the purchase and development of a permanent home and in 1971 resulted in the independence of the campus into a partner school in the Southern Illinois University System rather than a branch campus.
Academics
Students at Southern Illinois University Edwardsville will be able to choose a major from among the many offered. The choice will be based on the student's desire for a future career or to accomplish educational goals. Students will earn a bachelor's degree over the course of four years through a mixture of general education courses, upper and lower division classes related to one's major and elective courses that allow the student to explore other areas of study and interest. Minor degrees are also available, requiring interested students to select the area of study and take a set number of courses required by the minor program in order to complete it. Minor degrees allow for study in a secondary field and are taken alongside a major in order to augment one's education.
SIUE also offers a number of graduate level courses that result in a master's degree or equivalent. Students will apply to a specific graduate program and must have earned at least a bachelor's degree as well as scored well on the GRE or equivalent exam. Students will be considered based on their transcripts and application, and enrollment is limited by program.
Programs offered include:
Admissions and Financial Aid
Students interested in enrollment at Southern Illinois University Edwardsville must meet the criterion for admission, including having passed an approved and accredited high school curriculum, placement in the top 50% of one's graduating high school class, and obtain a score of 22.4 or higher on the ACT exam or 1040 on the SAT Exam. Students that meet these requirements will have their applications and transcripts reviewed and have a decision regarding admission rendered based on the strength of the submitted material. Students will be notified after the process is completed and those admitted will be supplied additional information to prepare them for enrollment to the school.
Financial aid is available in the form of loans, grants, scholarships and work study programs. Students in need of financial assistance must submit a completed Free Application for Federal Student aid (FAFSA), the information from which is used by the school to determine the needs of the student and what programs he or she is eligible for. Financial aid must be reapplied for prior to each academic year. Scholarships may also be pursued from external sources. Students may use school or online resources to identify such scholarship programs and apply for them independently from the school. Scholarships are awarded for a variety of reasons and have their own criterion for selection.
Admission Requirements & Details
The information regarding admissions below may provide a better idea of the applicants Southern Illinois University Edwardsville accepts. The details may include admissions application requirements and recommendations, as well as any college or dual credits that may be transferred.
College Credits Accepted
Dual Credits
AP Course Credits
Student Enrollment
Southern Illinois University Edwardsville has a total student population of about 13,000. The enrollment breakdown by academic level is 13% enrolling as graduate students and 82% as undergraduate students.
Estimated Costs & Financial Aid
The average "out of pocket" cost of attendance, after any grants and scholarships are considered, is around $13,800. In order to calculate a more accurate and detailed cost of attendance check out their cost calculator here. There is also a $40 application fee for those applying to a program. The figures listed below are for informational purposes only and do not represent current or future tuition, fees, and expenses.
Tuition & Fees Information
Annual tuition estimates are between $8,300-$10,000 for both state residents and nonresidents
For part-time students, charges are between $290-$350 per unit
Some programs may have tuition rates locked at the first year rate for up to five years.
Financial Aid Details
The table listed below helps break down the types of financial aid students receive and the percent receiving aid, as well as the average amount of aid per student per year.
| | Percent of Students | Average Amount |
| --- | --- | --- |
| Any Financial Aid | 94% | - |
| Receiving Grants & Scholarships | 86% | $9,053 |
| Receiving Student Loans | 56% | $5,916 |
Academics & Student Services
Student Services
To help students and alumni, Southern Illinois University Edwardsville may offer services including:
Online classes
Remedial instructional courses
Academic counseling for students
Work study style employment
Assistance to find work
Day care
Specialized Programs & Accreditations
Campus: Southern Illinois University Edwardsville
Music Program
Nurse Anesthetist (CRNA) Program
Bachelor's Degree in Nursing (BSN) Program
Nursing (MSN, DSN) Program
Pharmacy (Pharm. D.) Program
Speech-Language Pathology Program
Elementary and Secondary School Teacher Education Program
Theatre Program
Campus: Southern Illinois University Edwardsville School of Nursing
Nurse Anesthetist (CRNA) Program

* Accredited by the Council on Accreditation of Nurse Anesthesia Educational Programs (since 2014)
Intercollegiate Athletics
Southern Illinois University Edwardsville is a Member of National Collegiate Athletic Association (NCAA), with many of the sports being in the NCAA Division I without football classification. The most popular sports played are listed below:
Baseball (Ohio Valley Conference)
Basketball (Ohio Valley Conference)
Track and Field (Ohio Valley Conference)
Golf
Soccer
Softball
Tennis
Volleyball
Wrestling
Programs Offered
The program list below is organized by areas of study. The programs that have a link will direct you to the program's profile page where you can learn more about education requirements and career pathways.
Get more information about the programs offered by Southern Illinois University Edwardsville by clicking the request information to the right.
(C) Certificate or Award | (A) Associate's | (B) Bachelor's | (M) Master's Degree | (D) Doctorate (PhD,...)
Other 4-Year Public Colleges
The list of schools below have been selected by researching which schools offer similar programs to Southern Illinois University Edwardsville.
Also, you can compare schools by looking through our list of colleges & universities:
Contact Information
General Contact
Admissions Office
Financial Aid Office