Contact Information
General Contact
Admissions Office
Financial Aid Office
STUDENT TEACHER RATIO
18:1
FINANCIAL AID AWARD AVG.
$7,000
Average Grants + Scholarship Aid Awarded to Undergraduate Students
Percent of Full-Time Undergraduates Receiving Financial Aid
Percent of Students Paying In-State Tuition vs Out-of-State Tuition
Virtual Tour of Campus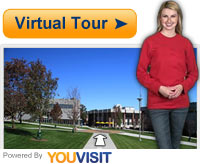 University of Akron
1600 South Arlington Street, Suite 100, Akron, OH
The University of Akron (UA), located in Ohio, is a public research university. UA offers 300 undergraduate academic degree programs and also many programs at the graduate levels. UA has many new or updated buildings on campus with modern amenities and high-technology classrooms. In addition to its degree programs, UA offers workforce and career training, continuing education, distance training via online courses, and international study programs.
UA has a highly acclaimed faculty, is considered a "Best in the Midwest" college by the Princeton Review, and has many top-ranking academic programs. Some of UA's most recently top-ranked programs include chemistry, business, science and technology, and engineering.
History
In 1870, the Ohio Universalist Convention founded the University of Akron was founded as "Buchtel College." Originally a church-focused school, the emphasis shifted to non-denominational interests and curricula by 1907. In 1913, the trustees created the Municipal University of Akron, which became the University of Akron (UA) in 1926. In 1959, the University of Akron became the fifth university in Ohio to offer a doctoral degree. In 1967, UA became a state university. In the 1990s, a new campus was developed, with 9 new buildings reaching completion in 2004. In 2008, the on-campus sports stadium, InfoCision Stadium-Summa Field, was completed. In 2010, UA was named an Ohio Center of Excellence for its biomedicine, healthcare, and enabling technologies programs.
Academics
The academic calendar for the University of Akron follows the semester format, with fall and spring semesters, and two summer sessions.
Colleges and Schools
The University of Akron has 14 academic colleges and schools, including:
College of Polymer Science and Polymer Engineering
Graduate School
Honors College
Law School
Summit College
University College
Wayne College
Buchtel College of Arts and Sciences
College of Business Administration
College of Creative and Professional Arts
College of Education
College of Engineering
College of Health Sciences and Human Services
College of Nursing
Student Life
There are more than 200 student clubs and organizations available at UA for student involvement and enrichment. Students at UA can choose from groups focused on politics, faith, ethnicity, academic interests, hobbies, music, careers, and more. There are local chapters of national fraternities and sororities. More than 12 intramural sports and clubs are available for student participation. Campus-sponsored events and activities include inner-tube water polo and ultimate Frisbee tournaments. The Student Recreation and Wellness Center has more information about intramural sports and athletics activities.
Traditions
The University of Akron's school colors are blue and white, and its mascot is "Zippy" the kangaroo.
The athletic teams for the UA were christened the "Zippers" or "Zips" in 1925, after a campus-wide contest was held to choose a nickname. The origin of the "Zippers" was inspired by a zip-up style of rain boots, or galoshes, that were invented by the B.F. Goodrich Company of Akron, Ohio.
Athletics
Many of the University of Akron's "Zips" athletes have become professional NFL players. The UA "Zips" athletic teams compete in 19 intercollegiate sports, including:
Men's Sports:
Baseball
Basketball
Cross Country
Football
Golf
Rifle
Soccer
Track and Field (indoor and outdoor)
Women's Sports:
Basketball
Cross Country
Golf
Gymnastics
Rifle
Soccer
Softball
Swimming and Diving
Tennis
Track and Field (indoor and outdoor)
Volleyball
Satellite Campuses
In addition to its Akron Campus location, the University of Akron offers many courses at locations around the Ohio region via its distance-learning program. Satellite locations include:
Wayne College (Orrville, OH)
The Medina County University Center (Medina, OH)
The Wayne College Holmes County Higher Education Center (Millersburg, OH)
Midpoint Campus Center (Brunswick, OH)
Northeastern Ohio Universities Colleges of Medicine and Pharmacy (Rootstown, OH)
Community Life
The UA is integral to the regional economy of Akron, Ohio, with partnerships in local business and government providing students and graduates with many learning and career opportunities. Communities bordering the university's Akron campus have been refurbished into healthier homes through UA programs and initiatives.
The city of Akron offers many opportunities for recreation and entertainment, with a vibrant downtown area and many parks for outdoor activities. The UA campus has easy access to the downtown area, and to highways and airports.
Some of the region's points of interest include the EJ Thomas Performing Arts Hall, the Akron Art Museum and Cleveland Museum of Art, the Pro Football Hall of Fame, and Cuyahoga Valley National Park, among others.
Admission Requirements & Details
The information regarding admissions below may give an overview of the applicants University of Akron accepts. The details may include application requirements and recommendations, as well as any college credits that may be transferred.
College Credits Accepted
Dual Credits
Life Experience Credits
AP Course Credits
Student Enrollment
The total student enrollment at University of Akron is about 19,000. The student body is made up of 83% undergraduate students and 15% graduate students.
Estimated Costs & Financial Aid
The average "out of pocket" cost of attendance, after any grants and scholarships are considered, is around $16,300. To calculate a more personalized cost visit the net price calculator. There is also a $50 application fee for students applying to the school. The figures listed below are for informational purposes only and do not represent current or future tuition, fees, and expenses.
Tuition & Fees Information
Tuition estimates per year:

In-State Tuition: $9,400-$11,000
Nonresident Student Tuition: $16,000-$18,600

Charges for part-time students are:

State Residents: $390-$470 per credit unit
Nonresidents: $650-$780 per credit unit

Some programs may have tuition rates that will remain the same as the first year for up to five years.
Financial Aid Details
The financial aid table below details the types of financial aid, along with the percent of students receiving aid, and on average the amount of aid per student per year.
| | Percent of Students | Average Amount |
| --- | --- | --- |
| Any Financial Aid | 95% | - |
| Receiving Grants & Scholarships | 89% | $7,603 |
| Receiving Student Loans | 65% | $6,822 |
Academics & Student Services
Student Services
To help support students, University of Akron may provide services to students like those listed below:
Online course work available
Night and weekend classes available
Remedial courses
Counseling assistance
Work study style employment
Assisting students to find work
Day care for children
Specialized Programs & Accreditations
Art and Design Program
Clinical Audiology (Au.D.) Program
Counseling Psychology (Ph.D.) Program
Dance Program
Dietetics Program
Coordinated Dietetics Program
Law Program
Music Program
Nurse Anesthetist (CRNA) Program
Bachelor's Degree in Nursing (BSN) Program
Nursing (MSN, DSN) Program
Master's Degree in Nursing (MSN) Program
Speech-Language Pathology Program
Elementary and Secondary School Teacher Education Program
Intercollegiate Athletics
University of Akron is a Member of National Collegiate Athletic Association (NCAA), with many of the sports being in the NCAA Division I-FBS classification. The most popular sports played are listed below:
Basketball (Mid-American Conference)
Track and Field (Mid-American Conference)
Football (Mid-American Conference)
Golf
Rifle
Soccer
Softball
Swimming and Diving
Tennis
Volleyball
Programs Offered
The program list below is organized by areas of study. The programs that have a link will direct you to the program's profile page where you can learn more about education requirements and career pathways.
Get more information about the programs offered by University of Akron by clicking the request information to the right.
(C) Certificate or Award | (A) Associate's | (B) Bachelor's | (M) Master's Degree | (D) Doctorate (PhD,...)
Other 4-Year Public Colleges
The list of schools below have been selected by researching which schools offer similar programs to University of Akron.
Also, check out our college lists below, which can help students compare schools to one another:
Contact Information
General Contact
Admissions Office
Financial Aid Office