Contact Information
General Contact
Admissions Office
Financial Aid Office
STUDENT TEACHER RATIO
17:1
FINANCIAL AID AWARD AVG.
$8,671
Average Grants + Scholarship Aid Awarded to Undergraduate Students
Percent of Full-Time Undergraduates Receiving Financial Aid
Percent of Students Paying In-State Tuition vs Out-of-State Tuition
Virtual Tour of Campus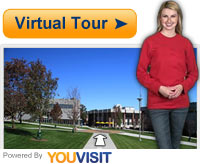 University of Kansas
7401 Metcalf, Overland Park, KS
University of Kansas (KU) is a public research and teaching college with one main campus and multiple satellite campuses. KU offers high-tech laboratories, interactive classrooms, and several performance venues and athletic arenas. The university's illustrious alumni include the inventor of basketball, Pulitzer Prize winners, astronauts, governors, artists, and a Nobel Prize winner.
Often referred to as "the castle on the hill," KU's scenic main campus of red-roofed buildings and forested hills is located at the top Mount Oread in Lawrence, Kansas. The KU has strong academic programs, and offers more than 190 undergraduate majors, numerous master's level degrees and more than 12 graduate and professional doctoral degree programs.
History
KU was founded in 1866 as The Kansas State University. The university's first major building was completed in 1872. Old Fraser Hall, designed by renowned architect John G. Haskell, came to symbolize KU. This structure was, however, later torn down due to structural problems.
In 1873, 23-year-old Flora Richardson became the university's first female graduate. She was also class valedictorian that year.
Academics
The University of Kansas academic calendar follows the semester system, with fall and spring semesters, and a summer term.
Colleges and Schools
School of Allied Health
School of Architecture, Design and Planning
School of Arts
School of Business
School of Education
School of Engineering
School of Journalism and Mass Communications
School of Law
School of Medicine
School of Music
School of Nursing
School of Pharmacy
School of Social Welfare
College of Liberal Arts and Sciences
Student Life
There are 642 student groups, clubs, and organizations currently registered at KU, including intramural sports leagues and local chapters of fraternities and sororities. There is plenty to get involved in at KU. The Student Involvement and Leadership Center has more information about groups, events, and service and leadership opportunities for students.
Athletics
The Kansas "Jayhawks" athletic teams compete in 16 intercollegiate sports, including:
Men's Sports:
Baseball
Basketball
Cross Country
Football
Golf
Track and Field
Women's Sports:
Basketball
Cross Country
Golf
Rowing
Soccer
Softball
Swimming and Diving
Tennis
Track and Field
Volleyball
Satellite Campuses
In addition to its beautiful Lawrence Campus, the University of Kansas has several satellite campuses that include:
The University of Kansas Medical Center (Kansas City, Kansas)
The University of Kansas School of Medicine - Wichita (Wichita, Kansas)
The University of Kansas, Edwards Campus (Overland Park, Kansas)
Life Span Institute at Parsons (Parsons, Kansas)
The University of Kansas Public Management Center (Topeka, Kansas)
Juniper Gardens Children's Project (Kansas City, Kansas)
Kansas Law Enforcement Training Center (Hutchinson, Kansas)
School of Medicine - Salina (Salina, Kansas)
Community Life
Students at KU and the local community can enjoy many renowned performing arts venues that offer music, dance and theatre. KU is also home to an excellent archives collection, as well as the many art, plant and animal specimen collections that are open to the public.
Admission Requirements & Details
The admissions information below may provide a better idea of the candidates University of Kansas accepts. The details may include admissions application requirements and recommendations, as well as any AP credits that may be transferred.
College Credits Accepted
Dual Credits
AP Course Credits
Student Enrollment
The total student enrollment at University of Kansas is about 28,000. The enrollment breakdown by academic level is 15% enrolling as graduate students and 71% as undergraduate students.
Estimated Costs & Financial Aid
The average "out of pocket" cost of attendance, after any grants and scholarships are considered, is around $18,400. To calculate a more personalized cost visit the net price calculator. There is also a $40 application fee for students applying to the school. The figures listed below are for informational purposes only and do not represent current or future tuition, fees, and expenses.
Tuition & Fees Information
Tuition estimates per year:

In-State Tuition: $10,000-$12,000
Nonresident Student Tuition: $27,000-$32,350

Charges per unit:

In-State: $340-$400 per unit
Out-of-State: $900-$1,100 per unit
Financial Aid Details
The table below breaks down the types of financial aid, the percent of students receiving aid, and average amount of aid per student per year.
| | Percent of Students | Average Amount |
| --- | --- | --- |
| Any Financial Aid | 86% | - |
| Receiving Grants & Scholarships | 75% | $9,096 |
| Receiving Student Loans | 47% | $7,130 |
Academics & Student Services
Student Services
To help support students, University of Kansas may provide services like those listed below:
Online course work available
Night and weekend classes available
Counseling assistance
Work study style employment
Assistance to find work
Day care
Specialized Programs & Accreditations
Campus: University of Kansas
Art and Design Program
Clinical Audiology (Au.D.) Program
Clinical Psychology (Ph.D.) Program
Counseling Psychology (Ph.D.) Program
English Language Program
Law Program
Music Program
Pharmacy (Pharm. D.) Program
School Psychology (Ph.D.) Program
Speech-Language Pathology Program
Elementary and Secondary School Teacher Education Program
Campus: University of Kansas Medical Center Wichita
Pharmacy (Pharm. D.) Program

* Accredited by the Accreditation Council for Pharmacy Education (since 1939)
Intercollegiate Athletics
University of Kansas is a Member of National Collegiate Athletic Association (NCAA), with many of the sports belonging to the NCAA Division I-FBS classification. The most popular sports played are listed below:
Baseball (Big Twelve Conference)
Basketball (Big Twelve Conference)
Track and Field (Big Twelve Conference)
Football (Big Twelve Conference)
Golf
Rowing
Soccer
Softball
Swimming and Diving
Tennis
Volleyball
Programs Offered
The program list below is organized by areas of study. The programs that have a link will direct you to the program's profile page where you can learn more about education requirements and career pathways.
Get more information about the programs offered by University of Kansas by clicking the request information to the right.
(C) Certificate or Award | (A) Associate's | (B) Bachelor's | (M) Master's Degree | (D) Doctorate (PhD,...)
Other 4-Year Public Colleges
The list of schools below have been selected by researching which schools offer similar programs to University of Kansas.
See a list of all the colleges and universities by clicking on one of the links below:
Contact Information
General Contact
Admissions Office
Financial Aid Office