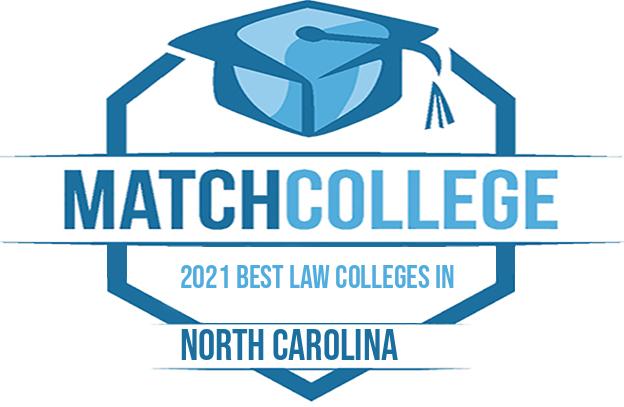 Discover top accredited law schools in North Carolina with our proprietary matchingplatformor by utilizing the list of schools on this portal. Experts at MatchCollege have decades of experience to help you find the perfect law school for you. Start the process by outlining your top priorities and use those guidelines as your guiding light. Investing time early in the process to determine the path best for you will make the process far more streamlined. Our award-winningCollege Admissions Guidewill help you understand the nexus of the process and ask vital questions to assist in the process. Guidance and counsel can be parlayed into action by getting matched to top law schools in North Carolina by collecting admissions information from a single digital library.
The state of North Carolina is rife with challenging and competitive law schools. For reference, students will likely need a high LSAT score, a robust GPA, and hold a degree in a relevant field of study likecriminology,public policy,economics, orpsychologyto be considered for admissions. You will be wise to consider other viable factors like curricular design, learning modality, degree organization, and alumni program when considering a North Carolina law school. Degree pathways can take you towards a joint degree like a JD and MBA within a singular program or a specialty within law such as family contracts, entertainment, intellectual property, contract, or corporate. Dedicate yourself to working hard to find the best law school in North Carolina for you and the school to set you up to pass the NCbar examand subsequent career in the field.
Detailed List of Law Schools in North Carolina (6 Schools)
Only law schools accredited by the American Bar Association - Section of Legal Education and Admissions to the Bar are listed below. Other law schools may also exist in North Carolina, however they are may not listed here.
Schools are sorted by size with the largest school first, based on the number of law students graduating each year.
Average attorney salaries in North Carolina range between $46,000 to $149,000. The variety of employment options available to lawyers can result in a very broad pay range, however here is a list of average salaries from areas across North Carolina.
Durham, Chapel Hill: $105,000
Greensboro, High Point: $119,000
Asheville: $96,000
Wilmington: $107,000
Hickory, Lenoir, Morganton: $93,000
Lawyer's in North carolina Compared to Median Income Averages
+77% Above State Median Income
+55% Above National Median Income
Lawyer's in North carolina take home an average 30.00 per hour. Annual earnings for Lawyer's working in the State of North carolina average $64,395 which is 77% above the state median income and 55% above the national median income for all occupations. Employment for a Lawyer makes up just of the working population in North carolina and is limited due to the specific qualifications required along with the schooling involved in this career path. The increasing demand for qualified Lawyers coupled with the educational barrier to enter the field is met with a steady supply of eager college graduates anxious to make a long-lasting impact in the lives of others in and around North carolina.
Average Income for a Lawyer in North carolina
| | Employment | Median Hourly Wage | Median Annual Wage |
| --- | --- | --- | --- |
| North carolina Lawyer | 343,770 | $30.00 | $64,395 |
| State Average | 4,177,410.00 | $16.95 | $35,260.00 |
| National Average | 155,760,000.00 | $19.33 | $35,977.00 |
Source: Bureau of Labor Statistics
Source: Bureau of Labor Statistics, NCES, O*NET Online
Notes: Tuition & fee amounts are for both North Carolina in-state residents and out of state students, unless noted otherwise. The tuition information displayed is an estimate, which we calculated based on historical data and should be solely used for informational purposes only. Please contact the respective lawyer school for information about the current school year.
Source: IPEDS Survey 2012-2020: Data obtained from the US Dept. of Education's Integrated Postsecondary Education Data System (IPEDS). Data may vary depending on school and academic year.