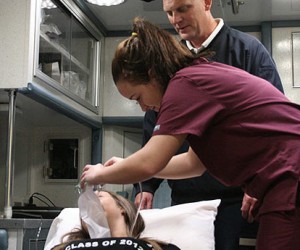 Chillicothe is a tiny town in Missouri of less than 10,000. Inside of that town you can find the Grand River Technical School (GRTS), a school with vocational training for adults and helping them find job placement after graduation. One huge advantage of GRTS is that the school offers free childcare services to its students, so parents who work don't have to worry about paying an extra expense to have their kids watched and safe when they go to school. In 2012, the cost of going to GRTS was $5,450, and the enrollment was 80. It has an excellent retention rate of 95%, and the small town environment and the hands on approach that instructors use is a big part of that number. Most students use some form of financial aid, which can come through scholarships, grants, and loans from the federal government. An admission requires a high school diploma or a GED equivalent. Students have the following programs to choose from inside the program:
Agriculture
Auto Tech
Business Tech
Emergency Medical Services
Industrial Maintenance
Programs Offered
The program list below is organized by areas of study. The programs that have a link will direct you to the program's profile page where you can learn more about education requirements and career pathways.
Get more information about the programs offered by Grand River Technical School by clicking the request information to the right.
(C) Certificate or Award | (A) Associate's | (B) Bachelor's | (M) Master's Degree | (D) Doctorate (PhD,...)
Estimated Costs & Financial Aid
The average "out of pocket" cost of attendance, after any grants and scholarships are considered, is around $7,700. To calculate a more personalized cost visit the net price calculator. There is also a $50 application fee for students applying to the school. The figures listed below are for informational purposes only and do not represent current or future tuition, fees, and expenses.
Financial Aid Details
The table below breaks down the types of financial aid, the percent of students receiving aid, and average amount of aid per student per year.
| | Percent of Students | Average Amount |
| --- | --- | --- |
| Any Financial Aid | 100% | - |
| Receiving Grants & Scholarships | 100% | $4,766 |
| Receiving Student Loans | 4% | $6,000 |
Admissions, Academics, & Student Services
Student Services
To support students and graduates, Grand River Technical School may provide services to students like those listed below:
Counseling assistance
Student employment
Employment search assistance
Other Technical Colleges Nearby
The list of nearby schools has been selected by researching which schools offer similar programs to Grand River Technical School.