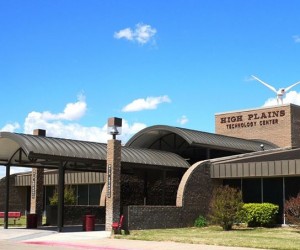 High Plains Technology Center (HPTC) is located in Woodward, Oklahoma and works with 8 area partner schools: Buffalo, Fargo, Fort Supply, Gage, Mooreland, Sharon-Mutual, Vici, and Woodward, Oklahoma.
Full-Time Career Programs:
Automotive Technology
Business & Information Technology
Construction Trades
Medium/Heavy Duty Diesel Truck Technology
Health Careers Certification
Information Technology
Practical Nursing
Marketing/Management
Service Careers
Welding Technology
Business and Industry Services:
Short Term Audit
Agriculture Business Management
Safety Training
Business Development
Bid Assistance
Training for Industry
Integrated Energy Training Center
State of Oklahoma Office of Personnel Management Testing
Law Enforcement Training
Student services include career counseling, job placement assistance, technical preparation, and special programs. Job opportunities are available for those who complete a HPTC program up to one year after graduation—referrals are also available as long as the candidate is a student or completer in good standing, a participant in job readiness activities through the Academic Center and their program, and if they follow up on job leads they are given from Job Placement.
Earn college credit while attending HPTC through agreements with: Northern Oklahoma College, Cowley County Community College, Northwestern Oklahoma State University, and OSU Okmulgee.
HPTC Contact information (http://www.hptc.net/contactus.asp)
Programs Offered
The program list below is organized by areas of study. The programs that have a link will direct you to the program's profile page where you can learn more about education requirements and career pathways.
Get more information about the programs offered by High Plains Technology Center by clicking the request information to the right.
(C) Certificate or Award | (A) Associate's | (B) Bachelor's | (M) Master's Degree | (D) Doctorate (PhD,...)
Estimated Costs & Financial Aid
The average "out of pocket" cost of attendance, after any grants and scholarships are considered, is around $1,600. In order to calculate a more accurate and detailed cost of attendance check out their cost calculator here. There is also a $50 application fee for those applying to a program. The figures listed below are for informational purposes only and do not represent current or future tuition, fees, and expenses.
Financial Aid Details
The table below breaks down the types of financial aid, the percent of students receiving aid, and average amount of aid per student per year.
| | Percent of Students | Average Amount |
| --- | --- | --- |
| Any Financial Aid | 75% | - |
| Receiving Grants & Scholarships | 75% | $5,033 |
Admissions, Academics, & Student Services
Student Services
To help students and alumni, High Plains Technology Center may offer services to students including:
Remedial courses
Academic counseling for students
Work study style employment
Helping students find work after graduation
Other Technical Colleges Nearby
The list of nearby schools has been selected by researching which schools offer similar programs to High Plains Technology Center.