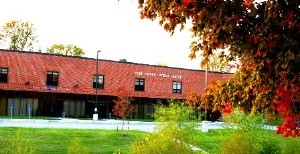 The Four Rivers Career Center can be found in Washington, Missouri, a town of about 14,000 people. It's located on the riverfront, and is a pretty typical small town in the United States. For those living in Missouri who are looking to advance their career through technical education, this school is worth a good look.
The Four Rivers Career Center is a public Missouri school that had tuition of $12,493 as of 2012. In the same year, enrollment was 32 students. Retention of students through graduation is excellent, with about 88% of all students making it from enrollment to graduation.
All types of different skills are learned at the Four Rivers Career Center. Those skills are medical, technical, and industrial in nature. Here are some of the programs that students can take part in at the Four Rivers Career Center:
Agriculture
Allied Health
Automotive Technology
Building Construction
Graphic Communications
Information Technology
Machine Tool Technology
Practical Nursing
Welding
Students have the luxury of working with the career services department to help find a job during and after school, and for those students who didn't finish high school, Four Rivers offers GED prep courses in addition to its traditional technical training. Four Rivers also offers basic computer skills as well. Applications are completed online, and a number of different types of financial aid packages are available.
Estimated Costs & Financial Aid
The average "out of pocket" cost of attendance, after any grants and scholarships are considered, is around $13,900. To calculate a more personalized cost visit the net price calculator. There is also a $5 application fee for students applying to the school. The figures listed below are for informational purposes only and do not represent current or future tuition, fees, and expenses.
Financial Aid Details
The table below breaks down the types of financial aid, the percent of students receiving aid, and average amount of aid per student per year.
| | Percent of Students | Average Amount |
| --- | --- | --- |
| Any Financial Aid | 100% | - |
| Receiving Grants & Scholarships | 100% | $4,385 |
| Receiving Student Loans | 100% | $9,500 |
Admissions, Academics, & Student Services
Student Services
To help students and alumni, Four Rivers Career Center may provide services to students like:
Counseling assistance
Student employment
Employment search assistance
Other Technical Colleges Nearby
The list of nearby schools has been selected by researching which schools offer similar programs to Four Rivers Career Center.