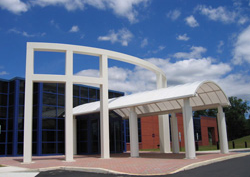 Monmouth County Vocational School District (MCVSD) is a very unique school district serving the area of Monmouth County in New Jersey. This school district, based in Freehold, New Jersey, has designed different high schools and learning environments to help all different types of students succeed.
MCVSD strives to prepare students for an evolving workplace, lifelong learning and further education through specialized academics, career and technical programs and achievement of the New Jersey Core Curriculum Content Standards. Ultimately students have a choice about where they want to attend based on where they believe they will succeed.
MCVSD has both full-time and shared time programs available for students. With a full-time program, students attend one building for all their core classes as well as career classes. With a shared program, students attend their regular high school for core classes, and then go to a different building for career training and preparation classes.
MCVSD's full-time programs include six career academies, one at-risk program and an alternative learning environment program. The six career academies are Academy of Allied Health & Science, Biotechnology High School, Communications High School, Technology High School, Marine Academy of Science & Technology and the Academy of Law and Public Safety. The at-risk program is called CLASS Academy.
MCVSD also has an alternative-learning center called KIVA. This school is geared toward students who don't succeed in a traditional school setting. They aim to help students with different learning styles succeed.
MCVSD's shared-programs include:
Allied Health
Automotive Technology
Career Center
Carpentry
Commercial Art
Cosmetology
Culinary Arts
Dental Science
Diesel Mechanics
Electricity
HVAC
Marine Trade
Certified Nursing Assistant
Patient Care/Medical Assisting
Plumbing and Pipefitting
MCSVD also offers an adult education program that includes cosmetology, culinary arts and licensed practical nursing. Tuition for these classes changes based on the program, but financial aid is available to all who qualify.
To learn more about MCSVD or to submit an application, click here.
Programs Offered
The program list below is organized by areas of study. The programs that have a link will direct you to the program's profile page where you can learn more about education requirements and career pathways.
(C) Certificate or Award | (A) Associate's | (B) Bachelor's | (M) Master's Degree | (D) Doctorate (PhD,...)
Health and Clinical Professions
Personal and Culinary Services
Estimated Costs & Financial Aid
The average "out of pocket" cost of attendance, after any grants and scholarships are considered, is around $13,700. In order to calculate a more accurate and detailed cost of attendance check out their cost calculator here. The figures listed below are for informational purposes only and do not represent current or future tuition, fees, and expenses.
Financial Aid Details
The table below breaks down the types of financial aid, the percent of students receiving aid, and average amount of aid per student per year.
| | Percent of Students | Average Amount |
| --- | --- | --- |
| Any Financial Aid | 100% | - |
| Receiving Grants & Scholarships | 90% | $4,191 |
| Receiving Student Loans | 44% | $5,289 |
Other Technical Colleges Nearby
The list of nearby schools has been selected by researching which schools offer similar programs to Monmouth County Vocational School District.