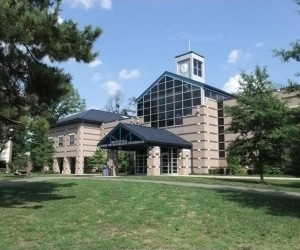 Union County Vocational-Technical Schools gives students the opportunity to choose a vocational training high school instead of a more traditional model of education. The Union County Vocational-Technical School District is dedicated to advancing the learning and well being of all students. A quality learning experience is provided that fosters democratic values, risk taking and a love of learning. They are committed to developing students' career, decision-making and employability skills. Equal treatment, fairness and respect for diversity are taught and modeled by all. The faculty guides students to understand the competing demands and responsibilities that are part of the world of work and to embrace a practice of life-long learning.
The Union County Vocational-Technical School District is divided into different academies. These academies give students the choice to specialize in a certain area before moving on to college. These academies include:
Academy for Allied Health Science
Academy for Information Technology
Academy for Performing Arts
Magnet High School
Union County Vocational-Technical High School
Each of these academies gives students both regular academic training (i.e. Math, English, History, and Science) as well as a vocational training for their choosing.
Each academy also offers many clubs and organizations for its students. There are clubs like the Math League, the Multi-Cultural Club, Skills USA and Student Government. Overall there are currently 53 different organizations between all five schools. Some clubs are offered at all the schools, while others are only offered at one.
Union County Vocational-Technical School District also has an adult education program. The tuition for this program varies depending on the program you choose, but financial aid is available for those who qualify.
The adult education program has four full-time programs available – Automotive Technology, HVAC/Plumbing, Cosmetology, and Electrical Technology. The school also has part-time and evening classes for adults to further their education. As part of this curriculum, they offer a GED preparation class for those in need.
For more information or to submit an application, click here.
Programs Offered
The program list below is organized by areas of study. The programs that have a link will direct you to the program's profile page where you can learn more about education requirements and career pathways.
Get more information about the programs offered by Union County Vocational Technical School by clicking the request information to the right.
(C) Certificate or Award | (A) Associate's | (B) Bachelor's | (M) Master's Degree | (D) Doctorate (PhD,...)
Personal and Culinary Services
Estimated Costs & Financial Aid
The average "out of pocket" cost of attendance, after any grants and scholarships are considered, is around $7,400. To calculate a more personalized cost visit the net price calculator. There is also a $10 application fee for students applying to the school. The figures listed below are for informational purposes only and do not represent current or future tuition, fees, and expenses.
Financial Aid Details
The table below breaks down the types of financial aid, the percent of students receiving aid, and average amount of aid per student per year.
| | Percent of Students | Average Amount |
| --- | --- | --- |
| Any Financial Aid | 27% | - |
| Receiving Grants & Scholarships | 27% | $3,951 |
| Receiving Student Loans | 13% | $3,719 |
Other Technical Colleges Nearby
The list of nearby schools has been selected by researching which schools offer similar programs to Union County Vocational Technical School.