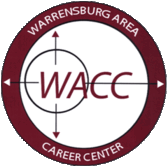 Located in Warrensburg, MO, the Warrensburg Career Center services both local adults and youths. The Warrensburg Area Career Center (WACC) is committed to providing high quality technical vocational education. WACC is truly dedicated to readying students to enter today's work force. Teachers at WACC pride themselves on teaching hands-on and relevant material. They are committed to igniting student passions and helping them learn valuable skills in a controlled environment.
WACC students can choose between cosmetology, auto collision, construction tech, computer tech, auto service tech, and practical nursing programs. There are also several community education classes available. To view a complete list of available courses and programs available at WACC please visit: http://wacc.warrensburgr6.org/.
Tuition costs vary by the chosen program and course. Financial aid is available to students who qualify.  To learn more about financial aid including helpful contacts at WACC visit the school's website or request information from our portal today.
If you are interested in attending a school that values quality education, affordable pricing, and student success then the Warrensburg Area Career Center is the school for you. Enroll today and enhance your personal and professional skills while working towards your new career.
Programs Offered
The program list below is organized by areas of study. The programs that have a link will direct you to the program's profile page where you can learn more about education requirements and career pathways.
(C) Certificate or Award | (A) Associate's | (B) Bachelor's | (M) Master's Degree | (D) Doctorate (PhD,...)
Health and Clinical Professions
Personal and Culinary Services
Estimated Costs & Financial Aid
The average "out of pocket" cost of attendance, after any grants and scholarships are considered, is around $7,700. In order to calculate a more accurate and detailed cost of attendance check out their cost calculator here. The figures listed below are for informational purposes only and do not represent current or future tuition, fees, and expenses.
Financial Aid Details
The table below breaks down the types of financial aid, the percent of students receiving aid, and average amount of aid per student per year.
| | Percent of Students | Average Amount |
| --- | --- | --- |
| Any Financial Aid | 94% | - |
| Receiving Grants & Scholarships | 88% | $8,298 |
| Receiving Student Loans | 65% | $8,140 |
Admissions, Academics, & Student Services
Student Services
To help students and recent graduates, Warrensburg Area Career Center may offer student services like:
Remedial courses
Career path counseling
Assistance to find work
Other Technical Colleges Nearby
The list of nearby schools has been selected by researching which schools offer similar programs to Warrensburg Area Career Center.